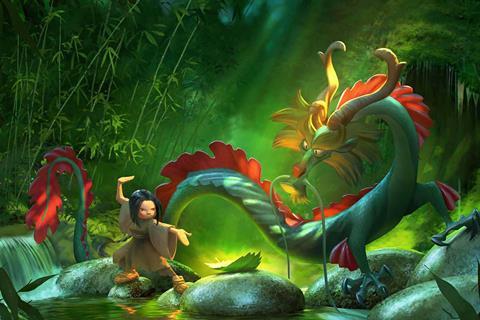 As part of our focus of the Chinese animation sector, Screen profiles ten buzzy upcoming Chinese animated titles.
Abominable
Dirs. Jill Culton, Todd Wilderman
Pearl Studio's first production, which started life when the company was known as Oriental DreamWorks, revolves around a teenager who meets a Yeti on the roof of her apartment building in Shanghai and attempts to reunite him with his family on the peak of Everest. A co-production with DreamWorks Animation, Abominable is scheduled for global release through Universal Pictures, beginning on September 27. Pearl is distributing the film in China.
Dragonkeeper
Dirs. Ignacio Ferreras, Li Jianping
Based on the award-winning novels by Carole Wilkinson, this family adventure is co-produced by Spanish producers Manuel Cristobal and Larry Levene with China Film Group. Currently in production for delivery in the fourth quarter of 2020, it tells the story of an orphan girl who becomes a Dragonkeeper by helping the last surviving dragon find a safe location to hatch its egg.
Contact: SC Films International
Extinct
Dir: David Silverman
Scripted by three former executive producers on The Simpsons, this adventure comedy is produced by Huayi Brothers Wink Animation, China Lion Entertainment and Cinesite Montreal. Currently in production for a tentative summer 2020 release, the film tells the story of brother and sister 'flummels', fluffy characters who discover their species will become extinct and have to travel back in time to save their race.
The Great Detective Sherlock Holmes — The Greatest Jail-Breaker
Dirs. Matthew Chow, Yuen Kin To
Hong Kong's One Cool Pictures and Golden Scene are producing this adaptation of a bestselling book series, written by Hong Kong author Lai Ho, along with publisher Rightman Publishing. Currently in post-production, the feature is co-directed by VFX artist Matthew Chow and Yuen Kin To, who worked on Hong Kong's popular McDull series of animated features.
Contact: Felix Tsang, Golden Scene
The King's Avatar: For The Glory
Dirs. Shi Juansheng, Deng Zhiwei
Due for Chinese theatrical release in August, this Wanda Pictures production is based on a popular web novel, written by Hu Dielan, which has a large fanbase in China and Japan. The story follows a pro gamer, considered one of the best players of the online video-game Glory, who attempts to reboot his career after being kicked off his own e-sports team.
Contact: Wen Mengchen, Wanda Pictures
Monkey King — A Hero's Journey To The West
Dir. Phil Nibbelink
Produced by China's Starry Entertainment and Red Dragon Entertainment, this $20m animated feature involves US talent such as writer James Felder (The Avengers animated TV show), director Nibbelink (Puss In Boots) and producer Walter A McDaniel, a comic-book artist who has contributed to titles in the Deadpool and Batman series. Based on Chinese classic Journey To The West, the film is in production for delivery in late 2019 or early 2020.
Contact: Chia Chou, Endeavor Content
Realm Of Terracotta
Dirs. Leon Ding, Lin Yongchang
Following its success with the Boonie Bears franchise, Shenzhen-based Fanta­wild Animation is aiming for slightly older audiences with this adventure story about a young girl and a terracotta warrior who team up to hunt the creatures that attack their Qin dynasty underground city. Scheduled for release this summer, the film was developed with Mike de Seve, a story consultant on Shrek 2, and Billy Frolick, who co-wrote Madagascar.
Contact: Kristina Razmerova, Fantawild Animation
Spycies
Dir. Guillaume Ivernel
Scheduled for Chinese theatrical release later this year, this comedy adventure is produced by iQiyi Pictures and three other Chinese companies, supported by a team of creatives in France. The story follows a pair of secret agents — a smooth-talking cat and an eccentric rookie agent rat — who embark on an undercover mission to save the planet from a climate threat. Rakuten and The H Collective will handle distribution in Japan.
Contact: Kaleidoscope Film Distribution
White Snake
Dirs. Amp Wong, Zhao Ji
Receiving its international premiere in Annecy competition after grossing $65m in China, this fantasy adventure is co-produced by Light Chaser Animation and Warner Bros China, while Gkids has acquired US rights. Serving as a prequel to Chinese fable Legend Of The White Snake, it is based around the love affair between a young human male and a snake spirit who is slowly being transformed into a beautiful young woman. Contact: Aymeric Contat Desfontaines, All Rights Entertainment
Wish Dragon
Dir. Chris Appelhans
Produced by China's BaseFX with Sony Pictures Animation and Jackie Chan's Sparkle Roll Media, this contemporary fairytale tells of the friendship and moral dilemmas that ensue when a boy meets a dragon who can make his wishes come true. Scheduled for a summer 2020 release, the film is both written and directed by Appelhans, who has worked on films such as Coraline and Fantastic Mr Fox, and also has Aron Warner (Shrek) on board as a producer.