Being open to partnerships is an increasingly important necessity for staying successful in today's international sales landscape.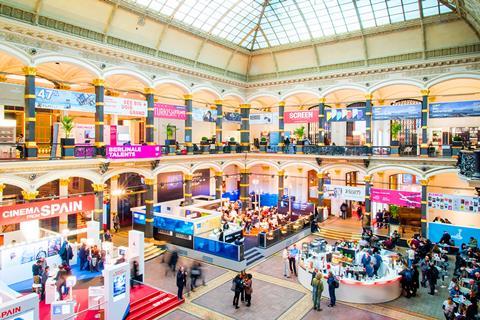 Metaphorical tumbleweed blew down the corridors at the American Film Market, prompting some veterans to speculate whether the autumn market had run its course. Yet hope springs eternal in the independent space and key players arrive at the European Film Market with renewed optimism.
Awards season, recent box-office performance and the fate of several of last month's Sundance world premieres offer a timely, albeit limited, litmus test. And so, a sector facing chronic challenges continues to evolve.
It cannot be any other way. US theatrical admissions continue to dwindle yet a US deal is still viewed in many cases as a crucial driver of international sales. Luc Besson's EuropaCorp is struggling after Valerian And The City Of A Thousand Planets bombed, sparking lay-offs, take-over rumours and reports of a deal to produce original movies for Netflix.
And where would we be without the world's most notorious streaming platform trying something new that scares the hell out of people? The most recent case in point is Netflix's acquisition of international rights from Paramount to Annihilation, allowing it to roll out Alex Garland's sci-fi horror as early as 17 days after the US release later this month.
Paramount believes the film is "specialised" and is expected to perform better in the US. Insiders say it could open the floodgates to a situation whereby streaming platforms snap up international rights to most if not all substantial US titles that do not fall under a worldwide studio deal, further handicapping independent international buyers.
Yet ambition, ingenuity and smart bets abound. Established giants such as Lionsgate and Studiocanal march on, powered by their latest respective global hits Wonder and Paddington 2. Stuart Ford, the founder of what was once IM Global before owner Tang Media Partners merged it with Open Road to form Global Road, is close to announcing his new venture.
And positive reactions to the Park City world premieres last month of Colette, Ophelia, American Animals and Assassination Nation, among others, will have pleased no end their international sales agents HanWay Films, Covert Media, Sierra/Affinity and Bloom. The box office and awards season success of I, Tonya and Molly's Game heaps further kudos on Sierra/Affinity and its US distribution partners on those two titles, NEON and STX International.
For every US box-office flop, as The Fyzz Facility CEO Wayne Marc Godfrey points out, there is a hit. In a percentages game such as distribution, the trick is to keep the break-evens coming in and so often today, that begins with the brightest minds in production, sales and financing outside the studio space.
Open to offers
For HanWay Films managing director Gabrielle Stewart, the key is to remain open to opportunities and partnerships. The sale of Colette to Bleecker Street and 30WEST takes a proven distributor led by Andrew Karpen and blends it with the capital of Micah Green and Dan Friedkin's 30WEST, which also announced at Sundance it had acquired a majority stake in NEON.
"They are prefect partners for HanWay in terms of taste and what they can do," Stewart says of 30WEST. And so a film that launched at EFM two years ago heads for an awards season launch in the US and UK later this year. That will excite the international buyers who jumped on board early, and will see Colette at a private screening at Berlin.
"You're seeing all these alliances now," says Stewart, who also references Altitude's deal with broadcaster Sky. "You're seeing partnerships where they're breaking up the rights, so you may see a strong VoD distributor with a strong theatrical partner and they go in 50-50. The VoD platform benefits from the theatrical release and they play together. People are getting more creative with partnerships. The international space is going to have to catch up with day-and-date releases."
"We're all working in a world where you've got to be much more flexible and think about different distribution patterns," says Covert Media CEO Paul Hanson, whose company produced and fully financed Ophelia, the drama inspired by Shakespeare's Hamlet and led by Star Wars actress Daisy Ridley. Like Colette, it has mostly sold out internationally and will screen for buyers in Berlin. US buyers were circling at the time of writing.
One of the talking points at Sundance was the lack of activity from Netflix and Amazon Studios, both of whom were involved in the two biggest deals of Sundance 2017 — Mudbound and The Big Sick, respectively — and could snap up a studio, let alone a Sundance acquisition title, without breaking stride.
Both were understood to have put in bids for films in Park City and emerged empty-handed. There continued to be a push-back by producers and financiers in favour of buyers who can mount a traditional theatrical campaign. This has happened before in Sundance, most notably on Nate Parker's ultimately ill-fated The Birth Of A Nation in 2016.
However, Amazon Studios self-distributes theatrically in the US before a film goes onto its Prime Video platform, so the more likely explanation is that neither streaming giant spotted anything they were desperate to acquire. Had they done so, they may not have been so keen to splash the cash given their mandates on investing capital into more original content.
Even the digital titans are exercising caution. That will still be the watchword in Berlin, where buyers know a fresh package is a long way from a triumphant festival launch or box office run. "We're cautious in the same way a sales agent is when they decide on the right time to take on a project," says The Fyzz Facility's Godfrey. "We listen to them to ensure they're not just driven by an urge to announce something."
Godfrey, whose company is highly active and took the unusual step of fully financing Keanu Reeves/Winona Ryder romantic comedy drama Destination Wedding without any presales in place (Aviron Pictures will release in English-speaking territories), adds: "One of the challenges for sales agents is to see what market-ready product is out there. As an industry, we have to evolve. As a sales agent, you have to feel really confident about your film and be able to follow through."
Nobody needs reminding that it can pay to invest early. Possessing the clout to do so is another matter. "Budget plans today are far more focused and creative," says HanWay's Stewart, who places a high premium on a simple-sounding idea. "Bringing market intelligence and thinking how to maximise the audience is a collaborative process."
HanWay launched Belgium-Canada drama The Hummingbird Project in Cannes 2017. Buyers liked the script, but some wanted to see a female antagonist, not a male, as was the case in Canadian filmmaker Kim Nguyen's screenplay. HanWay conferred with Nguyen, who did another pass and, by Toronto, they introduced Salma Hayek as the female lead opposite Jesse Eisenberg and Alexander Skarsgard.
The US-set story took advantage of Canadian soft money and shot in Canada. Hayek, it turns out, has a French passport, and the team used that as a qualifying point on the European side. Hayek also stars in HanWay's Tale Of Tales, another example of the creative collaborations Stewart references. That film accessed seven Italian regional funds. "Producers are asking us how to make a film in Europe after they've looked at making it in the US first," she says. "Bringing along that expertise is another string to our bow."
Distinct and market-friendly
For Sierra/Affinity president and CEO Nick Meyer, it comes down to hard work and never taking success for granted. The company sold Manchester By The Sea, which made a splash last awards season, and has I, Tonya and Molly's Game in play this season. Both have grossed more than $22m in North America and continue to expand, while international roll-out is in its infancy.
"We're looking for things that are creatively distinct and market-friendly," Meyer says. He is selling international on arguably the buzziest film to come out of Sundance, Bart Layton's American Animals, which landed a North American deal in Park City. "We're excited to be working with The Orchard [which jointly acquired the film with newly launched MoviePass Ventures]."
Sierra/Affinity has been involved with Whiplash, Spotlight, Nightcrawler and Atomic Blonde in recent years. "You always have to be flexible, which means finding the right partners to execute — and that doesn't change when things get difficult," Meyer says.
The company is producing the upcoming comedy Poms starring Diane Keaton that will skew towards mature audiences, and is in post with Netflix on How It Ends. These days, countless companies are doing business with Netflix — as one producer says, it is regarded as good portfolio management.
For Covert Media's Hanson, it comes down to keeping an eye on the end user: "All things being equal, everyone would prefer straight theatrical. But you have to think how you can end up with a larger audience. If the economics are identical and you get out to tens of millions of viewers, that's a compelling argument."