Screen sat down with the film's creative team and star to discuss the project's origins ahead of its world premiere at IFFR on Jan 29.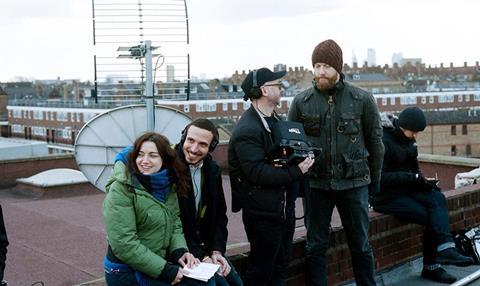 Following the success of 2011 microbudget drama Weekend and Oscar-nominated 2014 drama 45 Years, London-based production outfit The Bureau has forged a solid reputation as a developer of burgeoning film talent.
The company's modus operandi has been to identify content that will appeal to underserved film audiences; Weekend was a heartfelt romance aimed primarily at a gay audience, while 45 Years was an arthouse drama that appealed to older cinema-goers.
When the script for Daphne, which premieres on Jan 29 in the Limelight strand at this year's IFFR, first passed across the desk of Valentina Brazzini, in-house producer at The Bureau, she thought that the material could appeal to a female audience that was not being catered for by most cinema releases in the UK.
"The Americans were already doing stories about funny, complex female characters, but it was very hard to find similar films in the UK," she recalls, "Sometimes if you don't see a certain type of film it's because it's not that interesting, but other times it's because there's something really missing there that you can tap into."
A long wait
The screenplay was written by Nico Mensinga and had been sent by Scottish filmmaker Peter Mackie-Burns, an established short film director who had won a Golden Bear for Milk at the 2005 Berlin Film Festival but had since struggled to get his first feature off the ground.
Brazzini remembers that it wasn't so much the script that grabbed her attention, but an accompanying short film, Happy Birthday, that Mackie-Burns had shot with star Emily Beecham, who would go on to play the titular Daphne in the feature.
"The short was so different, it really stood out," says Brazzini, "At first I didn't realise Peter was the same guy who had won a Golden Bear, he didn't mention any of that."
Mackie-Burns says that the short film was made as a proof on concept for the eventual feature. "It featured an early incarnation of the character [Daphne]… I thought Emily's performance would be really good for marketing the project to The Bureau, selling them the tone, actor, character, and the first draft of the script at the same time. It made the script stand out a bit, I think," he says.
After spending almost ten years struggling to get a feature project greenlit – occupying himself with plenty of theatre work and further shorts in the meantime - Mackie-Burns could have been excused for wondering whether his career as a film director would ever take off, but he says that he always kept the faith.
"The shorts had done well, it's really important to keep making them," he adds, explaining that he had multiple features get to various stages of development, none of which made it to production.
Why does he think that happened? "The financial crash. I got very close with two projects but they couldn't close the last part of finance. One was about to shoot but collapsed with only four weeks to go."
Brazzini and fellow producer at The Bureau Tristan Goligher opted to produce Daphne together (marking Brazzini's first feature as a full producer). Goligher would largely stay outside of the development process, allowing him to devote his full attention to Andrew Haigh's 45 Years follow-up Lean On Pete (which shot in America in summer 2016), meaning he could bring a fresh eye to the Daphne shoot.
"I had experienced development hell for a few years, and then with The Bureau it was kind of development heaven," recalls the director.
The project was initially taken to participate in Film London's microbudget production initiative Microwave, which produces films with a budget of £150,000. After not making it through the first stage, the producers decided to turn to UK public funders, with which they had forged strong relationships following the successes of 45 Years and Weekend.
"We have developed good relationships with these financiers, they're predisposed to have a conversation with us. That definitely helps, it's easier to pick up the phone to them now, but it has taken 15 years" she says, adding that it's "all about the material – if they don't respond to the material they don't respond to us."
Financing
"It was one of the fastest financing processes I have ever been involved in," recalls Brazzini. They had gone out to the British Film Institute (BFI), a regular collaborator, and Creative Scotland due to Mackie-Burns' Scottish connection. The BFI's Lizzie Francke and Creative Scotland's Robbie Allen boarded the project as executive producers.
Able to attract a greater level of investment, the budget was upped to almost £1m (with a smaller percentage inputted by The Bureau's sales arm), a figure that made the project feel "like a £20m movie," comments Brazzini.
That was a comfortable budget, but not exactly a surplus, adds the producer, "Every budget level is both restrictive and liberating for certain things. In this case, we didn't feel like we had to make sacrifices or compromise too much."
Leading lady
Daphne is a black comedy character portrait of a 31-year-old woman living in London who ignores the greater pressures of life while spending her time and energy on libertine pursuits such as partying and casual sexual encounters.
For both Brazzini and Mackie-Burns, Emily Beecham was the only choice to play the film's titular lead character. "She needed to be funny, truthful, and to convey a lot of emotions. It's a very complex, layered performance, and she completely pulled it off," comments Brazzini.
For Beecham, whose credits include the Coen Brothers' Hail Caesar and American TV series Into The Badlands, she was initially attracted to the character spirit, "It's an audacious character, she's not the usual female protagonist."
The actress was also been impressed by Mackie-Burns' directing style, which included less reliance on traditional methods such as rehearsing individual scenes, and instead put more emphasis on in-depth research into the backgrounds of characters. "There was so much history to the character Daphne, it really helped," she comments.
While Mackie-Burns prefers to avoid rehearsals – "I don't rehearse," he says bluntly – his deep research into his characters also impressed producer Brazzini. "Peter doesn't want to rehearse because he wants to keep performances fresh, I think that's something that paid off," she says, "instead, he produced bibles, a catalogue of work on each character."
"I want actors to come to the set knowing the character, we spent two years on them," adds the director.
Filming lasted for four weeks at variety of locations across London in February 2016. The time-frame was limiting, but offered the team the opportunity to prioritise energy and enthusiasm, says Mackie-Burns, "We wanted to go on set and shoot quickly, we wanted to keep it fresh. It was like a low budget Woody Allen-style shoot."
Despite his aversion to rehearsals, he emphasises that improvisation is not his style, "We always stuck to the script, sometimes I'd cut a line. If I was going to do any improvisations with actors, we'd do it before we get to the set."
Brazzini adds that her approach when working with a new director (The Bureau has often prioritised first and second time directors to date) is to try to be flexible and to provide the support they need, both in development and onset. "You always have to understand what your director needs and you try to work around that, so far I've not come across someone with such crazy needs that you can't work with their method," she says.
The completed film is now set for its world premiere in Rotterdam on Sunday (Jan 29). The Bureau's sales wing – The Bureau Sales – is handling worldwide rights and will be working on deals at this year's European Film Market in Berlin (Feb 9-17). Altitude will distribute in the UK.
Brazzini explains that the team felt Rotterdam was an appropriate berth for the film because the event has "established itself as a festival with an eye for exceptional talent [that] brings together idiosyncratic films by top directors and debut filmmakers".
"Unveiling Daphne in such a buzzing atmosphere is the perfect launch for the film's long journey around the world," she adds.