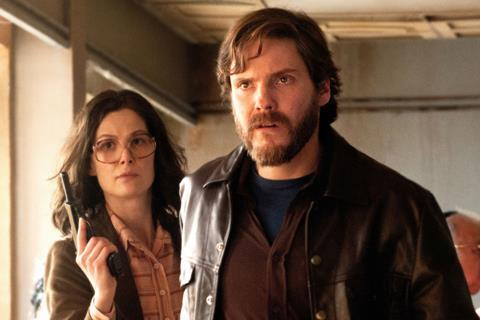 The seed of the idea for Jose Padilha's biographical drama 7 Days In Entebbe, playing Out of Competition at the Berlinale, was first sown in 2014 in the London screening room of UK production company Working Title.
Producer Tim Bevan was reviewing footage for Brian Helgeland's Krays biopic Legend with executive producers Kate Solomon and Ron Halpern when the latter, executive vice president at the film's financier Studiocanal, pitched an idea for their next collaboration.
He had recently met former pilot Michel Bacos, who had captained the Air France plane that was famously hijacked in June 1976 and rerouted to Entebbe airport, Uganda, where the passengers were rescued a week later by Israeli special forces. Halpern felt that there was a more interesting story to be told than was captured by the quickly made TV movies of the time, Raid On Entebbe and Victory At Entebbe, and the Israeli-made Operation Thunderbolt.
Bevan was sufficiently intrigued to task Solomon – who honed her craft as Paul Greengrass's exhaustive researcher, earning associate producer and co-producer credits respectively on United 93 and Green Zone– with exploring the story. She flew to Nice to meet Bacos, who had remained with his crew alongside the Israeli hostages in Entebbe after the other nationalities were released. But, says Solomon, at this stage, "I'm not sure what this film is going to be."
The breakthrough came when she next met Jacques Lamoine, who was the crew's flight engineer. "He's an everyman," says Solomon. "Everyone can relate to him." Lamoine told her the story of his conversations with one of the four hijackers, German radical Wilfried Bose, and how their eyes locked when the Israeli special forces stormed the airport. Despite having threatened to kill the hostages if a rescue was attempted, Bose – who is played by Daniel Brühl in the film – in fact ordered everyone to stay down, and trained his fire outwards.
"At that moment, I thought there's definitely a film to be made here," says Solomon. "Even though Bose has made these terrible decisions, there was this moment of humanity at the end. I went to Israel and spoke to some of the hostages. Lots of them had spoken to Bose and [fellow German radical] Brigitte through the week, and had argued with them about politics. Obviously, by the end of the week, they couldn't kill the hostages.
"If you could look at the event, and all the different sides of it, you are seeing one event through many perspectives. I thought, that's a really interesting thing to look at, because it's relevant to everything now."
Writing the screenplay
Screenwriter Gregory Burke, who had captured a multiplicity of perspectives in Northern Ireland Troubles drama '71, quickly signed on to write the screenplay. But Solomon continued her research role, travelling to Israel to talk to politicians who lived through the tense week of cabinet discussion – in which prime minister Yitzhak Rabin, favouring negotiations, clashed with hawkish defence minister Shimon Peres – as well as to the soldiers who participated in the raid on Entebbe.
To help get an insight into the mind of the two German participants, members of Baader Meinhoff-like group Revolutionary Cells, she spoke with academics and specialists, as well as to former members, several of which have now entered mainstream politics.
The film's original Swedish director Daniel Espinosa (Child 44) fed into the screenplay development, but ultimately dropped out due to timing conflicts. To replace him, the producer partners turned to Brazil's Jose Padilha (Elite Squad, Robocop), feeling that his 2002 documentary Bus 174– about the hijacking of a city bus in Rio De Janeiro – nimbly showcased the range of viewpoints they were aiming at.
Padilha responded immediately to the material, and was a particular fan of Burke's "extraordinary" dialogue. But he felt that the 120 to 130 pages needed to come down – "The screenplay that I shot had way less pages, 95 or something." He came over for meetings in January 2016, and together the filmmaking team collaborated on refining the screenplay that year, aiming for a late-autumn shoot.
Meanwhile, StudioCanal had begun cooling on the project. Chairman and CEO Olivier Courson exited the studio in September 2015, and the Paris terror attacks of November that year cast the project in a different light for the company. Luckily, US financier Participant Media was ready and willing to step into the breach, and Solomon pays tribute to Studiocanal's speedy negotiation of the turnaround – "Ron made sure that it was expedited through." Focus came in for US rights, eOne bought UK and Australia (where the film is called simply Entebbe), as well as France, Germany, Spain, Austria and Benelux, and Lionsgate is selling other territories.
Language barriers
With Burke's screenplay giving voice to the radical German duo, Popular Front for the Liberation of Palestine members and French crew, as well as to Israeli politicians, hostages and special forces, Padilha was most keen that – while English would be the common language between different groups – characters would speak in their own tongue when conversing with fellow nationals. With the exception that Israeli Cabinet discussions are in English, the director achieved it.
"This was a conflict because that's not what the studio wanted to do," says the director. "It was a struggle. Kate Solomon pushed for that like crazy. I actually shot everything bilingual. But then in the edit I showed it to Participant, and they agreed with me."
This creative decision meant that Rosamund Pike, who had been cast as Brigitte Kuhlmann, would need to speak German in her scenes with Brühl. But shooting the dialogue first in English helped the actress convey the correct emotion when repeating in German. Pike impressed with her facility to deliver lines she claimed to have learnt phonetically, and in a flawless upper-class Frankfurt accent. "Still to this day I don't know if Rosamund could speak German from the beginning or not, but she killed it," laughs Padilha.
The shoot
The bulk of 7 Days In Entebbe shot in Malta, from October to December 2016, with the production constructing a replica of the Entebbe terminal at Valletta airport, using an apron normally used for servicing aircraft. By shooting in a working airport, the production was able to fly in Hercules helicopters for the climactic raid – and since it was off-season for holidaymakers, not too many commercial flights were taking off and landing, with little disruption.
Two of the 1976 raid's participants came in to train the men playing the special forces, and to ensure the raid was accurately depicted. And half the team was made up of real special forces soldiers. "You retire from the unit in your 20s, so we got guys who had just retired, and put them in with our guys," explains Solomon.
The film then relocated to the UK before Christmas, shooting all of the Israeli cabinet scenes at Harrow Civic Centre, with Lior Ashkenazi (Foxtrot) and Eddie Marsan as Rabin and Peres. The shoot wrapped in Israel in March 2017 for a crucial sequence that was introduced just four weeks before principal photography by Padilha.
7 Days In Entebbe begins not with a hijacking, but with a dance. This is a rehearsal by Israeli dance company Batsheva – and we quickly learn that one of the performers (played by Russian dancer Zina Zinchenko) is the girlfriend of one of the film's main characters, special forces soldier Zeev (chameleonic US actor Ben Schnetzer). Padilha returns to this dance sequence in the middle of the film, and intercuts it into the climactic airport raid, when the finished piece is performed in front of an audience.
Echad Mi Yodea, choreographed by Ohad Naharin, is popularly known as "the chair dance". "The performers walk on stage wearing Orthodox clothes," Padilha explains. "They dance on top of chairs performing self-inflicting pain movements. As the dance progresses, they strip themselves of the Orthodox clothes – all but one. The one who doesn't strip keeps falling from the chair. That's an amazing metaphor. The only way there's going to be a solution to this, the only way we are going to break this cycle of fear, is if somehow people strip themselves of their orthodox way of thinking."
The director concedes that, initially at least, the dance sequence was a "controversial" choice. "From a producing standpoint, it's a gamble," he says. "We are getting away from [the action]. We are taking an artistic risk. David Linde from Participant was very important – he backed up the idea of the dance throughout the production. He really helped me get this into the movie."
Since the raid on Entebbe has gone down in history as a bold triumph of deeds over words, it's evidently been important for all parties that 7 Days In Entebbe conveys a more nuanced telling of the story.
"There were two different accounts of the operation," explains Padilha. "There was a popular nationalistic account, and there was a research scholar account. The nationalistic account was very simple: this is the biggest military siege of all time. When you read the scholar account, then you start to look, yes, they are doing something evil, there's no excuse for what they've done, but they have motivations, and actually one of them changed his mind in the process. The hostages described it like that.
"What is the dynamic that the movie tries to show? There is a state of fear, because of the conflict and the history. There are the politicians – on both sides – who prey on the fear. It's a cycle that locks those two nations in a never-ending cycle. My biggest contribution to the script and later to the movie was: how I can go beyond the actual event and make a statement about this subject? But I wanted to do this cinematically. The final image is a dancer running in the same place."