The AFCI Locations show in Los Angeles (April 21-23) is where the world's film commissions come to catch the eye of Hollywood. John Hazelton gives the lowdown on how to get the most out of the event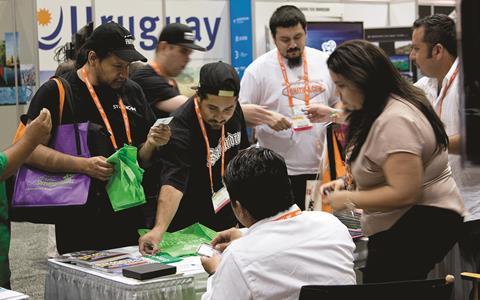 It may not be as glamorous as Cannes or as trendy as Sundance but for a certain segment of the global film industry the AFCI Locations trade show is a big event on the calendar. Organised by the Association of Film Commissioners International (AFCI), the Beverly Hills-based trade body with more than 300 member commissions from six continents, the show has been bringing film commissioners from around the world together with US production players for more than 30 years. It does this mostly on a booth-lined exhibition floor with a feel that's part business meeting, part schmooze-fest and part carnival.
After stints in Santa Monica, downtown Los Angeles and Century City, and a variety of calendar slots in March and June, the three-day show has this year moved (largely because of the surprise closure of the Century City hotel that was to have hosted the event in early April) to a new date and venue: April 21-23 at the Marriott Burbank, a hotel and convention centre near Los Angeles' Bob Hope Airport and a few miles from the Disney, Universal and Warner Bros studios.
The event also has a new moniker — the AFCI Locations and Global Finance Show — that reflects the addition of a paid conference schedule focusing on incentives and co-production opportunities in Europe, North America, China and beyond. These conferences, for which there is an additional fee for delegates, replace the more wide-ranging free seminars offered for the past four years.
"We wanted to give our members a platform to talk about their regions specifically," says AFCI executive director Kevin Clark of the revamped conference schedule. "A lot of these [financial] programmes are fairly well understood by now, so we're going to focus on some unique elements."
With film and TV production becoming increasingly globalised and incentive-driven, the Locations show attracts a broad crowd of industry professionals. The 3,170 people who, according to the AFCI, attended last year's early March edition included 1,081 producers, 227 directors and 161 location managers. Last year's 130 exhibitors were mostly film commissions, with a few physical studios and production service companies also setting up shop. Most of the world's big commissions take booths but the state film bodies from Louisiana and New York have recently been absent, reportedly because of budget restrictions. Local commissions from those states still exhibit.
International reach
Around half of the event's exhibitors come from international territories while the attendees are still mostly from the US.
"I would love for more international folks to come to the show, of course," says Clark, "but for attendees our primary focus is still southern California because it's the largest media centre in the world."
As of late February, 76 exhibitors had registered for the 2016 show, 21 of them coming from outside the US. The AFCI said that only one exhibitor (New Jersey's Atlantic City Film Office) had, as of that time, cancelled its attendance since the show's late-April move. AFCI members pay $3,250 for a standard booth or $4,950 for a premium space (it's $5,950 or $7,950 for non-members).
How participants use the Locations show depends on how they fit into the ever more complex global production equation. For exhibitors, a booth at the event can act both as a shop window and an office.
"We try to showcase the UK with beautiful photos and brochures," says Katie Kotok, Los Angeles-based executive vice-president of US production for the British Film Commission, which last year grabbed attention with a working R2D2 on its stand. "We also have reps there throughout the show who can talk about the specifics of the incentive, studio space and who to get in touch with if you want to go to a particular place."
The show can also be a venue for conferring with international colleagues. "Part of what we get out of it is an opportunity to talk to the other commissions," says Kate Marks, executive vice-president of international production with Australia's Ausfilm USA. "We get to see the New Zealanders and the Brits and we can actually engage with the film offices from those territories."
For international exhibitors without a year-round US office, the event can provide valuable access to US film-makers. The largely US attendance is "what we both expect and want", says Truls Kontny, president of Scandinavia Locations (a regular exhibitor skipping this year's show because of a clash with the ACE producers meeting in Norway). "European producers we can meet in Berlin or Cannes," adds Kontny, "so for us the priority [at Locations] is to meet American producers."
Visiting exhibitors also often use their time in Los Angeles to meet with producers and studio executives. "It's an anchor for a bunch of meetings and business to be done," says Roxane Gajadhar, communications and marketing director at the New Zealand Film Commission.
Show attendees — who pay nothing for access to the exhibition floor — typically include a smattering of souvenir hunters (commissions are generous with their free pens, caps and bags), plenty of independent US producers and film-makers, and some more established US producers and physical production executives at the studios.
HBO's senior vice-president of West Coast Productions Jay Roewe, whose attendance reflects the recent boom in high-end US television production, says the show is a chance "to meet with territories where I've never filmed before, or haven't thought about filming, but they've put a new incentive in place. It's good to connect and find out what the potential infrastructure situation is, what the support systems are going to be like."
Los Angeles-based indie producer Connie Hoy visits the show both to reconnect with commissioners she already knows and to investigate new possibilities. "If you have a project in mind, you might say: 'We're going to be scouting soon, what will you offer us? What projects do you have there?' So you know where in the queue you might be in their rebate programme."
Advance intelligence
Like other location managers, New Mexico-based Rebecca Puck Stair is a regular attendee who has seen the show's function evolve. Stair makes a point of collecting location photographs from each booth; but she also collects information about "what's going on out in the trenches and what's happening with filming on the ground". In particular, she adds, the show can yield valuable advance intelligence on the status of incentive programmes. "I usually hear about fading incentives and emerging incentives long before they actually happen," she says.
Beyond the exhibition floor, the show's conference panellists have in recent years included the sort of studio and mini-major executives that commissioners want to woo and producers want to pitch.
"You target those key people that are on the panels," says Andy Edmunds, director of exhibitor the Virginia Film Office and a long-time Locations attendee. "A lot of good information is conveyed on what the competition is doing and where the industry is going. And how the studios and independent producers feel. The panels are very valuable."
Ahead of the 2016 show's opening, confirmed sessions in the conference (entry to which costs between $199 and $299) include one on investing in China and another on "demystifying" India. A further panel will introduce the nominees for this year's Location Managers Guild International (LGMI) Awards and a keynote address will be delivered by Jason Reed, executive producer of Of Kings And Prophets, a Disney-ABC biblical drama series shot in South Africa.
The show often ties in with other local film events. In the past these have included the Producers Guild of America's 'Produced By' conference, the Los Angeles Film Festival and the annual LMGI awards ceremony. This year, the LMGI show will take place on April 23 (at a Los Angeles venue that had yet to be announced at press time).
Locations also has a nightlife of its own, though a more limited one than the calendar's major festivals and markets. Exhibitors including the Royal Film Commission Jordan and Scandinavia Locations are known for their evening parties (the latter's being hosted in conjunction with talent agency CAA) and this year's social events will include a Global Finance Conference reception on April 21 and an AFCI reception in the Marriott Burbank lobby on April 22.
For most of its bigger participants, Locations certainly isn't the only event on the calendar. Many commissions also attend the year's big festivals, the AFCI's Cineposium Film Summit (whose location rotates between North America and the rest of the world) in the autumn and the Focus location production event in London that made its debut (with the AFCI as an associate partner) last December. A few — among them the California Film Commission, the British Film Commission and Ausfilm — also stage their own dedicated showcases in Los Angeles at other times of year.
But Locations remains a much-discussed key event — improvements suggested by participants include more social media and webcasting promotion and a move to a slower production month such as December or January — with real value for this sometimes overlooked section of the industry.
"It's a subject of debate as to whether there needs to be a physical AFCI show," says Stair, "but if it was a gathering of just 161 location managers, I would be there. Location managers are sort of like polar bears; we're always by ourselves. So even the chance to swap experiences with one other location manager is very useful."
AFCI locations: the Dos and Don'ts
Do
Work the room and the networking sidebars
Make information about your country or state clear and concise
Take advantage of being in Los Angeles and set up plenty of meetings around the city
Hit the stands by the middle of the first day before exhibitors get tired of answering the same questions
Get business cards and follow up after the event. And bring plenty of your own
Don't
Book time with friends during the weekend because your diary will fill up with spontaneous social events
Sit in your booth. Stand in front for better networking
Wait to visit the booths until Saturday afternoon, when many exhibitors pack up
Miss the Friday night AFCI reception with Second Sight, a classic rock band made up of industry players