A samurai-era manga adaptation, the ladies of the 'pink' industry and Godzilla feature in the Japanese titles vying for attention at AFM.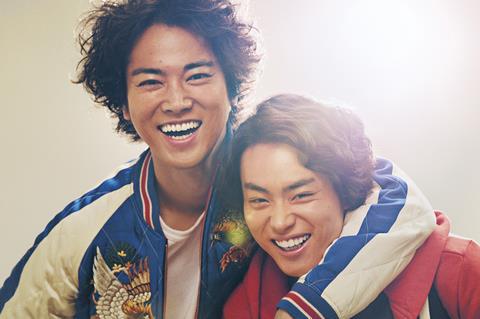 The Blood Of Wolves (Dir Kazuya Shiraishi)
Koji Yakusho (The Third Murder) and Tori Matsuzaka (Birds Without Names) star in this crime-action title, based on a bestselling novel by Yuko Yuzuki. The story follows a rookie policeman who teams up with a veteran detective, rumoured to be working with the mob, to investigate a company that appears to be a front for organised crime. Directed by Kazuya Shiraishi (Twisted Justice, Birds Without Names), the film is scheduled for Japanese release on May 12, 2018.
Contact Daichi Yashiki, Toei dai_yashiki@toei.co.jp
Godzilla (Dirs Kobun Shizuno, Hiroyuki Seshita)
Following the success of Shin Godzilla, last year's reboot of the iconic Godzilla series, Toho is now preparing a 3D CGI animation trilogy based around the fire-breathing, Tokyo-stomping monster. Produced by leading Japanese animation house Polygon Pictures, the three films are scripted by Gen Urobuchi (Fate/Zero) and co-directed by Kobun Shizuno and Hiroyuki Seshita. The first part of the trilogy will be released theatrically in Japan this month.
Contact Akihiro Takeda, Toho a_takeda@toho.co.jp
Laughing Under The Clouds(Dir Katsuyuki Motohiro)
An adaptation of a manga that sold more than 1.2 million copies, this samurai-era action title follows three brothers who are guardians of a sacred tomb and who unite to tackle a giant serpent and an evil ninja clan. Directed by Katsuyuki Motohiro, whose credits include the blockbuster Bayside Shakedown series, the film stars Sota Fukushi, Yuma Nakayama and Kirato Wakayama. The Japanese release is scheduled for March 21, 2018.
Contact Shion Komatsu, Shochiku shion_komatsu@shochiku.co.jp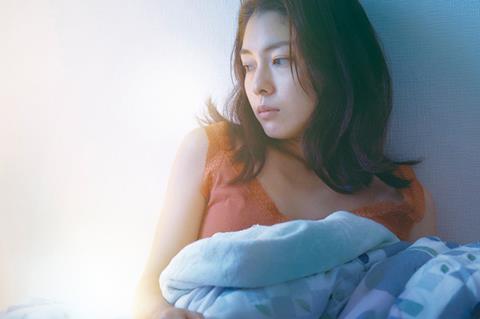 The Lowlife (Dir Takahisa Zeze)
Based on a novel by adult video (AV) actress Mana Sakura, this drama follows three women working in Japan's porn industry and their relationships with family and friends. Once also a 'pink' film director, Takahisa Zeze (see page 14) now makes more mainstream fare such as Rush!, Dog Star and recent two-parter 64. Starring Ayano Moriguchi, Kokone Sasaki and Aina Yamada, The Lowlife recently premiered in competition at Tokyo International Film Festival.
Contact Asako Suzuki, Kadokawa Corp suzuki-as@kadokawa.jp
Mori, The Artist's Habitat (Dir Shuichi Okita)
Tsutomu Yamazaki plays reclusive 20th-century artist Morikazu Kumagai in this biopic directed by Shuichi Okita, whose credits include Ecotherapy Getaway Holiday and The Woodsman And The Rain. Also starring veteran actress Kirin Kiki, the film is currently in post-production for a 2018 release in Japan. Yamazaki worked regularly with Akira Kurosawa and later starred in films such as Juzo Itami's Tampopo.
Contact Emico Kawai, Nikkatsu kawai@nikkatsu.co.jp
Recall (Dir Katsuhide Motoki)
Tomoya Nagase, Dean Fujioka and Issei Takahashi head the cast of this story of corporate conspiracy, based on Jun Ikeido's bestselling novel Sora Tobu Taiya, which has also been adapted into a hit TV series by Wowow. Directed by Katsuhide Motoki (Samurai Hustle Returns), the film is currently in post-production for release in Japan in 2018.
Contact Emico Kawai, Nikkatsu kawai@nikkatsu.co.jp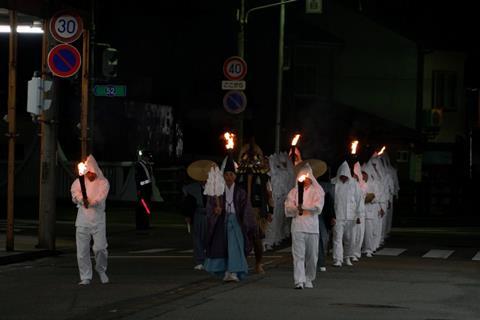 The Scythian Lamb (Dir Daihachi Yoshida)
Produced by Asmik Ace, this quirky drama follows six ex-cons who live in a sleepy coastal town as part of a secret government programme. Directed by Daihachi Yoshida (A Beautiful Star, Pale Moon), the film's ensemble cast includes Ryo Nishikido, Ryuhei Matsuda and Fumino Kimura. The Scythian Lamb recently premiered at Busan International Film Festival and will be released next year in Japan.
Contact Kayo Yoshida, Asmik Ace kayo@asmik-ace.co.jp
Spark (Dir Itsuji Itao)
A serious drama about funny people, Spark is based on Naoki Matayoshi's bestselling novel Hibana, which was also been adapted into a — unrelated — 10-part TV series by Netflix in 2016. Masaki Suda and Kenta Kiritani star in the feature version as two comedians, the older one mentoring the younger, as they face the fact that they might never become successful. Produced by Toho and Yoshimoto Creative Agency, the film will be released in Japan this month, on November 23.
Contact Miyuki Takamatsu, Free Stone Productions miyuki.takamatsu@freestone.jp
Tonight, At The Movies (working title) (Dir Hideki Takeuchi)
Starring Haruka Ayase (Our Little Sister) and Kentaro Sakaguchi (Narratage), this romantic drama imagines what happens when a young director gets to meet the woman of his dreams when she steps out of the frame of a 1960s black-and-white movie. Directed by Hideki Takeuchi, whose credits include Thermae Romae and Nodame Cantabile, the film is scheduled for Japanese release in February 2018 through Warner Bros.
Contact Shinji Sakoda, Pony Canyon sakoda@ponycanyon.co.jp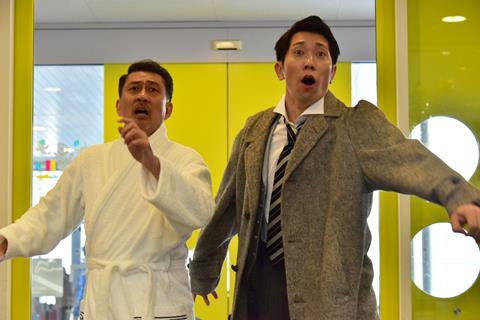 We Make Antiques! (Dir Masaharu Take)
Masaharu Take and Shin Adachi, the director and writer of award-winning indie drama 100 Yen Love, are reteaming on this comedy about two con-men who have a score to settle with an authenticator of antiques. Kiichi Nakai (Railways) and Kuranosuke Sasaki (A Beautiful Star) head the cast of the film, which is scheduled for Japanese release in January 2018.
Contact Haruko Watanabe, Gaga watanabh@gaga.co.jp