The latest from Fruit Chan and Oxide Pang join the crop of action titles, creature features and crime sequels from Hong Kong and China.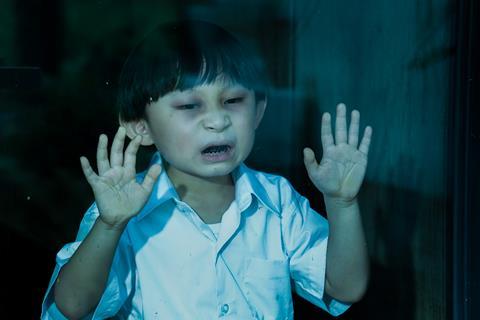 Production has restarted and cinemas have reopened in Hong Kong and mainland China, but lengthy production delays earlier in the year and the closure of China's cinemas between January and July due to the pandemic have created a significant slowdown in the volume of films available for international distribution.
At present, most of the local films being released in China were either postponed during the cinema closures, including Peter Ho-sun Chan's Leap and animation Jiang Ziya: Legend Of Deification, or were taking a long time to clear censorship, such as Guan Hu's The Eight Hundred and Zhang Yimou's One Second. The wait turned out to be worthwhile for The Eight Hundred, which is currently the top-grossing film worldwide in 2020 with box office of $468m.
While the China market has so far seen a blistering pace of recovery thanks to these delayed titles, box office may slow down later this year or after Chinese New Year (Feb 11-17, 2021) due to the lack of new films. Meanwhile some big titles are expected year-end including Shock Wave 2 and Guo Jingming's The Yin-Yang Master: Dream Of Eternity, while Chinese New Year releases are set to include Detective Chinatown 3 and Dante Lam's The Rescue.
The Abortionist
Dir. Fruit Chan
Chan explores social issues and the mother-daughter relationship in this drama, which is nominated for best director and best leading actress at the Golden Horse Awards (Nov 21) in Taiwan. Bai Ling stars as a tai chi teacher with a secret life as a black-market abortionist, which she reconsiders when her teenaged daughter objects. Bai Ling won the supporting actress prize at the Hong Kong Film Awards and Golden Horse Awards for Dumplings, Chan's segment of the Three Extremes omnibus, in 2004.
Contact: Clarence Tang, Golden Dragon Pictures
Back To The Wharf
Dir. Li Xiaofeng
Executive produced by leading actor/producer Huang Bo, drama Back To The Wharf revolves around a former top high-school student returning to the hometown he left 15 years ago following an accident. Zhang Yu (An Elephant Sitting Still), Song Jia (The Shadow Play) and Wang Yanhui (Dying To Survive) head the cast of the film, which was released theatrically in China last weekend and grossed $7m in its opening three days. The film is Li's third following Nezha (2014) and Ash (2016), both of which were selected for Busan and several other film festivals.
Contact: Meng Xie, Rediance
Breakout Brothers
Dir. Mak Ho-Pong
Scheduled for Hong Kong release on December 3, this crime action title revolves around three Hong Kong prisoners plotting their escape: one is wrongly sentenced and facing danger in jail, one wants to attend his daughter's wedding and one wants to donate one of his kidneys to his mother to enable her to survive. The cast is headed by Patrick Tam (Port Of Call), Louis Cheung (Ip Man 3), Adam Pak (L Storm) and Kenny Wong (Cold War 2). Mak previously directed 2018 horror film The Lingering.
Contact: Kat Yeung, Mandarin Motion Pictures
Disconnect'd
Dir. Wong Hing Fan
The second film from Wong following i'm livin' it, this action drama reunites him with actor Aaron Kwok and also stars Lam Ka Tung, Megan Lai and Simon Yam. Kwok plays a cyber-security engineer who develops an AI programme with the potential to disable the region's entire network, but then has to prevent it falling into the wrong hands. Currently in post-production, the film is produced by Soi Cheang for Sil Metropole and Entertaining Power. Soi Cheang also produced i'm livin' it, which premiered at Tokyo International Film Festival in 2019.
Contact: Esther Yeung, Edko Films
Endgame
Dir. Rao Xiaozhi
Andy Lau, Xiao Yang (Detective Chinatown 2) and Wan Qian (The Wild Goose Lake) star in this comedy drama about a failed actor who takes up the identity of a comatose man, only to discover he is a professional assassin. When the killer-for-hire awakes with amnesia, he begins to piece together his 'past life' as an actor. Currently in post-production for tentative release over Chinese New Year 2021, the Hong Kong-China co-production is a remake of Kenji Uchida's 2012 Japanese hit Key Of Life. Rao's credits include sleeper hit A Cool Fish, a low-budget comedy that grossed $120m (rmb794m) in China in 2018.
Contact: Miriam Cheung, Emperor Motion Pictures
Flashover (working title)
Dir. Oxide Pang
Currently in production for delivery in the second half of 2021, Pang's latest action drama follows a group of firefighters putting their lives on the line when a mild earthquake causes an explosion in a chemical plant. The cast is headed by Du Jiang (The Captain), Wang Qianyuan (Saving Mr. Wu), Tong Li Ya (Heartfall Arises) and Han Xue (Cairo Declaration). Pang already has experience with fire-themed disaster movies — he co-directed Out Of Inferno with Danny Pang in 2013.
Contact: Mia Sin, Universe Films Distribution
G Storm
Dir. David Lam Tak Luk
The latest instalment in producer Raymond Wong's hugely successful anti-corruption franchise follows investigator William Luk to Thailand, where he prevents a terrorist attack during a symposium held by Hong Kong's Independent Commission Against Corruption (ICAC). While investigating a case in the immigration department, he finds it has links to human trafficking in Thailand. In post-production, the $14m action drama stars series regulars Louis Koo and Kevin Cheng.
Contact: Kat Yeung, Mandarin Motion Pictures
God Of War II
Dir. Cai Cong
Charles Lin, Liu Yuxi and David Wu head the cast of this action drama, which tells the story of Lu Bu, a warlord who lived during the Eastern Han Dynasty and whose life was dramatised in classic Chinese novel Romance Of The Three Kingdoms. It follows Media Asia's 2017 war epic God Of War, based on the life of another historical figure, but the story is unrelated. Cai is best known for popular Chinese TV dramas Love Is Deep and Yun Se Guo Nong. God Of War IIpremiered on iQiyi's streaming platform earlier this year when China's cinemas were closed.
Contact: Fred Tsui, Media Asia
Hand Rolled Cigarette
Dir. Chan Kin Long
Chan's debut feature tells the story of a retired soldier, formerly in the British colonial army, who agrees to store drugs for a South Asian small-time crook. The two men bond when they realise they are both leftovers from a colonial past, but loyalties are tested when it's revealed the drugs have been stolen from an underworld kingpin. Set to premiere as one of two closing films at the Golden Horse Film Festival, the picture stars Lam Ka Tung and Bipin Karma and is backed by Hong Kong Film Development Council's First Feature Film Initiative.
Contact: Esther Yeung, Edko Films
The Legend Hunters
Dir. Simon West
Zhang Hanyu (The Captain), Celina Jade (Wolf Warrior 2) and Jiang Wu (A Touch Of Sin) star in this action adventure, directed by West, who made his China debut last year with Skyfire after directing US hits such as Con Air and The Expendables 2. A spin-off from Wuershan's Mojin: The Lost Legend (2015), The Legend Hunters follows a tomb-raiding team as they embark on what appears to be an easy mission in Russia, but which turns out to be a trap. Backed by Wanda Pictures, the film is currently in post-production for release in 2021.
Contact: Wen Mengchen, Wanda Pictures
Mad Spider Sea
Dir. Joe Chien
This action adventure has an ensemble cast including Sunny Wang (Gatao), Ko Chia-Yen (The Bold, The Corrupt And The Beautiful) and Lee Kang Sheng (Stray Dogs). The story revolves around a group of sailors on a fishing trip who are attacked by a spider-like creature. After shooting the monster, they start to panic when crew members mysteriously go missing. The film was released theatrically in Taiwan in September and on iQiyi's streaming platform last month. Chien previously directed Zombie Fight Club and also has credits including mainland Chinese horror film The House That Never Dies: Reawakening (2017).
Contact: Alice Leung, iQiyi; Bryce Tsao, iQiyi
Ready Or Knot
Dir. Anselm Chan
Carlos Chan (You Are The One) and Michelle Wai (Lion Rock) star in this romantic comedy about a girl who, on the advice of her friends, resorts to devious tactics to get her boyfriend to marry her, but is outwitted by his friends. The film, which also stars Hedwig Tam (Weeds On Fire) and Tommy Chu (My Prince Edward), is in post-production for tentative release over Chinese New Year 2021. Chan, who is making his directorial debut, scripted films directed by Vincent Kok, including Two Wrongs Make A Right (2017).
Contact: Miriam Cheung, Emperor Motion Pictures
Summer Blur
Dir. Han Shuai
Han's feature debut won the jury prize in the Fei Mu awards at Pingyao film festival and the Fipresci award at Busan. Backed by Factory Gate Films and Dadi Film and co-presented by iQiyi Pictures, the film follows a teenage girl who is traumatised by watching a potential admirer drown and is then pressured into dating another boy, who uses her guilt against her. The cast is led by Tian Huang playing the girl, with Gong Beibi (Dying To Survive) as the aunt she lives with after being abandoned by her mother.
Contact: Meng Xie, Rediance
The Way We Keep Dancing
Dir. Adam Wong
Cherry Ngan and Babyjohn Choi are reprising their roles as street dancers in the sequel to Wong's critically acclaimed musical drama The Way We Dance (2013). Set to premiere as one of two closing films at the Golden Horse Film Festival, the movie revolves around a tight-knit group of dancers and musicians who participate in a publicity stunt to keep dance alive in an industrial district that is being prepared for gentrification. Wong's credits also include 2015 drama She Remembers, He Forgets.
Contact: Felix Tsang, Golden Scene