Painters, poets, chefs and samurai headline the latest Japanese titles available to international buyers during AFM.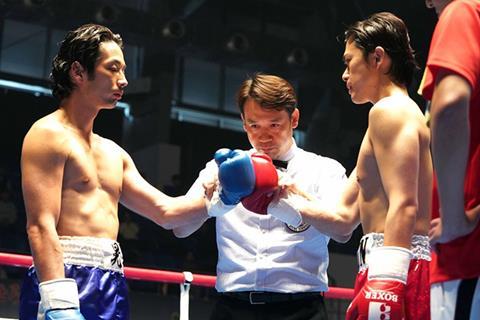 Japan's film industry took a big hit in April and May when cinemas were closed and production halted due to the Covid-19 pandemic, but began to revive over the summer with a string of local releases.
Chief among these has been record-breaking hit Demon Slayer The Movie: Mugen Train, an animated feature produced by Sony's anime unit Aniplex, which was released on October 16 and pushed past the $150m barrier in just 17 days. The film is adapted from the bestselling manga by Koyoharu Gotouge and directed by Haruo Sotozaki.
Two more big animated films are scheduled for release before the end of the year — Stand By Me Doraemon 2 and Pokemon The Movie 2020: Coco — along with mainstream live-action titles such as Hitoshi Yazaki's drama Sakura and Yoshihiro Fukagawa's crime thriller The Legacy Of Dr Death: Black File.
Also scheduled for release are several Japanese films that have been playing on the festival circuit, including Takuma Sato's Any Crybabies Around?, Kotaro Tamura's Josee, The Tiger And The Fish, which closed Busan International Film Festival, and Masaharu Take's Underdog, which played as the opening film of Tokyo International Film Festival on October 31.
A Balance
Dir. Yujiro Harumoto
One of the biggest hits of Asia's autumn festival season, Harumoto's second film won a jury award and People's Choice award at Pingyao International Film Festival, followed by the New Currents award at Busan International Film Festival. Kumi Takiuchi (It Feels So Good) stars as a documentary filmmaker investigating the death by suicide of a student and teacher, who are alleged to have been having an affair, when a scandal emerges much closer to home. Harumoto made his debut with the critically acclaimed indie drama Going The Distance in 2016.
Contact: Shujiro Fujioka, Toei
Along The Sea
Dir. Akio Fujimoto
Fujimoto's second feature follows three Vietnamese women in Japan who become illegal residents when they leave their underpaid jobs. Co-produced by Japan's ExNKK and Vietnam's Ever Rolling Films, the film stars Hoang Phuong (Invisible Love), Huynh Tuyet Anh (Fight Back To School) and newcomer Quynh Nhu. It received its world premiere in the New Directors section of San Sebastian Film Festival and played in World Focus at Tokyo International Film Festival. Fujimoto made his feature debut with Passage Of Life (2017), about Burmese migrants in Japan, which won the best film prize in Tokyo's Asian Future competition in 2017.
Contact: Maria Ruggieri, Asian Shadows
Angry Rice Wives
Dir. Katsuhide Motoki
Based on historical events, this comedy drama revolves around a group of 'desperate housewives' in 1918 who take on the authorities when the nation's rice stocks run low. Motoki is known for the Samurai Hustle comedy franchise, while the cast is headed by Mao Inoue who starred in the Boys Over Flowers TV series and won the best actress prize at the Japan Academy Awards for Izuru Narushima's Rebirth (2011). Angry Rice Wives is in post-production for local release on January 8, 2021.
Contact: Keiko Yoshida, Gaga Corp
Anokoro
Dir. Rikiya Imaizumi
Tori Matsuzaka (The Blood Of Wolves) and Taiga Nakano (Under The Open Sky) star in this drama about a failed musician who becomes involved with a group of men obsessed with idols. He starts enjoying his life again until one of his friends is diagnosed with cancer. Imaizumi has credits including Sad Tea (2013), Their Distance (2015) and What Is Love? (2018). Anokora is in post-production for release in February 2021.
Contact: Mami Furukawa, Nikkatsu
Between Us
Dir. Yasuo Okuaki
Okuaki's second film follows a young woman who has grown up in a wealthy family but whose life is turned upside down when her father's company goes bankrupt. Unable to talk to anyone about the situation, she bonds with a classmate who has lost her ability to speak after a car accident but finds solace in playing the taiko (Japanese drum). Ayaka Konno (Kamen Rider series) and Sayu Kubota (Hello, Goodbye) head the cast of the film, which is currently in post-production for release in 2021. Okuaki's debut feature, family drama Kagura-me, played at Montreal World Film Festival in 2015.
Contact: Mami Furukawa, Nikkatsu
Food Luck
Dir. Jimon Terakado
The directing debut of Japanese comedian Terakado, this food-themed drama revolves around Yakiniku, a Japanese grilled meat cuisine. Terakado, who is represented by talent agency Ohta Production and is part of the Dachou Club comedy trio, is well‑known for his love of food, in particular beef, and often appears on gourmet programmes on Japanese TV. He spent five years writing the original story for Food Luck, which received its world premiere in Tokyo's Special Screenings section.
Contact: Shion Komatsu, Shochiku
The Great Yokai War: Guardians
Dir. Takashi Miike
Miike is directing a reboot of his 2005 action hit The Great Yokai War, which again pits a schoolboy against Japan's ancient creatures, except this time the Yokai goblins are joined by a selection of monsters from around the world. Scripted by Yusuke Watanabe (Twentieth Century Boys) and starring Kokoro Terada (My Dad Is A Heel Wrestler), the film is in post-production for release in summer 2021. One of Japan's most prolific filmmakers, Miike was at Cannes last year with First Love, which premiered in Directors' Fortnight.
Contact: Chiyo Mori, Kadokawa
Hokusai
Dir. Hajime Hashimoto
Receiving its world premiere as Tokyo's closing film, Hokusai is a biopic of the eponymous artist, whose woodblock print 'The Great Wave Off Kanagawa' is world-famous and one of the most iconic images to emerge from Japan. Yuya Yagira, who won the best actor prize at Cannes as a child actor for Nobody Knows(2004), plays the artist when he was a rebellious youth, while Min Tanaka (The Twilight Samurai) portrays him as an older man. Free Stone Productions has already sold the film to Chinese-speaking territories, Latin America and South Korea.
Contact: Free Stone Productions
The Pass: Last Days Of The Samurai
Dir. Takashi Koizumi
Koji Yakusho (The Last Samurai, The Eel) heads the cast of this adaptation of Ryotaro Shiba's historical novel Touge, about the samurai Kawai Tsuginosuke, who went into battle despite believing that war was not the answer. Takako Matsu (Masquerade Hotel) and Tatsuya Nakadai (The Blind Swordsman: Zatoichi) also star in the film, which is scheduled for local release on June 28, 2021. Koizumi worked alongside Akira Kurosawa as an assistant on several films, and has directing credits including After The Rain (1999) and A Samurai Chronicle (2014).
Contact: Shion Komatsu, Shochiku
Restart
Dir. Hiroshi Shinagawa
Produced by Yoshimoto Kogyo, this music-themed drama revolves around a woman who returns to her hometown in Hokkaido looking for redemption following a failed romance and a career as a singer/songwriter in Tokyo that didn't quite work out. Scheduled for Japanese release in summer 2021, the film stars Emily, one half of folk duo Honebone, and Japanese rapper Sway. Shinagawa is an actor and director from the Yoshimoto stable, with directing credits including Slapstick Brothers (2011) and Deadman Inferno (2015).
Contact: Free Stone Productions
Runway
Dir. Norichika Oba
Sayaka Kuwamura (Josee, The Tiger And The Fish) has scripted this drama inspired by a bestselling book of poems written by Shinichiro Hagihara, who took his own life in 2017 at the age of 32. The story follows a bureaucrat struggling under the pressure of work who investigates the death by suicide of a man his own age working in non-regular employment. Asami Mizukawa, Kodai Asaka and Uta Yorikawa head the cast of the film, which had its world premiere in Tokyo's Special Screenings section. Oba has previously worked as an assistant director on films such as Hiroshi Nishitani's Suspect X and Hideaki Anno's Shin Godzilla.
Contact: Chiyo Mori, Kadokawa
Underdog
Dir. Masaharu Take
Take's boxing drama received its world premiere as Tokyo's opening film and has also been produced as an eight-episode web series, which will stream on AbemaTV from January 2021. Mirai Moriyama (Samurai Marathon), Takumi Kitamura (12 Suicidal Teens) and Ryo Katsuji (Masquerade Hotel) head the cast of both film and series, about three underdog boxers as they struggle to rise to stardom. Take has brought together several members of his team from award-winning drama 100 Yen Love for the project, including screenwriter Shin Adachi.
Contact: Shujiro Fujioka, Toei