Statistics were revealed during Screen's VoD panel at the American Film Market.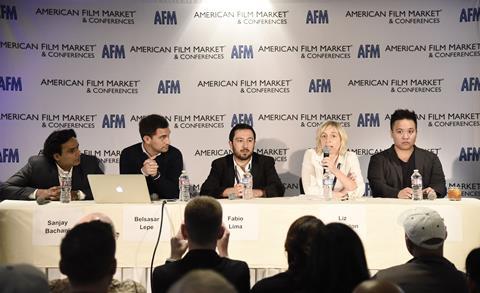 There are a number of hungry VoD players in Asia competing for content so now is the time for producers and sellers to be exploring those markets, before market consolidation takes place over the next few years and Netflix and Amazon gain stronger footholds in the region.
That was one takeaway from Screen International's panel on Asian VoD at the AFM on Sunday [Nov 6]. Moderated by Screen's Asia editor Liz Shackleton, the panel featured Belsasar Lepe, co-founder of online-video technology providers Ooyala; Fabio Lima, CEO of Brazilian digital distributor Sofa Digital (a key aggregator for iTunes and Netflix in the LatAm market, now expanding into Asia); Sanjay Bachani, managing director of Indian VoD aggregator and distributor FilmKaravan; and Felix Tsang, sales and acquisitions manager of Hong Kong distributor Golden Scene.
Growth projections
Ooyala's Lepe began the standing-room-only panel presenting VoD statistics from the Asia-Pacific (APAC) market. By 2021, projections are that revenue for online streaming, compared against free-to-air and pay TV revenue, will make up 22% of the total market compared to 11% now.
By 2021, the Chinese market is expected to be worth $21bn, and OTT will represent 80% of that. That compares to 55% in Australia and only 30% in Korea, countries where free to air and pay TV still dominate.
The subscription VoD market (SVoD) for the region is expected to grow from $1.8bn in 2015 to $6.4bn in 2021, while ad-based VoD (AVoD) is anticipated to grow from $2.7bn to $8.8bn over the same timespan.
A fragmented market remains a good defense for local VoD players, noted Lepe. By 2021, the major platforms - led by Netflix and Amazon - are only expected to control 16% of the SVoD market, with the rest from local providers who offer a richer variety of customised local content.
Mobile viewing is 43% of all online viewing in APAC, and in Singapore, Japan and Australia it is around 50%. And audiences are viewing long-form as well as short-form content on their tablets, smartphones and other devices, including feature films and TV series. But, it was noted, there is still room for independent or foreign-language films on local platforms.
"We tend to see a lot of direct consumer plays," said Lepe. "There are certain aggregation plays where these folks are teaming up with other digital-content providers and finding that there is an audience and that they can monetise this content through their own subscription or transactional based models."
Lima described the complexity of the fragmented - and highly localised - APAC markets as tricky to navigate. "It takes time to understand all the old contracts, the hold-backs, the pay-TV windows. It takes time to educate people and show them, 'Okay, it is possible to monetise in different ways and we're not only going to be dependent on Netflix as being a competitor of the pay-TV window.'"
Localising content through subtitling and marketing materials is a time-consuming but necessary process. Lima, though, sees an opportunity for platforms to drop prices particularly for TVoD to take advantage of so-called millennials' preference for micro-payments over monthly or annual subscriptions.
But this generation can also be tempted to purchase content rather than simply rent for one-off viewings, heading back towards the model of building their own libraries in their clouds in the way people once did with their DVD collections.
"If you find the right price point, people are willing to buy more than rent," said Lima.
Going mobile
In a price-sensitive market like India, noted Buchani, Eros Now's SVoD service only costs 40 cents a month while offering customers an extensive library of local and international content. This has been aided by the rapid expansion of the country's high-speed internet capability and the rise of smartphones, with India now the second largest market for smartphone connections after only China.
"Around 25% of people in India have smartphones now. You can see a taxi driver, a rickshaw driver, a washman, who used to sit down and do nothing in their free time, watching content on their smartphones. Now AVoD is becoming very good value in India because content is getting consumed, finally, by the masses."
It is leading to the repurposing of certain content by platforms, with Indian audiences less willing to sit through the three-hour Bollywood epics that have long been the staple of the local film industry.
"Gang Of Wasseypur, part one and part two, is an excellent movie made by a very good director but we realised that nobody is watching it," said Buchani. "So we turned it into eight parts and we sold it that way. That angle is very interesting to take. Digital platforms are now competing with the big TV guys [in India]."
Offering a distributor's perspective, Tsang noted his company welcomed having multiple platforms in the market "because it means there is more of a revenue stream for us. It's better for us when we acquire all the rights because it means we have many outlets to sell to: iTunes, Googleplay, Netflix…"
Competition for titles between the platforms, though, can yield tough terms, including long exclusivity windows and hold-backs. Amazon, for instance, will carve out SVoD and TVoD rights for feature films they invest in.
"That's a concern for us," said Tsang. "You hear more and more from sellers, 'Oh sorry, we've just sold the world to Netflix.' And apparently it's not the world anymore - my colleagues tell me that Netflix buys the universe rights now for a film, which is funny. So if we ever start watching films on the moon…"
In Asia and Latin America, added Lima, it's common for Netflix and Amazon to do hold-backs even in territories where they don't yet operate. "But that's also the strategy of the local players in pay-TV. They block SVoD and TVoD rights. They were preparing the host environment to avoid content going to Netflix or Amazon."