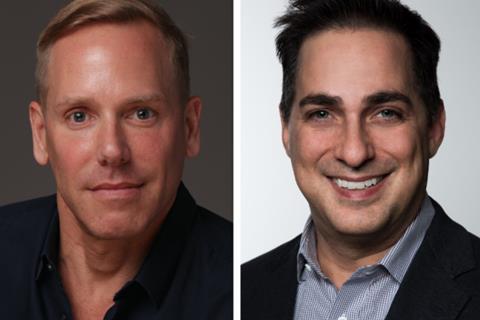 Los Angeles-based Matt Brodlie and Jonathan Kier have launched Upgrade Productions to develop and produce local-language film and TV for the global market.
They are backed by Germany's Constantin Film and have a strategic partnership with Bron. Kier will also serve as president at the newly formed Bron Releasing.
Brodlie was previously SVP of international content for Disney+ and before that served as director of original film at Netflix and held senior roles at Paramount, Sony and Miramax. Kier was most recently president of Sierra/Affinity and prior to that worked in a senior distribution capacity at The Weinstein Company and Dimension Films.
What was the opportunity to launch Upgrade now?
Matt Brodlie: Jonathan and I have both worked in local-language film and series for some time and it's become much more important for global buyers, be they streamers or studios, broadcasters or local theatrical distributors. It used to be this little corner of Hollywood and now it's front and centre.
Jonathan Kier: It was fun to launch the company the same week that Squid Games was the number one show around the world. People got it.
What's the relationship with Constantin Film?
Brodlie: They're an equity piece of our company and a strategic partner but we have the freedom to sell to whomever we want. Aside from the investment, we're looking forward to working on a lot of projects together. They are great, straightforward partners.
Tell us more about Bron Releasing.
Kier: It's a joint sales venture with Bron. I'll be president with the sales team that resides under us. We'll handle sales specifically on the feature side for Bron, Upgrade and third party. Television is structured slightly differently… but [Upgrade] will be handling those as well. Bron is providing a lot of the infrastructure that's already in place – marketing, legal, delivery.
What are your thoughts heading into the second virtual AFM?
Kier: I'm excited to touch base with everybody again to see what their slates are like and what they need. There's been a lot of assessing that's gone on over the last couple of months. Italy just went to 100% capacity in their theatres a few weeks ago. AFM is going to be completely virtual. Other places have already gone hybrid: MIA just happened, Toronto. It's a question more than anything else: are we entering some sort of new pattern? I'm very curious to see where we are by Cannes of next year.
Brodlie: The question is, Is the film sales element of AFM going to be crowded because [over the last few years] Toronto has turned into a bit more of a market than it has been previously and then you have Berlin in February. We're new and not yet presenting any kind of film packages. We're still in the process of developing a few things.
What are your thoughts on the theatrical market?
Brodlie: There are many buyers. There are the theatrical distributors who Jonathan's been selling to and we want to continue working with them. They're important relationships: they're well-funded, well-resourced and smart. And there are global buyers, global streamer buyers, territorial theatrical distributors. We want to work with everybody.
Kier: There are multiple ways to engage with an audience. There are people who still want to see movies in the theatres and specific kinds of movies. We have to see as time goes on if that changes – are there certain films that people want to see in the theatre versus at home, for example. That's always been changing and there's been an acceleration during the pandemic.
Brodlie: It'll be interesting to see how theatres come back. A lot of them unfortunately have been dark for a period of time and the audience is a fickle bunch and so it'll be interesting to see how they come back.
Kier: If you look at the international box office, sometimes the biggest hits now are the local-language films and that's interesting to keep an eye on, specifically in the independent space.
Why the name Upgrade?
Kier: We were talking about what makes us happy and we travel so much and it's that feeling you get when you hand over your ticket and you get upgraded. There's a tech connotation as well so it seemed appropriate.
Brodlie: We think it has a positive connotation.