Alejandro G Iñárritu follows Oscar winner The Revenant with another wild ride — this time returning to his native Mexico to explore his own fractured sense of identity. He tells Screen about mounting a personal odyssey that combines intimate moments with epic set-pieces.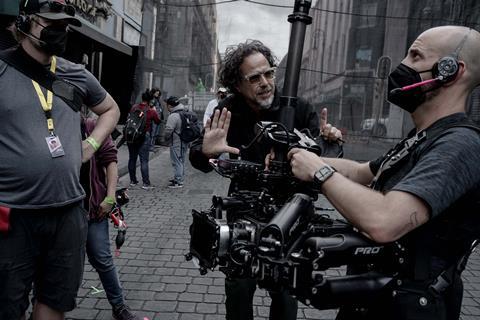 Two-time best director Oscar winner Alejandro G Iñárritu erupts into the room, a cup of coffee clutched to his chest, hair seceding from the authority of a comb, olive-green jacket turned up at the collar. He is feeling "a little upside-down", initial pleasantries reveal, "but ready".
The previous evening's AFI Fest screening and party in early November have left him feeling somewhat discombobulated, perhaps a handy state of mind in which to unpack the dreamlike tragi-comedy of Bardo, False Chronicle Of A Handful Of Truths, his latest feature that has gone on limited theatrical release in the US, Mexico and elsewhere before its December 16 launch on Netflix.
It has been seven years since Iñárritu's last feature The Revenant, an arduous process all round that earned him the best director Oscar in 2016 for his troubles, a year after he won for Birdman. Both were typically ambitious, demanding endeavours, and Bardo, his first feature with Netflix, is no different.
Over the span of two hours and 39 minutes (re-edited from the three-hour version that premiered at Venice), Spain-born Mexican actor Daniel Gimenez Cacho is barely off screen as Silverio, an expatriate Mexican journalist and documentarian domiciled in Los Angeles. He glides through a manic, heartbreaking and often very funny tapestry of his own life, and Mexican history and culture, when he returns to his homeland to celebrate an award he is about to receive in Los Angeles.
Darius Khondji's cinematography is a mood board of streets carved up by sunlight and shadow, edited to the beat of Mexican Cumbia music. Intimate close-ups and moments of love and sex are interspersed with vast set-pieces recounting key events in Mexican history. In one scene, combatants from the mid-19th century Mexican-American War spill into Silverio's path. In another the protagonist talks with Spanish conquistador Hernan Cortes atop a pyramid of bodies — a scene that shot in Mexico City's Zocalo square while the pyramid was filmed on a separate soundstage. And in yet another, he is surrounded in downtown Mexico City by a haunting hieroglyph of collapsing people representing the 130,000 believed to have disappeared in Mexico in the past decade.
Back story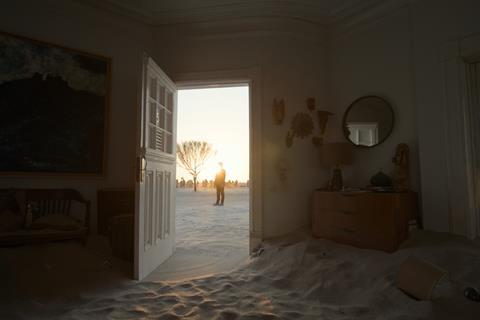 Iñárritu felt the impulse to make Bardo while he spent two years on Carne Y Arena, the Cannes 2017 virtual-reality installation that documented the refugee experience. The thought blossomed into an existential itch as the filmmaker reflected on his "first-class immigrant" status, some 20 years after leaving Mexico to live in Los Angeles.
That prompted a four-year writing process with longtime collaborator Nicolas Giacobone. "It was a need, a deep need," Iñárritu says of the motivation to make Bardo, a Tibetan term meaning the soul's state between death and rebirth (the project was previously called Limbo). "I'm going to turn 60 so maybe I'm in a meditative state generally, putting things together and trying to make sense of things. The territory for me creatively was inside. I had a lot of baggage."
Claiming to possess almost no memory of his childhood - "I have only three pictures of me from when I was a kid, because I was the fifth one so maybe by the time I was born my parents were tired of pictures" — the filmmaker rummaged through his inner closet to explore the last 25 years of his adult life and take an "x-ray of my mind and emotions", all the while aware that his life has created a duality: the soul of "old Alejandro" is still rooted in Mexico and yet he lives in the US. "There's nobody more Mexican than the Mexicans that leave, because the absence of it becomes very present."
Iñárritu and Giacobone wrote dozens of "slices and flashes" of emotions and meaningful events in a story that tips its hat to Federico Fellini's 8½. "I don't believe in biographies," says the director. "I think they are lies and hypocrisy. For me there was a need to fictionalise and represent those things in a cinematic way and look for a higher truth. It's not the events that matter, it's how I felt about things."
He is also fond of the film's absurdist humour, and references Leonard Cohen's quote, "There is a crack in everything. That's how the light gets in." He adds that it was important "not to be extremely dramatic".
Par for the course, production was tough. One week before the planned March 2020 shoot, the pandemic washed over the planet. Sets were stored away until production resumed in December, only to be shut down after 10 days when 37 crew members fell sick. Production finally went ahead in March 2021 in Mexico City, the desert and Baja California.
Iñárritu detached himself once he had mined memory fragments and philosophical considerations about belonging and identity from his adult life. He insists Silverio is not him but an alter ego, and wished to portray the character as a mere observer gliding through a lucid dream, analysing nothing. Actor Cacho, a multiple winner at Mexico's Ariel Awards whose credits include Zama and Blanca­nieves, was born in Spain and lives in Mexico and seemed an apt choice for the role, bearing many similarities to the filmmaker in age, family and sensibility. "There was a kind of cosmic encounter… Daniel got all the situations and made them his own."
Silverio roams through bizarre and occasionally shocking events. In one scene that evokes the loss of Iñárritu's third child in infancy, a newborn declares it does not want to live in this world before scuttling back from whence it came.
Epic scale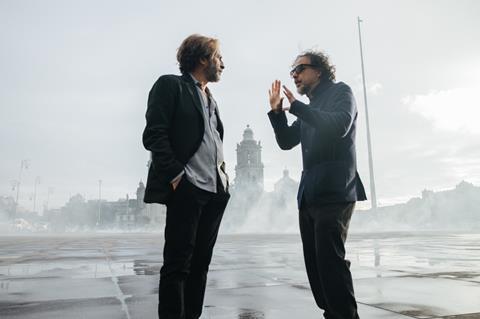 Iñárritu grimaces slightly when he recalls the larger, show-stopping sequences. For the scene depicting Mexico's disappeared, the choreography was rehearsed on a backlot a year before and the production persuaded Mexico City authorities to close down several streets each morning for nearly a week. Miraculously the sun behaved and they captured the same light each day.
The exuberant nightclub scene where Silverio celebrates with family and friends was shot at the California Dancing Club, a fabled Mexico City nightspot that had fallen into disrepair during the pandemic and needed a little renovating. Band rehearsal, lighting set-ups and blocking took two weeks.
"There were 800 extras and no air conditioner and everybody was sweating and coughing. Masks were on between takes. We would shoot a great take and three guys would forget to take off their masks so we'd have to do it again. It was a nightmare."
Bardo's creator enjoyed finding fresh nuances as he watched the film on a recent international promotional tour, but had no problem making cuts. "I'm a butcher," he says. "I have no compassion or attachment." Iñárritu shaved 22 minutes from the original version on the Lido. "Venice was the first time I saw it with an audience of 2,000 people and I knew immediately there were opportunities to get in and to get them tighter."
Does Iñárritu have a clearer sense of where he belongs as he looks back on the process of making Bardo? "What I've understood is there are no answers, there's no conclusion. All of us who have migrated should embrace the fact we do not belong, that we are becoming something… I'm not solidly in one place, not intellectually, not spiritually, not physically, meaning I'm in permanent transformation.
"I stopped surrendering to the obsession to belong to an identity of national stories and narratives and all that bullshit. My nation is my family. That's where I really belong."