The Sightseers co-writer and star talks about her feature directorial debut.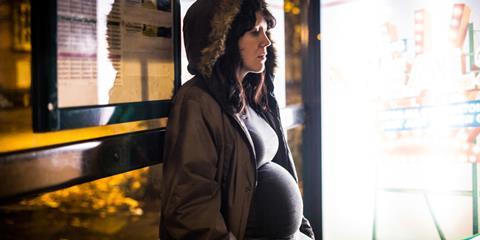 Don't go trying to compare Alice Lowe's Prevenge to anything you've seen before. You won't have any luck.
"I had a penny dropping moment where I realised it was an artisanal piece, it's like a weird, sort-of, handmade pot," Lowe explains of her feature directorial debut.
"It's not even, it's wonky, it's weird, but that's what makes it interesting. "Everything that compliments it, including the music, needs to have that same feeling. It's one individual's insane perspective.
"Nothing about it is normal or average, every part of it is strange."
Produced by Vaughan Sivell, Jen Handorf and Will Kane, for Western Edge Pictures, Prevenge will receive its world premiere as the opening film of Venice Critics' Week and stars Lowe as a pregnant woman on a killing spree, targeting individuals from different walks of life while her motivation is gradually revealed.
Second baby
Fittingly, you could almost describe Prevenge as a second baby for Lowe, who was seven-and-a-half months pregnant when the shoot started on the film last October.
But shooting while pregnant was not as much of an issue as expected, helped by the fact that Lowe wrote the script and knew "what my limitations were".
"I don't know whether it was hormones or whatever, but I really enjoyed the shoot, it wasn't stressful at all," she recalls.
"It gives you a bit of perspective when you're pregnant because the worst that could happen was that we didn't get the film made. I had bigger things going on, which made me really enjoy and appreciate the shoot."
Complete creative freedom
The smoothness of production was also helped by the fact that the film was privately financed, by Western Edge Pictures/Gennaker, meaning that Lowe had "complete creative freedom".
Having given birth to her baby daughter over the Christmas period, Lowe worked on the edit from January to July, which turned out to be a completely different learning curve for the Sightseers co-writer and star.
"The shoot was much easier because that's my world, I'm totally comfortable on a film set and really used to that environment," says Lowe.
"I've been in post-production less often. I've only done a short film [Solitudo], and even though I've been present in edits, it hasn't been my responsibility.
"It was more of a juggle having a baby as well as working on the film, as opposed to being pregnant and working on a film. You're literally, physically dealing with a baby and going, 'Oh right, she's crying now, I'll just go and change her nappy' halfway through an edit.'"
Five ideas ready to go
Fortunately for Lowe, her daughter is "well-behaved" which allowed her to gradually start going into the edit, having started on it remotely, and the whole unique experience has only made her want to direct again as soon as possible.
"It gave me a lot of confidence to make me realise there's no reason you can't dictate the way a film is made to suit you," she says. "I don't perceive myself slowing down. I've got about five ideas that are pretty much ready to go. I've been champing at the bit to wait for someone to let me make stuff."
Lowe is not sure her daughter will get another big-screen outing though, but does wonder how she will take being a film star even before she was born - not that she'll watch it before she's 18.
"I hope she doesn't look back on it and go, 'I can't believe you put me into all these edits when I was tiny, it's obviously scarred me for life'," Lowe jokes.
"And I'll say, 'Don't talk rubbish because you clearly can't remember any of it'."
Alice Lowe is nominated for Screen International Horror Rising Star Award at Horror Channel FrightFest, with the winner revealed on Sunday [Aug 28]. She will also take part in Women In Horror panel during the day.