Playing seasoned infantryman Kat in All Quiet On The Western Front has brought Albrecht Schuch a Bafta nomination just when he is seeking to broaden the international scope of his career. Screen talks to the German actor.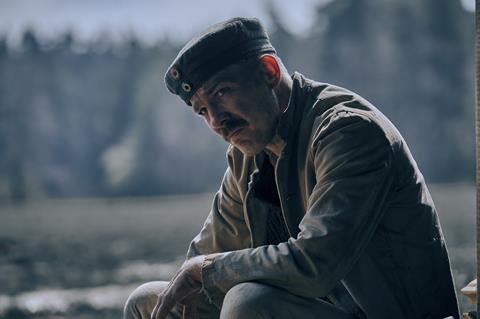 On the day of the Bafta Film Awards nominations announcement, when All Quiet On The Western Front topped the list with nods in 14 categories, including Albrecht Schuch for his supporting performance as veteran soldier Kat, the actor was on a bus in Sri Lanka with no internet connection. It was only later, at the airport while waiting for his flight back to Berlin, that he turned on his phone and was hit by a deluge of messages. It was, he says, "Completely overwhelming. The Baftas! So many actors from the UK and Ireland are the reason why I am doing this." He name-checks Brendan Gleeson and Bill Nighy as long-term inspirations.
But, he adds, the moment was bittersweet. Three days earlier, he had learned from his agent of the death of casting director Simone Bär, who was Bafta-nominated for her work on All Quiet… and also worked on numerous projects, including Good Bye, Lenin!, Inglourious Basterds and The Grand Budapest Hotel. "I and so many others, like Daniel Brühl, owe her so much. We had kind of a difficult, close relationship because she could be very straight and sometimes straightness can hurt. She was never cruel, but she was always saying what she felt was best for the movie. So the news, being nominated with almost the whole team for this movie, touched me on so many layers. But that was one of the biggest ones."
The Netflix-backed adaptation of Erich Maria Remarque's 1928 novel is the third film based on the story, following Lewis Milestone's Oscar-­winning 1930 version and a Donald Pleasance-starring TV movie from 1979. It is, however, the first German-­language version. And, in the hands of director Edward Berger, it is an unflinching condemnation of the horror and human suffering of war. This approach was a crucial component for Schuch.
"One of my biggest fears was that this film, even by accident, could glorify war. That was the first question I had for Edward when we met — what is his vision? And what is he doing to avoid the possibility that this could happen, that this would be a heroic movie?" Berger reassured Schuch that he intended to be true to the spirit of Remarque's book and its core message: "No matter if you survive the war or not, if you are a hero at the end or a loser, it leads only to the destruction of the human soul."
The preparation for the role of Kat, a seasoned soldier who takes the central character of teenager Paul Bäumer (played by screen newcomer Felix Kammerer) under his wing, was extensive — ranging from studying Peter Jackson's 2018 archive-footage documentary They Shall Not Grow Old, to drawing on his family history and the diaries of his grandmother. "She used to collect different sayings from that time, like farmers' sayings. A little bit like prayers, to survive the fears and the loss of the war," says Schuch. Incorporating some of these phrases into his dialogue "gave me an opportunity to fill up Kat's soul with personal connections to my grandmother, whom I never met".
Schuch also worked closely with costume designer Lisy Christl. "There were so many things I talked about with Lisy that you don't see in the movie. And we knew it, from the beginning, there is no scene in the movie in which we could make the audience understand that he has a necklace below his uniform that we found for him, with a lock of hair from his little child. And we had some stitching in the inner part of the jacket that had some names in it, friends and family members, next to his heart. But it had to be hidden. So in this process, you load up the background of the character. That's when it becomes art to me."
Then there was the physical preparation for a demanding shoot that involved a lot of full-tilt running through mud. A smoker since his teens, Schuch quit for the film. "I really love to smoke," he says, a little wistfully, "but it was the right moment. It was necessary to withstand the physical demands of the shoot."
The mud, however, he describes as "fun", albeit the kind of fun that occasionally required hydraulic lifting gear to rescue crew members who had become mired. "They came out barefoot because their shoes were buried deep in the mud." Less fun was the brutal cold — the film was shot over 52 days during the winter on a set just outside Prague in the Czech Republic. Again, Schuch pays tribute to Christl, who swapped notes with the costume department of Sam Mendes's 1917 and got tips on how to keep the actors warm.
A new chapter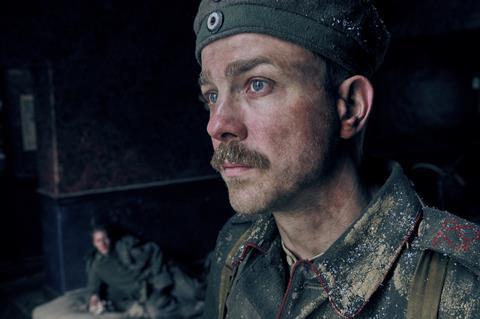 The film's awards journey — it secured nine Oscar nominations in addition to its haul at Bafta — should further raise Schuch's international profile, heralding what he hopes will be a new chapter in an already impressive career. The 37-year-old was born in Jena, East Germany, to doctor parents: his father is a psychiatrist, and his mother a GP. However, both he and his older sister, Karoline Schuch, eschewed medicine and chose acting as a profession.
He studied at the Felix Mendelssohn Bartholdy University of Music and Theatre in Leipzig, subsequently cutting his teeth on stage, from 2010 at the Maxim Gorki Theater in Berlin and later at Vienna's Burg­theater. His film debut came in 2011 in Robert Thalheim's Westwind. In 2020, he became the first actor to win both of the male acting categories at the German Film Awards in the same year, scoring best actor for Nora Fingscheidt's System Crasher (playing the youth worker who connects with the traumatised child protagonist) and supporting actor for Burhan Qurbani's Berlin Alexanderplatz (as the psychopathic right-hand man of a drugs kingpin).
Upcoming projects include reuniting with All Quiet… composer Volker Bertelmann for a theatre production alongside Paula Beer (Undine). "I can't wait to meet [Volker] again and to work in a completely different setting. I really like his way of thinking, professionally and personally." In addition, there is Peacock, the first feature from award-winning short-film director Bernhard Wenger, an Austrian production Schuch describes as "insanely profound and unique".
Working in English-language productions is an ambition for the future. To this end, Schuch worked with a movement trainer and accent coach at London's Guildhall last year, and signed with UK agency B-Side; he is currently taking meetings. "The way of storytelling in the UK and Ireland is different from the way of telling stories in Germany. The humour is completely different. For me, it's horizon-widening, on a personal level and as an actor."