Lucy star Amr Waked explains why he was drawn to the adaptation of Mohamed Fahmy's jail memoir The Marriott Cell and discusses upcoming films.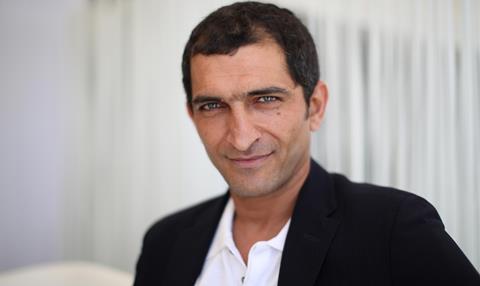 Egyptian actor Amr Waked is a rarity in the Arab film world for his ability to cross over onto international screens in pictures such as Salmon Fishing In The Yemen and Luc Besson's Lucy.
But back home in Egypt, he has been carving himself out an altogether grittier filmography since the Egyptian revolution of 2011 and the end of President Hosni Mubarak's 30-year dictatorship.
Recent roles include a tortured dissident in Winter Of Discontent, set against the final days of Mubarak's rule, and a gangster who challenges a ruthless organ trafficker in the 2014 Cairo-set crime-thriller El Ott.
The Marriot Cell
The actor is now gearing up to play Mohamed Fahmy in a feature adaptation of the former Al Jazeera journalist's upcoming memoir The Marriott Cell about his terrifying imprisonment in Egypt on trumped up terror charges in 2013.
Robert Taylor at The Development Partnership, the film development arm of London-based talent agency The Artists Partnership, is overseeing the project.
Waked – who has known Fahmy since their student days - recalls his shock when the latter - then Al Jazeera English Cairo bureau chief - was arrested at the Cairo Marriott Hotel in December 2013, alongside Al Jazeera correspondent Peter Greste and producer Baher Mohamed.
"I've known Mohamed since university. It's shocking when someone you know is arrested and the picture that is being painted of them bears no resemblance to the person you know," says Waked about the journalist who grew up between Egypt and Canada.
Dubbed the 'Marriott terror cell', the three men were accused of conspiring with the former ruling Muslim Brotherhood party and locked up in Egypt's maximum security Scorpion prison with jihadists as they awaited a series of shambolic and chaotic court appearances.
"This is the story of a liberal guy, who went to the American College in Cairo, and then finds himself locked up with a bunch of people with fundamentalist, twisted ideas about religion and life. It would almost be funny if the implications of the charges hadn't been so serious," says Waked.
International Outcry
Against a backdrop of international outcry and determined protest by family and friends, Greste was freed and deported back to Australia in February 2015, while Fahmy and Mohamed left jail in September 2015, after an unexpected pardon from President Abdel Fatah al-Sisi.
It is widely acknowledged that the three men were pawns in a larger behind-the-scenes political spat between the military-backed government of al-Sisi, which seized power in a coup d'etat in July 2013, and the Gulf state of Qatar, owner of Al Jazeera and a supporter of the deposed government of Muslim Brotherhood-backed Mohamed Morsi.
Waked says, however, that it is not the politics which interests him in the story but rather the human tale of how Fahmy survived the ordeal.
"I'm not interested in making a political film but rather a film about how politics destroys humanity and crushes principals to protect the interests of a few powerful people," says Waked. "There are many layers to this story and the most important one for me is how this man lost his life but with wit and determination managed to get it back."
Writer and producer Michael Bronner – who collaborated with Paul Greengrass on United 93 and Green Zone - is close to finishing a screenplay and the next step will be attaching a director.
Other roles have yet to be cast. Aside from Fahmy's colleagues, there will also be a number of strong female characters, including Fahmy's indomitable wife Marwa Omara, who Waked describes as "true warrior", and international human rights lawyer Amal Clooney, who represented the trio.
Fahmy's memoir is due to be published by Penguin Randon House Canada in October 2016.
Other projects
In the meantime, Waked is embarking on his first solo feature production under the banner of his Cairo-based advertising, TV and film company Zad Communication.
Provisionally entitled Fard Khartoush (which translates as sawn-off shotgun), the feature is an action thriller about six smugglers hired by a ruthless criminal to hide his wealth in the desert.
The smugglers' payoff is a $6m cheque but the crime lord makes no stipulations on how it should be split, setting the group up for a cutthroat, back-stabbing mission as it also contends with bandits and militia groups along the way.
It is a first feature for director Bahgat Elkomy, who also wrote the script, and is due to shoot this summer.
"It's budgeted at $1m, which is big for Egypt, and 70% of the finance is in place," says Waked, who will play a master weapons craftsman, hired by the boss to make "six impeccable pieces" to protect the group as they make the dangerous trip.
International engagements
Prior to that, Waked heads back to the set of Dean Devlin's Geostorm this month and is also mulling projects in France and the US.
Asked if he expects to reprise his role of Pierre del Rio in the upcoming Lucy 2, he replies: "I haven't been contacted but I've heard that they're writing number two and I think my character is in it… so maybe there will be another film with Luc Besson."