Best actress contender Amy Adams talks John Hazelton through her eclectic awards season pair of sexy revenge pic Nocturnal Animals and aliens-have-landed tale Arrival, all ahead of a move to the small screen.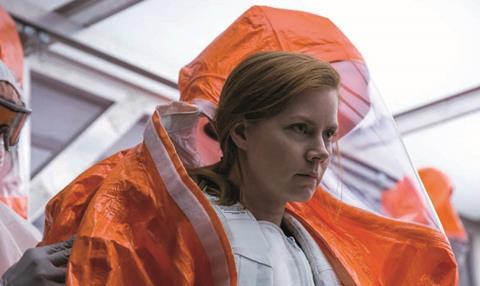 Amy Adams made her name playing the bright-eyed and mostly bushy-tailed heroines of Junebug (which won her a first Oscar nomination in 2006) and Enchanted (her first big hit as a headliner, in 2007). She went darker and tougher with subsequent supporting roles in Doubt, The Fighter and The Master, and as part of the American Hustle ensemble, earning herself four more Oscar nods in the process.
This year, Adams has delivered her most complex and detailed characters yet in two performances that have again put her at the forefront of awards contention, and given her top billing to boot.
In Tom Ford's noir thriller Nocturnal Animals (its awards-qualifying run in the US is scheduled from November 18 before opening wide on December 9), she plays an art-gallery owner haunted by her ex-husband's violent novel.
And in Denis Villeneuve's sci-fi Arrival (a Venice festival premiere recently released in both the UK and the US, where it grossed $24m on its opening weekend for Paramount), she plays Louise Banks, an academic linguist assigned by the US government to communicate with aliens visiting Earth.
Associated Press critic Mark Kennedy described the latter role as "a heart-wrenchingly beautiful performance" in which Adams uses "her ability to communicate a half-dozen emotions just standing still". Not bad for the portrayal of a fairly chilly character whose development along a fractured timeline adds an extra degree of difficulty and makes Arrival both a mind-bender and an emotional trip.
The character "has been in an environment where she's been challenged a lot, so when we meet her she's kind of bristly," Adams explains. But, she adds, perhaps echoing her own feelings as a new-ish mother, "there's a natural empathy built into her, just in the way she relates to the aliens and the way she relates to her child."
A great year
Villeneuve is known for films with strong female roles, and Adams found the French-Canadian director to be "emotionally intelligent and very compassionate to an actor's experience, which you don't always get on set. He has a real understanding of the emotional journey that his actors put themselves through."
What distinguished the part, the actress suggests, was the fact Banks is a fully formed female character whose arc is not shaped by a male counterpart. "All the roles I play, whether or not it comes across that way, are really complex, interesting women," Adams insists.
"But a lot of times they are defined in the film by the man that they're with, though I try to separate them and give them an identity outside of that." Arrival, she says, was a rare instance of a role "where I'm not defined by any of the men I'm around — I'm defined by myself.
"This is such a great year for women," she adds. "There are a lot of complex and interesting roles out there, so hopefully that'll keep going."
Adams herself recently finished Justice League, in which she reprises Lois Lane for a third time. She is also preparing for next year's shoot of Enchanted sequel, Disenchanted.
The actress is also about to start work on her first television project since she broke through on the big screen. Though her resumé includes early noughties appearances in Buffy The Vampire Slayer, The West Wing and the US version of The Office, Adams herself admits that "television and I have not had a really healthy relationship in the past".
Several parts in ongoing TV series slipped through the young actress's fingers - one because she looked too young beside the rest of the cast, another because the show was deemed too risky to air - and in 2004 she was prematurely written out of network crime series Dr Vegas.
In the upcoming Sharp Objects, an eight-episode HBO thriller directed by Villeneuve's Québécois contemporary Jean-Marc Vallée, Adams will play a troubled reporter covering the small-town murders of two pre-teen girls.
It was HBO's True Detective that opened Adams' eyes to "the opportunity to create limited-run characters. And there are so many wonderful female roles on television. To develop [a character] over the course of that many weeks is going to be very strange for me," she concedes.
"And the pace of filming is going to be really thrilling. A lot of times [in features], you're hanging on to all this emotion while it takes hours to film one scene. You don't have that luxury in television, so I'm curious to see what kind of work that will generate."