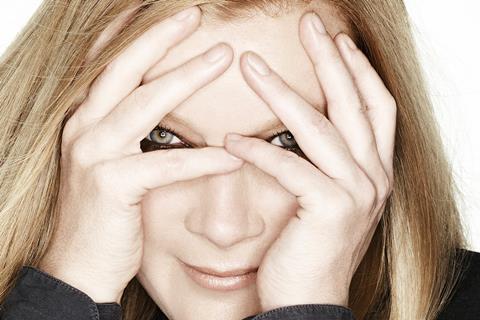 UK director Andrea Arnold has been at Filmfest Hamburg this weekend with her documentary feature Cow, a portrait of the life of a dairy cow called Luma. Arnold's Red Road (2006) and Wuthering Heights (2011) are also screening at the festival.
Mubi is releasing Cow in Germany, as well as in Austria, the UK, Ireland, Turkey, Italy, India and Latin America; MK2 is handling international sales. The film is also screening at the BFI London Film Festival this month.
Arnold talks to Screen about making Cow, her wandering spirit and how her projects tend to choose her.
How did making Cow differ from your other filmmaking experiences?
It was a quiet, gentle experience, very different to a big set where there are a lot of people. We'd go down to the farm and you could sit around. We had a cow van that we sat in and would make tea in. You're still producing something that is going to tell a story. You're still looking to find the things in the frame that have some meaning to you. That happens whether you're doing a great big thing or just following one cow. We were doing it over about four years. It became part of my life, back and forth to the farm.
The cow has very expressive eyes. Did that surprise you?
Very early on, I realised you had to really look at her eyes. I decided to make sure that we were always with her head [in the frame] and had her eyes there. They always say the eyes are the window to everything. It felt true. After a while, I felt she felt us looking at her.
What is your own relationship to nature?
When you live in London, it's not so easy to get so immersed. But I live in south London where there are a lot of green spaces. I've got a dog and I have to walk her twice a day. I'm always out somewhere. I've got a woodland near me so I will often go there. I've got a tiny park near. I have a garden. This small interactions with [nature] are so important. If I feel in a bit of a mood or I don't feel quite right, I'll go wandering…it just changes your whole mood. It really puts you in touch with yourself. I feel it is important to us we are connected [to nature].
Do you still travel widely?
I have a bit of a wandering spirit. I do lots of road trips. I am not very good at going to one place and staying there. I have to keep moving and looking around and seeing what's next. My way of having a break is going on a road trip. I just went to south Wales, the more working-class valleys. I find all those areas completely fascinating. I just wandered wherever my nose took me, found beaches.
Will you make further documentaries?
I am writing something now that I'll make next year and that is very dear to my heart and that has a lot of nature in it. It's a UK project with the BBC. But I don't really have a plan. It's more like the projects choose me. Often, I don't understand what it's about until I've nearly finished the film. I'm not very good at doing lots of projects at once. I'm not someone who can hold eight ideas in my head. I like to have one thing and keep on going at it until it's done.
For someone as freewheeling and independent as you, how easy was it to work on HBO's big US series Big Little Lies?
I had a lot of freedom. They pretty much let me do whatever. Obviously, I am working with scripts and what went before. There were lots of decisions I wouldn't have made had I been doing it first time. But, within the constraints, I had a lot of freedom. I learned a lot. Every day, there was always so much to do. The crew was like 400 people. I had the most amazing crew. A lot of them, I had worked with before on things like Transparent.
We had a fantastic time, enjoyable but exhausting. I did 98 days with the odd day off. But on your days off, you'd always be doing things like casting and looking at locations. I really enjoyed it. I was really beaten up by it… it was like doing three features back to back. But I am proud of myself. I never ever lost the plot… it's so much work, endless, endless decisions. The driver who took me in every day was the most amazing man. We used to play Drake on the way into work and sing along. On crews, the people who don't get any credit are sometimes the most amazing people. It was my little oasis. I have no regrets about doing it.
Jane Campion recently likened the #MeToo Movement to the Berlin Wall coming down. Would you agree with that assessment?
I think there has been a shift. You can feel it, you can feel there is more encouragement. You feel there's a flood of powerful women coming through. I've always tried just to get on and do my work. But I can feel there is more power coming through that feels like feminine power.