Angelina Jolie, actress, filmmaker and human-rights activist, makes her most personal work yet with a 1970s-set drama about the Cambodian genocide. She talks to Screen about her Toronto international premiere First They Killed My Father.
Angelina Jolie chanced upon Loung Ung's bestselling memoir First They Killed My Father in a Cambodian market some 17 years ago while shooting Tomb Raider — "a two-dollar paperback you find when travelling" that was as far removed as one can get from Lara Croft leaping across temples in the steaming jungle.
For Jolie, the book and the stirring yet unsentimental film adaptation it would inspire seemed to crystallise so much of the dignity and despair she had witnessed in the stricken Southeast Asian country she would return to again and again as a humanitarian activist and, later, a citizen and resident.
Ung and Jolie met through their activism work when Jolie went back shortly after Tomb Raider. One night they found themselves swaying in hammocks in the middle of a monsoon, talking through the night. "We bonded and she's been in my life ever since," Jolie says.
Ung was five when the Khmer Rouge emerged from the jungle in 1975 to overthrow Lon Nol's military rule and turn a once-prosperous former French colonial outpost into an isolated death chamber. She and her middle-class family were marched out of the capital Phnom Penh and into the fields, like millions of city-dwellers across the country. When invading Vietnamese troops overthrew the Khmer Rouge in 1979, the young girl had lost both parents and two of her six -siblings. Around two million people — nearly a quarter of Cambodia's population — had been wiped out.
The two women adapted the screenplay years ago. After several more drafts, Netflix agreed in 2015 to fully finance and produce the project. In June of that year, Jolie enlisted the support of Rithy Panh, the Cambodian director of Khmer Rouge documentary The Missing Picture. Panh became a producer on the Khmer-language project and took the lead in months of meetings with the authorities and NGOs to establish permission to shoot the film on Cambodian soil.
The filmmakers had to tread carefully. This was not Thailand, Jolie reminded herself, where The Killing Fields had shot many years before. "You are bringing a film to a country and asking the people who lived through it to recreate a history with you. I really didn't know if [the authorities] were going to say yes."
Reliving the past
Jolie was prepared to scale back the production and work within whatever framework the authorities would provide. However, she got what she wanted and the 50-day shoot in Siem Reap and Battambang finally got underway in November 2015.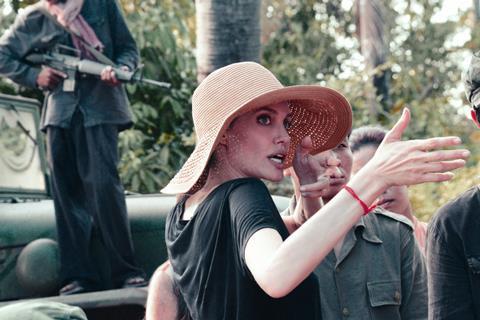 "Then, of course, you get to the set and you're standing there with your friend and you have to recreate scenes of her father being taken and killed, and you have to try to walk through the steps of somebody's life." Jolie pauses and her voice fades a little. "You bring back. You bring back the people who passed. You bring back her sisters. And, of course, it was always the happy scenes that seemed to make her the most upset."
Jolie and her international heads of department and crew trained local counterparts, corralled large numbers of extras, braved tarantulas and snakes in the jungle, and avoided landmines and other unexploded ordnance. "Luckily, we were able to complete the film without a single incident on set," she says.
Navigating through complicated emotional terrain was harder. The local crew helped to communicate with the largely inexperienced cast, which included Sareum Srey Moch, the nine-year-old -newcomer who played Ung without acting classes and impressed her director.
Moch took part in a casting process that came under scrutiny in a recent cover story in Vanity Fair, which suggested that the filmmakers had used emotional manipulation during child auditions, triggering angry comments online about Jolie.
The UN goodwill ambassador and mother of six issued a firm rebuttal with Panh. When the subject is mentioned, Jolie says she regards the matter as closed, but stresses that guardians and parents were present at all times during child auditions, and all parties knew the process involved make-believe.
Throughout filming, her goal was to foster a therapeutic and cathartic environment for her cast, employing NGO staff, educators, de-miners and a therapist. "The country really doesn't talk about this time and everybody in their mid-40s remembers," Jolie says. "So when you have a scene where suddenly everyone comes dressed in Khmer Rouge outfits with guns, people were having experiences, they were remembering. Some people were talking for the first time."
First They Killed My Father has enabled Jolie to feel even closer to a country she has lived and worked in for 14 years. "When you direct a film it is very different from when you act in a film, when you try to give your all and it's a few months of your life and you have your part to play," she states. "When you direct a film, it's years of your life and it has to really matter to you because it's all-consuming.
"For me, these are the things that matter and these films are about trying to understand man's inhumanity to man and how the human spirit overcomes, how you can go through darkness and come out stronger and still whole," she continues. "When you do a film about history and culture, you're allowed into something so special.
"With this particular film all the more so because although Maddox [Jolie's adopted eldest son, a native Cambodian] goes back often with me and we have a foundation there, this was the first time he was able to spend months there and study the history of his country, really understanding, going deep into what his birth parents most likely went through, and coming to terms with that and knowing who he is."
Giving back
Sixteen-year-old Maddox served as an executive producer on the film and was there from the start, working long hours on drafts and physical production, and acting as a sounding board. "I wanted him to work hard and give back himself to his country," says Jolie, who is in no doubt about who she made the film for. "I made it for Cambodia. I made it as a kind of thank you, a love letter. There hadn't been a story on this scale that would reach people in their language, with them being the hero."
Did she every worry that as a non-native the Cambodians would question her right to make a film like First They Killed My Father? "You'd probably have to ask the Cambodians. It was 2005 when I became a citizen. I've been there about 14 years, coming and going, doing my work. We feel… I am a Cambodian. We are a Cambodian family. We're a Namibian family, an Ethiopian family, an American family. That's who we are," Jolie says, referring to the nationalities of her adopted and biological children. "I don't feel outside in that country. And I didn't feel I was there to take their history and tell their story. I was just a vessel for them to tell their story."
The drama received its world premiere in February, outdoors at the Angkor Wat complex. Jolie and Ung could not sleep the night before, but they need not have worried — the screening and those that followed across Cambodia in the following weeks "sparked a bigger discussion in the country among families who have not discussed [the genocide]".
Netflix will launch First They Killed My Father worldwide on September 15, following a brief theatrical run in Cambodia. Jolie likes the idea it will be on a streaming platform, there for viewers to watch when they feel ready. "On my first film [as director on 2011's In The Land Of Blood And Honey], a lot of people who were Bosnian said they needed to stop, take a break and come back, so I was very aware of that."
She is not exactly sure what's next. Family, probably acting. She signed on to Disney's Maleficent sequel, and laughs when Bill Condon's Bride Of Frankenstein reboot is mentioned. "There has been a discussion, but we're not quite there. How many monsters can one play, really?"