The legendary actress discusses her role in Mike Mills' critically acclaimed 20th Century Women.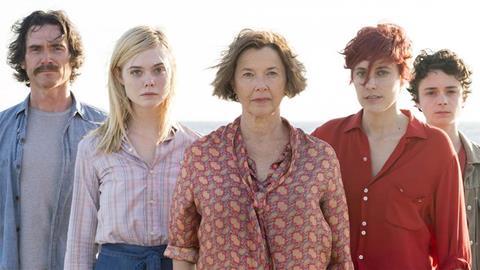 Annette Bening is one of the great actors of contemporary cinema. In a career spanning nearly 30 years, she has garnered four Academy Award nominations, two Golden Globe wins (The Kids Are All Right and Being Julia) and a Bafta for her role as a dissatisfied suburban wife in Sam Mendes's American Beauty.
Her most recent work in Mike Mills' 20th Century Women - as Dorothea, a single mother raising her adolescent son in Santa Barbara, California in 1979 - is one of her most deeply layered roles.
The film, which co-stars Greta Gerwig and Elle Fanning, is set in a place and time that was pivotal to Bening's own coming-of-age and she found in Mills' script all of the elements she looks for when determining whether or not to take the role.
"There was a very strong narrative," Bening explains.
"The way Mike tells the story is not conventional. I loved all of the characters and thought there was so much there. I also appreciated Mike's sense of history and of wanting to place that time in a historical context in his own way. I felt like I had never read or seen something like that and I liked it very much."
20th Century Women is financed and produced by Annapurna Pictures' Megan Ellison, along with Anne Carey of Archer Gray and Youree Henley. A24 will release it in the US on December 25; eOne will release in the UK in February.
Bening's connection to the material was immediate and personal.
"I was a young woman at that time in San Diego, that's where I grew up," she says.
"I had never read something that was so close in terms of atmosphere to where I had grown up. I felt like I knew the people. The events of this story aren't my life story but the milieu and the sensibility of the people made me feel like I could identify with them, somehow."
Over dinner with Mills, they discussed the character of Dorothea.
"I found her very enigmatic. I didn't quite know who she was, in a way that I like. I enjoy women with contradictions, and we all have them," she laughs. "So often in storytelling, women are two-dimensional stereotypes but Mike writes about women as fully fleshed, complicated human beings."
Mills has said he drew the character of Dorothea from aspects of his own mother, and discussions about her between Bening and Mills were instrumental in Dorothea's construction.
"The movie became a way to explore what he was interested in about his own relationship with his mom," says Bening.
"First of all I wanted to hear as much as I could about him and his questions about her. The things he was intrigued by and the things he was still questioning and sort of baffled by. I knew that, eventually, this woman that we were working to create would be a combination of his point-of-view of his mom, me listening to him and then my own sensibility."
Mills says of Bening: "The Dorothea you see on screen is built from Annette's timing, intuition, intelligence and humour. She creates a lived experience of a woman in her circumstances."
Eight months after their first meeting, two weeks of rehearsals began ahead of filming.
Mills is a believer in an intensive and thorough rehearsal period and he instructed the core cast to bring in music that related to their on-screen characters. He wanted them to dance and engage with each other. The purpose was to break the ice in ways that were specific to the story.
"We would do improvisations," says Bening.
"We would read through the scenes. We asked questions and talked about the past. We talked about what we knew about each other and what we didn't know about each other. There have been very few films where we have done that kind of work.
"Good directors don't say a lot," she continues.
"Good directors know most of it is casting. They know that what you bring is what you bring, and that that's what they're asking for. So they know not to get too intrusive. Help and direction come with small things that can make a big difference. Like, 'Take more time, a little softer here, can you go at him a little harder there, maybe take a pause here.' Things like that are really what most direction comes down to, because you've already done all of the more complicated talking before. Doing it in the moment is usually not very helpful."
Uncharted territory
The rather secretive character of Dorothea is an intricately written role.
"There's a certain amount of, 'What's going on in her mind?'" says Bening.
"What I see when I see the [finished] movie is someone who doesn't always do what you think she might do. When you're shooting, it's a process. You're not landing anywhere. You're in the midst of a search. What you're hoping happens is that your mind is quiet.
"And that is, of course, the hardest thing for any of us," she says.
"That's the hardest thing in life; to have a quiet mind and just to be present in whatever moment you're in. In the moment of the work, all of the conversations and all of the research hopefully are very secondary. Having done all that, you want to just look into someone else's eyes and face, and listen and respond.
"That's what a lot of acting is," Bening continues.
"You're sort of in uncharted territory, emotionally and internally. That's a good place to be, because maybe something happens that just comes out, that your conscious mind isn't necessarily driving.
"Now that people are beginning to see the movie, there's this other layer, which is what are people getting from it? What do other people see and do and how do they see Dorothea? Of course, it's in the viewer where it really happens."