Singaporean director Anthony Chen hits close to home by drawing on childhood memories for his debut feature, Ilo Ilo.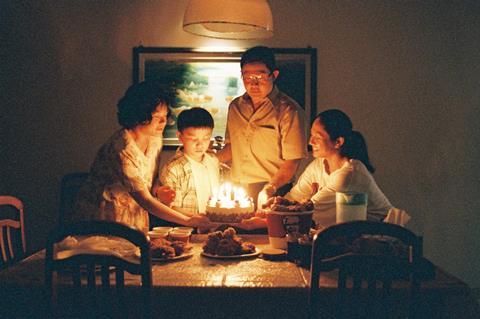 Since winning the Camera d'Or at Cannes this year for his debut feature Ilo Ilo, Singaporean director Anthony Chen has been on a roll.
The film, which is Singapore's entry to the best foreign-language film category at the Oscars, has picked up a slew of further prizes, including best first feature at the BFI London Film Festival, best film and actress (Yeo Yann Yann) at Vladivostok, and best director and actress in Mumbai. Now the film has won four prizes including best feature at the Golden Horse Awards and Chen is nominated in the Asia Pacific Screen Awards' achievement in directing category.
In France, Ilo Ilo, has racked up more than 82,000 admissions to become the most successful Singaporean film of all time. Also a hit in Singapore, it has been sold to about 20 territories by sales agent Memento Films. Film Movement has North American rights.
A quiet family drama about a domestic helper from the Philippines and the family she works for in Singapore, Ilo Ilo packs a punch with its assured directing style and carefully drawn characters. Although the son of the family initially torments the new maid, he slowly forms a bond with her, an emotional shift that is introduced without melodrama.
Set during the Asian financial crisis of 1997, the film shows the subtle ways in which big events can have an impact on 'little' people.
"I've always been interested in characters and people," says Chen, speaking to Screen following the screening in Mumbai. "I'm less interested in plot — or at least in finding devices to move the story along. It's our humanity that connects us with cinema and of course with each other as humans and individuals."
Finding his voice
The film is surprisingly mature for a 29-year-old film-maker — but then Chen is quick to point out that he started early. He made his first short film, G-23, while studying at Singapore's Ngee Ann Polytechnic. His second short, Grandma, screened at Cannes. More award-winning shorts followed, and he was accepted into the UK's National Film & Television School (NFTS), where he made English-language road movie Lighthouse as his graduation film. "I grew so much there. They don't tell you how to make films, it's about grooming and nurturing your voice," says Chen.
After this, he was advised to return to Singapore to make his first feature: "I felt my first film needed to be personal, about subjects or themes that I understood. That's when all these childhood memories started coming back to me." He wrote Ilo Ilo based on his experiences of growing up with a Filipina maid in Singapore. "It's not completely autobiographical but there are lots of moments that were taken from real life, like the father losing his job and the boy keeping baby chicks."
Singapore Film Commission provided half of the film's $500,000 budget, with Chen's old school, Ngee Ann Polytechnic, as the other major investor, marking the first time an educational institution in Singapore has invested in a film.
Many of Chen's fellow NFTS students worked on the film, including French DoP Benoit Soler and co-editor Chen Hoping. Yeo Yann Yann, who plays the mother in the film, announced she was pregnant during pre-production but was keen to press ahead, and she was heavily pregnant for the shoot.
When the film made headlines after its win and standing ovation in Cannes, the press in the Philippines started a search for Chen's former maid, Teresa. He had an emotional reunion with her in Ilo Ilo [a district in the Philippines] and later flew her to Singapore for the premiere of the film. He was relieved to hear she was safe after Typhoon Haiyan, which hit Ilo Ilo, and is planning a charity screening in Manila for the typhoon victims.
Still based in London, Chen is planning to make an "English-language international project" as his next film, but hopes to stay involved in the Singaporean film industry, helping young directors to make their first films.
"The next five to seven years will be very interesting for Singapore, because many young film-makers are making perceptive and intelligent short films," he says. "Looking at their work, if they're able to make their first features on their own terms — which means being given the right funding and working with the right people — I think there will be a whole new wave for cinema in Singapore."