In saddling up for The Magnificent Seven, Antoine Fuqua wasn't trying to make a statement with the diverse casting, he tells Jeremy Kay.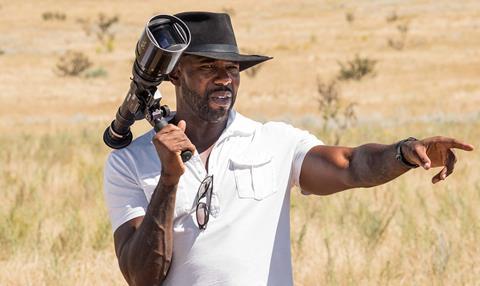 If there is a sense the fraught state of race relations in the US and the #Oscarsoswhite backlash has created some expectation of a response from cinema, Antoine Fuqua would argue that misses the point with his latest film.
Yes, the director has populated his remake of The Magnificent Seven with a diverse band of do-gooders led by long-time collaborator Denzel Washington — in stark contrast to the all-white saviours of a Mexican village in John Sturges's 1960 predecessor. Besides Chris Pratt, Ethan Hawke and Vincent D'Onofrio, Fuqua's eponymous crew saddling up to save a mining town from villains features Seoul native Lee Byung-hun, Mexican actor Manuel Garcia-Rulfo and Martin Sensmeier, who hails from an indigenous Alaskan bloodline.
No doubt such diversity will put smiles on the faces of globally minded marketing suits at co-financiers MGM and Sony Pictures. Fuqua, however, seems in no hurry to piggyback onto a movement and made his casting decisions for other reasons. "I never felt about it as making a statement," he tells Screen, prior to the film's world premiere as opening-night selection at Toronto International Film Fesitval (Sept 8), two days before it closes Venice Film Festival (Venice 10).
"It was closer to the truth in that the west was a mixed bag of people coming from everywhere," the film-maker continues. "The Mexicans were coming from another region and you had people from Europe and the blacks were obviously here and the Asians were working on the railroad tracks, so it was more diverse than what we see in westerns."
A broader geopolitical awareness is at play, too: "If you take a group of people who are terrorising [another] group, everybody has to gather around those who may not be as strong to help, against the odds. That's what it was about for me."
Childhood spur
Like so many young boys, Fuqua grew up loving westerns and their myths. "It's like a boyhood dream to be a cowboy when you see that stuff," he says. "The Magnificent Seven is special because I watched it with my grandmother. They were the coolest guys in the world at the time, Steve McQueen and Yul Brynner."
When MGM CEO/chairman Gary Barber and his cohorts approached Fuqua in early 2014 to read a script by Richard Wenk and True Detective creator Nic Pizzolatto, the film-maker was preparing Southpaw but was heartened to see the story bore the genetic imprint of Seven Samurai, Akira Kurosawa's 1954 classic that inspired Sturges. "This could be anywhere in the world right now where something is taking over people's land or religion," Fuqua says.
Hawke was the first to come on board and the Training Day reunion was complete when Washington agreed to play the lead, a bounty hunter named Chisolm. "I just thought it would be so great to see Denzel on a horse," Fuqua says with a fond chuckle. "He's arguably one of the greatest actors in the world. We have this trust. We know each other's rhythm and there's a shorthand. On Training Day, the first time I shot a scene with him and Ethan, I asked him if he wanted to see the take and he said, 'No, you're flying the plane.' That's a big deal because he put his trust in me."
Fuqua and his cast and crew shot the film last year, spending a little over two months in Baton Rouge, Louisiana, and in New Mexico. A climactic battle between the Seven and a small army led by Peter Sarsgaard's sadistic Bogue took three weeks to shoot. The process played out in intense heat, and called for precise fight choreography and the delicate handling of explosives and dozens of horses — but there would be no wrangling the weather.
"We would get to set at 6am and it was beautiful and by 9 or 10am the clouds would roll in," Fuqua recalls. "We would sit inside the saloon that we built and wait for the storm to pass. There were days when it was so bad, we'd go into the trailer and the trailer was rocking and we'd have to leave the set. It was wild, man."
Columbia Pictures will release The Magnificent Seven in the US on September 23. Fuqua is not waiting around. He is directing the pilot of a diamond-trade episodic for eOne called Ice, and is weighing up two features. One is a Scarface remake set up at Universal, of which Fuqua likes the modern-day relevance. He is also eyeing Black Label's fall-of-Saigon drama 105 And Rising, in which he would love Harrison Ford to play the US ambassador.