Double Golden Globe nominee Anya Taylor-Joy tells Screen how her lead roles in Emma and Netflix's smash series The Queen's Gambit have changed the way she feels about herself and her craft.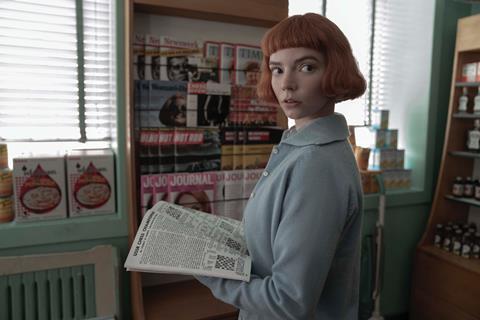 If Anya Taylor-Joy had somehow lacked an inkling of the impact she made in 2020, that would all have changed at Christmas. As the holiday season approached, her mother arrived bearing, Taylor-Joy says, "a whole bunch of The Queen's Gambit books". Walter Tevis's 1983 novel had been republished, bearing a cover dominated by Taylor-Joy's intense visage; it was she, after all, who played the main character, chess prodigy Beth Harmon, in Scott Frank's widely acclaimed (and watched) Net­flix miniseries adaptation.
The British-Argentinian actress was thrilled to see this, being something of "a book nerd", but wondered why her mother had dropped off so many copies. "They're for you to sign," she was informed. "I'm giving them out as Christmas presents to everybody I know."
Before 2020, Taylor-Joy was already impressing in lead roles, from her debut in Robert Eggers' 2015 folk-horror The Witch (shot when she was not quite 18) to the darkly comic Thoroughbreds in 2017. But with the double whammy of Autumn de Wilde's Jane Austen adaptation Emma. at the start of the year and The Queen's Gambit near to its close, she has moved beyond the 'rising star' category (she was nominated as such at the 2017 Bafta Film Awards). Now in contention for the big prizes, Taylor-Joy has best actress nods in the Golden Globes' film (musical/comedy) and television categories for Emma. and The Queen's Gambit respectively, and from the Screen Actors Guild for the latter.
"I try not to think about these things too much, 'cause that's when I get in trouble," Taylor-Joy says. "I'm just glad the work I did in 2019 [when she shot both Emma. and Frank's 1960s-set drama] offered solace in 2020. That's the number-one feedback I get: 'Oh, my grandparents and I binge-watched The Queen's Gambit over a weekend, and we needed an escape.' That makes me really proud."
Taylor-Joy felt an instant connection with Beth. "It was a beautiful experience in terms of never having to reach for an emotion," she says, adding that she related to both the chess prodigy's profound loneliness (acting "is a very isolated business") and the way she found release in her one great passion. "A lot of the time Beth feels like she's drowning, and when she's playing chess she can breathe. That's the way I feel when I'm acting. Like, this is where I'm supposed to be, and every other moment is getting to the next moment like this."
The Queen's Gambit's significance to Taylor-Joy went deeper than a book cover, she insists. "It's one of the most important experiences of my life. I came into the project a certain way and through Beth I feel like I left it a woman. I thought, 'I am no longer a girl. There's no going back now.'"
Becoming Emma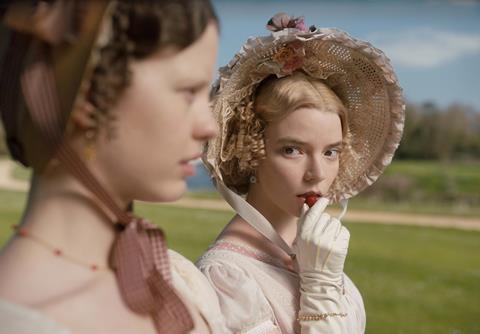 If Beth Harmon completed Taylor-Joy's thespian coming-of-age, Emma Woodhouse set her on the path.
Austen's early-19th-century Queen Bee is a difficult character to master: as arrogant as she is well-meaning, a flawed, privileged and difficult person who must both be loveable and hard to like. And she is only 21 years old, too. Emma was not, Taylor-Joy admits, nearly so easy to inhabit as Beth.
"There was something that kept bugging me during filming, and I couldn't quite understand it," she explains. "Eventually I went up to Autumn and said, 'I've never been on this side of being bullied. I have never held this kind of antagonistic power.'" Of course, Austen's ruthless matchmaker is kind at heart —Taylor-Joy likens her to a sea urchin, "spiky on the outside, gooey on the inside". But, she admits: "There were days I would show up and say, 'I just don't like her right now. This is hard. I'm struggling to play the truth of it.'"
Taylor-Joy says she was helped immeasurably by de Wilde ("a singular, supportive and fabulous person") on the Focus Features-backed film, which was produced by Working Title Films and Blueprint Pictures, landing in cinemas last February. She also benefited from being given an intriguing introduction to the Regency era. "We went to Austen summer camp," she reveals. "You lounge around in giant, beautiful houses that you have the run of for the day, and play weird versions of charades. You have lunch on the lawn and try to breathe through the corset. At this point, I figured out how to eat in a corset, which was very helpful."
Ever since The Witch, Taylor-Joy's work has been dominated by period stories, and aside from an upcoming diversion into George Miller's post-apocalyptic Mad Max: Fury Road prequel Furiosa, that is set to continue. Sandwiched between Emma. and The Queen's Gambit was the shoot for Edgar Wright's psycho-thriller Last Night In Soho, in which she time-travels to 1960s London. And last year she reunited with Eggers for his 10th-century-set Viking saga The Northman — shot largely in Ireland and Northern Ireland during the pandemic.
"It was unbelievable to be with my first film family," Taylor-Joy enthuses. "The world is epic and sprawling and everything you would expect from a Robert Eggers movie. I'm so proud of how everyone just pulled it together and kept each other safe."
During the shoot, Taylor-Joy received text messages from filmmaker friends. "We're watching you," they read. "If you guys can do it, then that's a really good sign for the film industry." Eggers and his crew "all felt the responsibility of that", she says. "And we acted accordingly, and we got it done. It's a tremendous achievement for Rob and the team."
Looking beyond The Northman, Taylor-Joy confesses to having no strict strategy in terms of the roles she seeks. "I'm just chasing a feeling. There's something so beautiful about being on set and thinking, 'How the fuck am I gonna do this?' and then when you're acting, you're like, 'I don't know but I'm doing it!' Like being asked if you can memorise 350 chess games. 'Are you insane? Absolutely not.' And then you do it.
"I want to be in situations with really talented artists where I say, 'What will I learn about myself as a performer, and how far can you get me to go now that I'm in completely uncharted territories?' That just makes me so excited."