Following breakout roles in Clash and Sheikh Jackson, the Egyptian actor is now attracting international attention.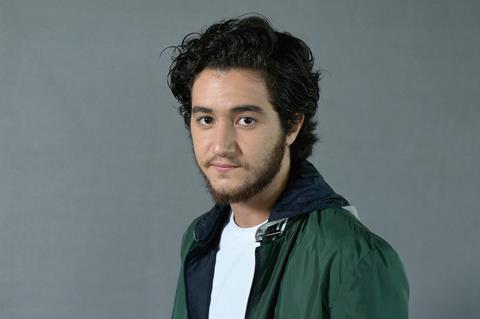 "Acting chose me, I didn't choose acting," says Egyptian actor Ahmed Malek, who has been treading the boards in theatre groups since he was a child.
"It's a form of identity for me rather than a profession. I'm constantly working on my craft. I have an instructor who says, 'Actors need to be like archaeologists, always digging and digging to find more layers, to be more vulnerable, to give more to the people.'"
The 22-year-old is now starting to garner international recognition for his performance as a Michael Jackson-obsessed teenager in Amr Salama's Sheikh Jackson. The movie premiered as a Special Presentation at Toronto International Film Festival earlier this year.
After appearing in a few commercials, Malek started securing parts in Egyptian TV dramas such as El-Gamaah, about the rise of the Muslim Brotherhood in Egypt, and melodrama Story Of Hayah.
Malek then moved into films with appearances in two mainstream local titles: high-school comedy The Fourth Generation and romantic comedy Ahwak, in 2015.
He followed these with back-to-back roles in Hadi El Bagoury's romantic hit Hepta: The Last Lecture and Mohamed Diab's hard-hitting post-revolution drama Clash. The latter captured the divisions in Egyptian society that rose to the surface following the 2010 revolution. Set against violent demonstrations in Cairo at the end of Muslim Brotherhood-backed president Mohamed Morsi's reign in 2013, Clash centres on 25 protesters, all with opposing points of view, who are locked up in the same police van over the course of a day.
It was a gruelling shoot in which the cast were cooped up in an eight-metre square space for the best part of 26 days. Malek describes his role as Mans, a DJ from Cairo, as one of his most challenging. "He was so different from me. I had to transform myself physically for the role. I put on weight, bleached my hair and had to get into his attitude and way of being. He also had this slangy Cairo accent, which is very different from mine," he explains.
Malek had just three weeks between the end of the Clash shoot and when cameras began to roll on Hepta. "It was a challenge," he admits of getting into a very different mindset. "The character of Karim [in Hepta] spends most his time in a hospital," he says, adding jokingly, "You could say lying in bed for the hospital scenes was a form of recovery."
In 2016 Malek travelled with the ensemble cast of Clash to Cannes, where the film opened Un Certain Regard. He then headed back to Cairo for TV roles in Wedding Song, about a 1970s theatre group, and social drama La Totfe' El Shams, followed by Sheikh Jackson.
"I've always got my ear to the ground and heard Amr was making Sheikh Jackson. I approached him about the part but he had another actor lined up [for the role]. When that fell through, he called me to see if I was still interested."
The film is about the inner turmoil experienced by a strict Muslim cleric who is transported back to his difficult teenage years and his youthful love of Michael Jackson following news of the pop star's death. Malek plays the teenager. Ahmed El-Fishawy who plays the older man.
The young actor admits to not fully grasping the fame of Jackson, being too young to have lived through the height of the pop star's fame in the 1980s. But this did not hinder his preparation for the role. "When I don't have personal experience of something, I change the circumstances to something I understand," he explains. "So for me it could have been Eminem. I search for the essence and then change the setting."
Currently enrolled with the Cairo Contemporary Dance Center, he spent three months learning to dance like Jackson. "I didn't want a double. I was determined to do the dance scenes myself," he says.
Having spent the autumn travelling with Sheikh Jackson, the actor, who speaks good English, is now talking about a number of roles, both at home and abroad. They include the lead in Canadian director Patricia Chica's dark coming-of-age comedy Montréal Girls, about a young Arab student sent to Canada to study amid the uncertainty of the Arab Spring back home, and a new feature with El Bagoury.
Contact Ahmed Malek, ahmed.malek95@gmail.com