As Screen International and DIFF unveil this year's Arab Stars of Tomorrow, Melanie Goodfellow outlines how the five actors and filmmakers were selected.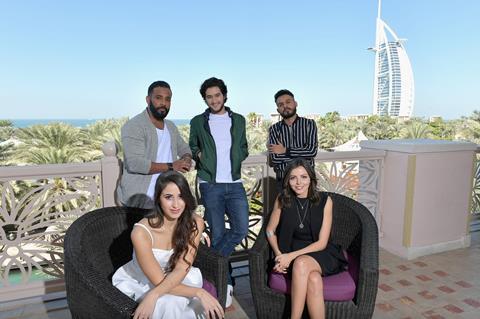 The second edition of Screen International's Arab Stars of Tomorrow, put together in association with Dubai International Film Festival, showcases five rising filmmakers from the Middle East and North Africa.
The 2017 selection features two actors, the UAE's Marwan Abdullah Saleh and Egypt's Ahmed Malek, who already have a following at home and are on the cusp of international recognition. Meanwhile Palestinian actress Maria Zreik has starred in festival favourites Villa Touma and Ave Maria, and is now seeking an agent. She is in two films screening at DIFF: Wajib and Detained.
The two directors selected this year are Iraq's Ayman Al-Shatri and Lebanon's Manon Nammour. They are both making short films exploring contemporary life in their complex countries. Al-Shatri's award-winning work includes Warm Night and Five O'Clock, while Nammour's On The Ropes premiered at Locarno Festival last year.
Click on the links below to read the individual profiles:
Arab Stars of Tomorrow is a spin-off from Screen International's highly respected UK & Ireland Stars of Tomorrow.
Over the past 14 years, the showcase has become a point of reference for talent agents, casting directors, producers, filmmakers and festival programmers all over the world. Launched in 2004, it has highlighted talents such as Benedict Cumberbatch, Emily Blunt, John Boyega, Hope Dickson Leach, Andrew Haigh and writer Jack Thorne when they were right at the beginning of their careers.
Arab Stars of Tomorrow is a response to the independent filmmaking scene that has sprung up across the Middle East and North Africa in recent years, thanks to new funding initiatives, the rise of affordable digital technology and in some territories, such as Tunisia, greater freedom of expression since the Arab Spring.
The selection of just five people from a talent pool spanning 22 territories with a population of more than 300 million has been no easy feat, and the talents showcased here are just the tip of the iceberg. Screen International canvassed producers, sales agents, festival programmers, film development experts and filmmakers across the Arab world, as well as in Europe and the US, to compile this year's list.
There are no cash prizes or physical awards. The aim is to promote the actors and filmmakers to a global audience through networking events and a special editorial showcase in Screen International and online. This year's selected talents will be profiled each day in our DIFF dailies, starting tomorrow.
We believe the five exciting talents from the Arab world presented here are poised for recognition beyond their home territories, and are placed to make an impact on the international film industry.
ONE YEAR ON
Screen checks the progress made by the class of 2016
Lebanese filmmaker Mounia Akl flies into Dubai from Paris with her new feature project Costa Brava, which she is currently developing at the Résidence du Festival, the six-month, Paris-based residency programme of the Cannes Film Festival's Cinefondation.
She will attend DIFF's Dubai Film Connection (DFC) co-financing event with producer Myriam Sassine at Beirut-based Abbout Productions in a collaboration that grew out of meetings at DIFF last year.
It caps a busy 12 months for Akl who was at Directors' Fortnight in Cannes in May for the premiere of her short film El Gran Libano. The joint work with Costa Rican director Ernesto 'Neto' Villalobos was among a collection of shorts commissioned as part of the parallel section's The Factory Project, which put the spotlight on Lebanon.
Since then, Akl was also commissioned to direct an episode of the upcoming series Do Not Disturb created by Michael Haussman and Larry Volpi. It is produced by Jude Law, Haussman and London-based Pulse Films for French short content production house BlackPills.
"One of the episodes happens in an Arab country and it was very important for them to hire a female Middle Eastern director," says Akl, who managed to get Yumna Marwan, the lead actress in her award-winning short Submarine, cast for one of the roles. The episode shot in London over the summer and is now in post-production.
Tunisian actress and director Mariam Alferjani also returns to DIFF in Kaouther Ben Hania's Beauty And The Dogs, in which she plays a woman who seeks justice after being raped by police officers when she leaves a nightclub. The film screens in the Arabian Nights sidebar.
It has been a tumultuous year for Alferjani who has travelled all over the world with the film alongside Ben Hania, kicking off with the Cannes Film Festival where it received a standing ovation when it premiered in Un Certain Regard.
She is now co-writing a short film, which she will also co-direct, as one of four short films commissioned as part of The Factory Project initiative, which will focus on Tunisia in 2018. The shorts will open the 2018 edition of Cannes Directors' Fortnight.
Alferjani also continues to develop her feature project Alyah about a young woman with a passion for travel who finds herself increasingly hemmed in because of her Arab origins and gender.
Syrian actor Samer Ismail reports that being featured in Arab Stars of Tomorrow resulted in his being signed by Tom Drumm's Los Angeles-based Think Tank Management & Production talent and packaging agency.
Having clung onto his life in Damascus since the outbreak of the civil war in 2011, the actor finally left his home city this year, seeking refuge in the Serbian capital of Belgrade. This has not stopped him working.
Prior to his departure, he worked on compatriot director Soudade Kaadan's 2012-set The Day I Lost My Shadow about a mother trying to keep herself and her son warm and alive in a besieged part of Damascus during one of coldest winters on record.
He is also soon to be seen on the big screen in the Image Nation production Shebab Sheyab by Yasir Al Yasiri about four elderly Emirati men whose lives are transformed when one of them comes into a large amount of money.
Ismail also appeared in fantasy TV drama Orchidea, dubbed the Arab Game of Thrones, in a move reuniting him with director Hatem Ali who first launched his career when he cast him in the lead role of his 2012 drama Omar.
He also had roles in Syrian film-maker Samir Hussain's series Fawda and Lebanese series Madraset Al Hob.
Moroccan director Alaa Eddine Aljem plans to shoot his debut feature, the black comedy The Unknown Saint (Le Saint Inconnu) next September, having nearly fully financed the work as a three-territory co-production involving France and Belgium. The project was invited to participate in the Global Media Makers programme in Los Angeles as well as the Sundance Directors Lab earlier this year.
Alongside developing this personal project, he has started collaborating with French director Karim Boukercha as a co-writer on his next feature film project.
Jordanian director Amjad Al-Rasheed has been on the festival circuit with The Parrot, his joint short work with compatriot Darin J. Sallam, travelling most recently to the Malmö Arab Film Festival in Sweden in October where it won the jury award.
He is also continuing to develop his first feature Inshallah It's A Boy starring compatriot actress Saba Mubarak as a recent widow who resorts to desperate measures to prevent her in-laws claiming the home she shared with her late husband.
The project recently received a boost when Rula Nasser, whose credits include My Love Awaits Me By The Sea and The Curve, boarded the project as lead producer.