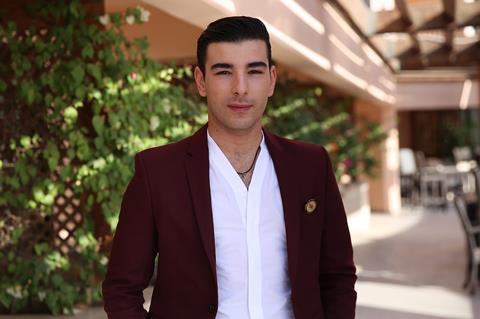 Tunisian actor Fares Landoulsi makes his international debut next year in Netflix series Messiah, a contemporary epic following the rise of a man claiming to be a modern-day messiah set against the backdrop of the Middle East and the US.
Working on the series created by writer Michael Petroni with directors James McTeigue and Kate Woods was a game-changer, he says. "They really know how to work with actors. They're very intelligent, very precise. It was an excellent experience humanly and professionally… it was a big step for me."
Landoulsi plays a young man hailing from the now destroyed Palestinian refugee camp of Yarmouk outside the Syrian capital of Damascus, who has lost his family. "He's a very touching character living in dire conditions. I felt a big responsibility taking on the role," he says. "It wasn't easy for me to prepare - for starters, I had to lose 18 kilos.
"I watched documentaries about refugee camps and also made friends with a lot of Palestinians who really helped me with their accounts of what they had been through," he adds. "Netflix provided a wonderful coach, Reem Talhami, who helped me perfect a good Palestinian accent."
While Messiah promises to launch Landoulsi internationally, he is no newcomer to the world of acting. He has been perfecting his craft since he was seven years old when his mother enrolled him in drama classes.
"She noticed I was different from my brother, sister and the other children of my age," he recounts. "I ended up having a very busy timetable but I didn't mind. I wanted to be an actor. It was my dream."
On completing high school, he enrolled at Tunis University's Higher Institute of Dramatic Arts, studying there from 2013-15. He then beat some 3,000 candidates to win one of 15 fully-paid places at the prestigious Cours Florent drama school in Paris, which he attended from 2015-17. Today, he lives between France and Tunisia and has good networks in both countries, having worked with a number of emerging directors.
Recent credits include compatriot actress and director Mariam Alferjani (a 2016 Arab Star of Tomorrow) and French filmmaker Mehdi Hamnane's joint short Omerta, which was made as part of the Cannes Directors'
Fortnight initiative Tunisia Factory in 2018.
He will be seen in French director Charlie Kouka's short drama The Return, starring in the role of a young Tunisian man brimming with frustration and anger following his deportation from Italy.
Continuing his passion for theatre, Landoulsi is also due to star in a production by Lucia Falco's Turin-based company Skaraventer. Entitled Pitstop, it unfolds against the backdrop of the Notre-Dame cathedral fire, and Landoulsi will star as a Tunisian man who is navigating life in the French capital.
He is also attached to a show by French-US choreographer Christina Towle entitled Spring, incorporating music, dance and sport, which opens in Paris next year.
Contact: Laurence Coudert, Agence-En Ciel