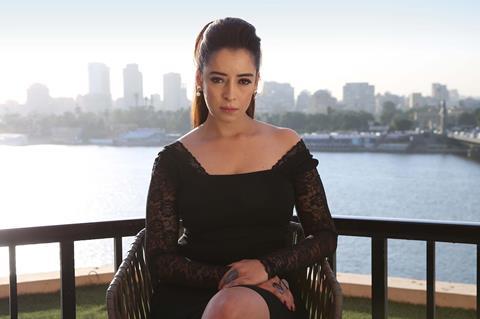 Moroccan actress Nisrin Erradi won praise this year for her performance in compatriot Maryam Touzani's debut feature Adam, which premiered in Un Certain Regard at Cannes and is Morocco's Academy Awards submission this year.
Erradi plays a young single woman who, on discovering she is pregnant, swaps a provincial town for the anonymity of Casablanca. Erradi says she was drawn to the depth of the character as well as the taboo-breaking subject matter. "There are plenty of single mothers in Morocco but nobody ever talks about it," she says.
Erradi expects the feature to surprise local audiences when it premieres in Morocco at the beginning of December in Marrakech International Film Festival.
"Maryam is offering a new vision for Morocco, where single mothers have previously been viewed mainly from a male perspective," she says.
The actress pushes cultural boundaries again in Abdeslam Kelai's upcoming drama Poissons Rouges, in which she plays a physically handicapped woman. Disability is another subject that is rarely discussed openly in Morocco, notes Erradi.
She admits she struggled to crack the role. "I was totally blocked. The director asked me to show him what I was planning and I said, 'I can't! Just shout 'action' and I'll start acting'. I only really got it together on set."
Erradi's ability to pull a performance out of the hat is the fruit of more than two decades honing her acting skills. "I started doing theatre when I was six years old," she says, crediting US playwright Tennessee Williams, who she discovered as a student at Institut Supérieur d'Art Dramatique et d'Animation Culturelle (ISADAC) in Rabat, for introducing her to a more cinematic form of storytelling. "For my graduation piece, I adapted his play Kingdom Of Earth from French into Arabic, and directed and starred in the production," she says. "I found there was a spontaneity in the characters that was close to cinema."
She got her first screen break while still at drama school, playing a supporting role in Abdelhai Laraki's 2011 romantic drama Love In The Medina.
She also appeared in short films by budding directors at the school, developing a passion for the format. "I've immersed myself in shorts. I love working with new talents," says Erradi, noting credits such as Aniss Elkohen's end-of-a-relationship tale Echo and Violaine Bellet's romantic drama Hyménée, in which she played a bride on her wedding night.
Erradi says she would like to continue working on productions that explore stories from Morocco as well as the wider Arab world, but also dreams of working outside of the region (she is studying English).
In Cairo, Erradi can be seen in a secondary role in Mohamed Nadif's drama The Women In Block J, about three women and a nurse in a female psychiatric ward who forge a bond.
Contact: Nisrin Erradi