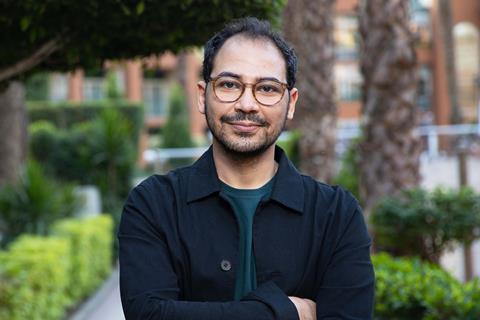 Egypt's Sameh Alaa made history this year as the only filmmaker to clinch a Palme d'Or at Cannes in 2020, for his short film I Am Afraid To Forget Your Face.
It was among 11 shorts in the only competition of the festival's mini-edition, which took place in October after its traditional May dates were cancelled due to the pandemic. The film, Alaa's second short, revolves around a young man who comes up with an ingenious, high-risk plan to get close to a girlfriend he has not seen for three months.
Alaa is also the only Egyptian director to win the coveted prize for a new film, although legendary compatriot Youssef Chahine was feted with a lifetime achievement award by the festival in 1997. "Being the only person to win a Palme d'Or in 2020 was pretty amazing, although I did get nervous about having to make a speech," says Alaa.
The filmmaker has since been selected for the next session of Cannes Cinéfondation's Résidence du Festival programme in Paris, running February to July 2021, during which he will develop his first feature project I Can Hear Your Voice… Still. The coming-of-age tale revolves around a teenage girl's misadventures over the course of one night, when she sets off in her sick father's taxi to raise money for his hospital treatment.
"It's my first film with a female protagonist and will be set in Alexandria, with the sea playing a big role," says Alaa. The project reunites him with producer Mark Lotfy at Fig Leaf Studios, who was behind I Am Afraid To Forget Your Face.
Alaa was not an unknown quantity on the festival circuit prior to his Cannes triumph. His first short Fifteendebuted at Toronto in 2017, before playing a number of other festivals. Steeped in the noise and chaos of Cairo's urban sprawl, it follows a teenager whose life is about to change irrevocably.
Alaa recounts how he fell in love with cinema after his childhood dreams of being a professional football player were dashed.
"I was playing in an official team but was forced to give up and I started going to the cinema. I got hooked and started dreaming about making movies," he recalls. "I had no idea how to start. It was my sister who helped me. She took me to a short-film festival and it was the biggest discovery for me. I started thinking, 'I could do this, too.'"
After a degree in German literature at Cairo University and gaining experience as an assistant director in Egypt, Alaa headed to Prague's FAMU film school and then went to France for an MA in filmmaking at the International Film & Television School Paris (EICAR).
His experience abroad may have fed into the reflective, observational style of his first two shorts. "Most of the time, I was in countries where I didn't speak the language so I was kind of observing how people act," he says. "I learned a lot through that experience of not understanding."
Alaa now divides his time between Cairo and Brussels but says that, for now, it is his home country of Egypt that he wants to capture on the big screen. "It's what I know — there are so many stories to tell."
Contact: Sameh Alaa