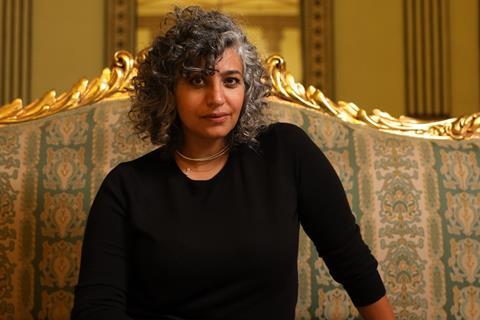 Doha-based filmmaker Maysaa Almumin, whose short film J'ai Le Cafard (aka Bint Werden) is making waves on the international festival circuit, tackles topics rarely broached publicly in her native Kuwait or the wider Middle East.
Exploring depression through the metaphor of a woman who becomes obsessed with a dying cockroach, Egypt-shot J'ai Le Cafard premiered at Malmö Arab Film Festival in 2020.
It has since screened at a raft of events including Nashville Film Festival and Lebanon's sci-fi/horror festival Maskoon, where it won a special mention. Andy Norton and Inka Achté's Finnish company Raina recently signed it for international distribution.
"I know the stigma that goes around depression," says Almumin. "I myself have experienced depression enough now to recognise it but it was so unspoken that the first time I experienced it, I had no idea. It was something I wanted to talk about."
Almumin branched into cinema some six years ago, while in her early 40s, after a career in architecture and design. Her fascination with cinema goes back to her days as a student at the Architectural Association School of Architecture in London where she was encouraged to watch films like The Powers Of Ten, Blade Runner and Metropolis.
She finally took the plunge into the medium after moving to Qatar when her Finnish husband was hired for a major project. There, Almumin connected with the Doha Film Institute (DFI) and started signing up for its workshops, kicking off with a year-and-a-half acting programme overseen by Oscar-winning Palestinian filmmaker Scandar Copti.
"My end goal was to make films, but I figured if I learned how to be directed then maybe eventually, I would understand how to direct," said Almumin, who went on to sign up for all the DFI's other programmes, covering everything from scriptwriting to sound design, as they came online. "I became a bit of running joke – every new course or workshop, I was the first to sign-up."
The filmmaker is in Cairo this year with short documentary And I Was Left Behind. It is inspired by her grandmother's stories of separation in Kuwait which gained fresh resonance for Almumin during the Covid-19 pandemic, which nearly stopped her travelling with her husband and daughters to Europe.
"As someone who has observed political, volatile situations in the region, you never know whether that little blue book, or passport, is going to hold you back and separate you from people you love," she says.
Almumin is now developing her debut feature Good Grief, about an unmarried, middle-aged woman living in Kuwait who "finds love in the wrong place", as well as a short film about two grandmothers, one Finnish and one Arab, who are thrown together in Finland.
"I want to speak about women in their 40s who straddle the peripheries of conventional Arab society," she says. "That's what my experience has been. It's a story I want to bring to the table that I haven't heard and seen before."
Contact: maysaaalmumin@gmail.com