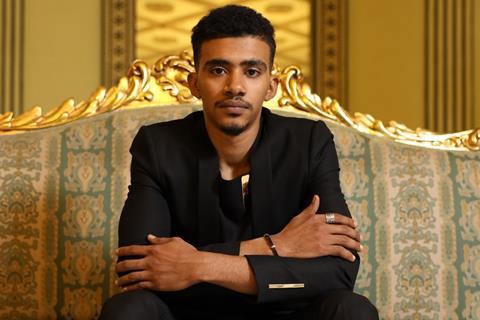 Sudandese actor Mustafa Shehata made his acting debut in compatriot director Amjad Abu Alala's debut feature You Will Die At 20, playing a young man whose life has been cursed by a strange prophecy made during a Sufi ceremony celebrating his birth.
The feature world premiered in Venice in 2019, winning the Luigi De Laurentiis Award for best first film, before screening in Toronto, El Gouna and a raft of other festivals.
In those pre-Covid-19 pandemic days, Shehata had the good fortune to accompany Abu Alala on the film's worldwide tour. He was also invited to the 2020 edition of Berlinale Talents.
Shehata says he had a natural inclination to entertain and perform from childhood: "When I was a little boy, I used to mimic my uncle to make my family laugh. I guess it was acting but I just didn't know it."
During high school, he started making short videos and posting them on social media, before moving on to make longer-form videos once he was at university.
"People seemed to like these films, I received a lot of good energy," he says.
Shehata's growing online success prompted a friend to take him along to a casting session for Abu Alala's You Will Die At 20.
"I'd never been to a casting session before and said, 'You go first, tell me what happens, and I'll go tomorrow'," he recounts. "When we arrived, we discovered it was the last day, so I had to do it then and there."
Now living in Cairo, where he is taking acting and English classes, Shehata has local and international acting ambitions.
He will next be seen in French director Stéphane Marchetti's fiction feature debut Passeuse about a female cigarette smuggler living in the French Alps, who is persuaded by a Sudanese man to help him and his friends get across the French-Italian border.
Shehata is also set to reunite with Abu Alala on a new Sudan-set drama series as well as the filmmaker's second feature, which is in development and under wraps for now.
"In my dreams, I want to work all over the world, not just the Middle East and Europe," he says.
Contact: mustafa.shahata@mad-solutions.com