With John Krasinski's A Quiet Place receiving awards buzz, has previous Oscar nominee Get Out changed the rule book for horror films competing at the Oscars and Baftas?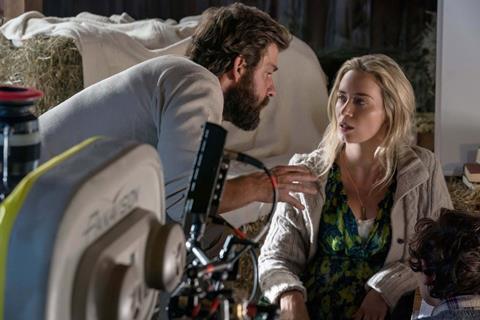 Ever since A Quiet Place premiered at South By Southwest in March, John Krasinski has been "overwhelmed" by the response to his horror/sci-fi sleeper hit.
Critics praised his sharp, inventive show-don't-tell world-building, depicting a landscape ravaged by human-hunting creatures that can detect even the tiniest of noises. Audiences thrilled to the film's scares and jolts, powering it to $339m worldwide against a relatively modest production budget of $17m.
Nobody could quite believe the actor best known for playing nice-guy Jim in the US version of sitcom The Office had written and directed one of the year's smartest horror films — despite, by Krasinski's own admission, being "a scaredy-cat who never watched horror movies". And now his film is being positioned by worldwide distributor Paramount for awards consideration, including for best picture. "It's completely and totally surreal, if I'm honest with you," says Krasinski when Screen asks how that feels. "To be talking about it for the awards season…"
This turn of events is indeed surprising — because horror is a genre traditionally overlooked by members of the Academy of Motion Picture Arts & Sciences. It was not until Ruth Gordon was named best supporting actress for Rosemary's Baby in 1969 that horror had its first big win at the Oscars, and since then its awards have been few and far between, and rarely in the main categories.
In 1974, William Friedkin's The Exorcist received 10 nominations, winning for adapted screenplay and sound. And while the likes of The Omen (1976), Alien (1979), Misery (1990) and Black Swan (2011) all earned Academy Awards, to date Jonathan Demme's The Silence Of The Lambs is the only best picture winner (in 1992) that can be considered to be anywhere close to horror.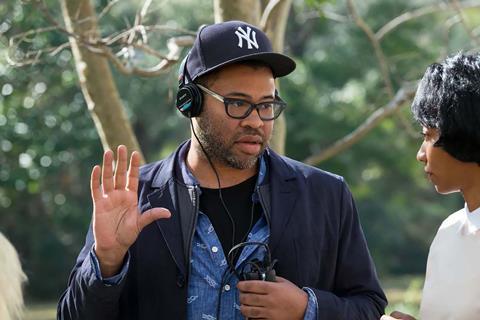 Running an awards campaign for such a movie can at times feel like an uphill struggle, as Jason Blum, founder of Blumhouse Productions and a specialist in low-budget horror, found last year with Jordan Peele's Get Out. "We encountered a lot [of prejudice]," says Blum. "I think there's still a good section of the Academy that dismisses horror, no matter what the movie is. There's a group of them who will not vote for, or even watch, a scary movie."
But the fact Get Out received four Oscar nominations — for best picture, actor (Daniel Kaluuya), director and original screenplay — and won in that final category, suggests a significant shift in attitudes among voters.
"Get Out took such a bold swing and couldn't have hit it any harder," says Krasinski, who studied the film closely, among other horrors, while prepping A Quiet Place. "It was phenomenal. The fact it was recognised means that as genre fans we were at the threshold of being represented in the Academy."
Word from the wise
One veteran Hollywood-based marketing executive Screen spoke with (who prefers not to be named) is not so sure. This insider suggests Get Out has not changed the game in terms of opening up more diverse genres to voters: "The game was always about movies working or not." Rosemary's Baby, Wait Until Dark and The Exorcist are examples of great movies that received nominations because, like Get Out, they both entertain and "have something on their mind".
Liz Miller, associate director at Premier creative communications agency in the UK and head of its awards department, echoes this sentiment. "I think awards voters always were open to diverse genres," she says. "Quality is always the overriding factor."
Get Out is just a very recent example of a film whose sheer quality brought it into contention regardless of genre — as is 2018 best picture winner The Shape Of Water ("Obviously it's a romantic fantasy," Miller says, "but there were horrifying elements and Guillermo del Toro is known for horror").
However, Miller has observed an increase in genre diversity in the best picture category since the nomination limit increased to 10 in 2009. "That does widen the scope," she says.
Earlier this year, the Academy looked like it would be opening up even further with the announcement of a 'best popular film' category, but the outcry was so great that it was rescinded. "It was a terrible mistake," says Miller. "Because you don't need that category. 'Popular' films often are included. And who's defining what's popular?"
Yet there is a sense that for all its apparent wrongheadedness, this announcement has helped focus voters' attention on popular, genre movies that they may not have previously considered. Also, thinks Blum, it is a welcome sign the Academy is willing to adapt. "I do think the Academy needs to change with the times," he says. "It's good that they're open to doing that, at least."
Such a willingness could not be better displayed by the Academy's response in 2016 to the #OscarsSoWhite controversy by increasing and diversifying its membership, as well as bringing in younger voters. Whether or not that means genre films will now stand a better chance of nominations and wins remains to be seen. Blum believes the new influx has made the anti-horror contingent "a smaller group than two years ago", but Miller is not sure it has yet had an effect. Still, she points out: "There's 800-odd new voices in there and a lot of them are from Europe, and there are now that many more South Koreans [a territory known for its appreciation of genre films], so who knows?"
The anatomy of an academy can broadly affect the kind of movies that qualify, Miller suggests. Bafta has many members who are not "film people", with backgrounds in TV and gaming, for example. "I would suspect the demographic of Bafta means the films that are less 'worthy' stand a very good chance," she says. "The difference, of course, being that Bafta is limited to five candidates for best film, so there's not the extra slots that could be filled in with the fun stuff."
Quality product
What is certain is that for a film to enter the race on either side of the Atlantic, it has to be much more than a straightforward genre movie. "I don't think you're going to see a lot of B-list slasher films in there," says Miller. "I would say that meaning and import are what are going to carry the day with a horror movie. If it has significance beyond just scaring you, then it'll be included." Which is exactly where Get Out fits in. Peele himself described it as more of a "social thriller" than a straight-up horror, the film hitting home as an incisive satire on racism in post-Obama America.
"Get Out reminded people you can use the horror genre to deliver a social message," says Blum. "When a genre movie tackles a political theme or a social theme, that makes people feel it's more award-deserving."
It is telling that when Krasinski first read Scott Beck and Bryan Woods' spec script for A Quiet Place, passed to him by Platinum Dunes producers Andrew Form and Brad Fuller, he did not instantly think of it as a horror film. "I always saw this movie as a drama," he says. "The reason I connected to it, and why I wanted to rewrite it and direct it myself, was because I saw it as potentially the greatest metaphor for parenthood."
Krasinski and his wife, Emily Blunt, who also stars in the film, had just had their second daughter when the script arrived, so the story's theme of parents doing anything they can to protect their children chimed loudly.
"I could see exactly what I wanted to do with the movie," he says. "I said to Emily, 'This is my love letter to my two daughters.' Which, if you look at the poster, makes me sound like a psychopath. But it's true, it really is a love letter to my kids."
This deeper level to Krasinski's film — which has been interpreted as pro-religion and pro-life in some quarters — stands it in good stead when it comes to Academy votes. "I would have thought the subtext of A Quiet Place is something of a factor in its favour," says Miller, who also thinks the fact it is made by a "respected and liked" husband-and-wife team will give it an extra push.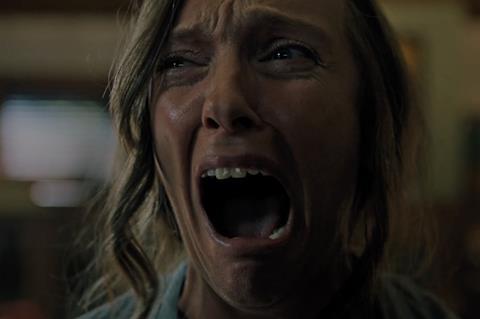 Similarly, Miller feels we may also see Ari Aster's remarkable debut Hereditary (which can be seen as a meditation on grief) and previous Oscar nominee Luca Guadagnino's remake of Suspiria in the awards-baiting horror mix this winter.
For Krasinski, who is currently writing the script for A Quiet Place 2, the value of a great, thought-provoking genre film goes way beyond Oscar recognition.
"Get Out wasn't just a small horror movie that was trying to win awards," he says. "It allowed for a bigger conversation than just the Academy. It was a cultural conversation. It was a social conversation. It's not just an 'Oscar' movie. It's a human movie."