Asif Kapadia faced his biggest challenge yet wrestling the messy life of controversial football star Diego Maradona into a feature documentary. Screen talks to the director and his producer partner James Gay-Rees about the film, which is screening out of competition on Sunday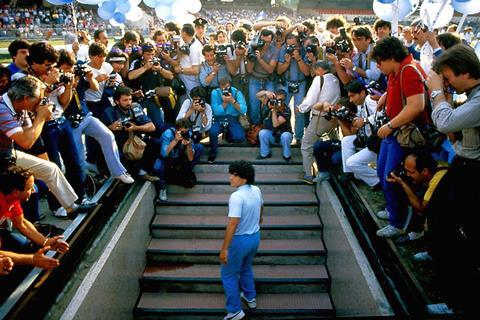 It was in the summer of 2012, just a few months after Senna had picked up two Bafta awards, that Asif Kapadia was approached by Paul Martin. The UK sports journalist turned independent producer had uncovered what he promised was a treasure trove of home-movie footage featuring Diego Maradona, and he pitched Kapadia on the idea of next making a documentary about the Argentinian football star.
For Kapadia, who had made three fiction features prior to his film about Formula 1 racing driver Ayrton Senna, the timing could hardly have been worse. "I felt, 'Oh God, I've just done a film about a Brazilian sporting hero,' so to go straight into a film about an Argentinian sporting hero, I wasn't sure. When I did Senna, it was almost like a one-off. I had no idea this was going to become a thing of me doing these feature docs."
In one respect, however, Martin's pitch was apposite: Liverpool FC fan Kapadia is passionately interested in football, and had long ago read Jimmy Burns' 1996 Maradona book, The Hand Of God. At that time, Kapadia's thoughts had been more about how a feature biopic could be made about the star and "how could you ever get an actor to do it?".
Kapadia put Martin in touch with his producer partner James Gay-Rees, with whom he co-runs the London-based production company On The Corner, and the men hit it off, collaborating on sports documentaries including Ronaldo (about Cristiano Ronaldo), Make Us Dream (about Liverpool FC's Steven Gerrard) and Netflix series Formula 1: Drive To Survive. The Maradona project came back into view during the making of Kapadia's Amy Winehouse documentary Amy.
The home-movie footage Martin had uncovered had been shot by two camera operators from 1981 to 1987, during which time Maradona had quit his Buenos Aires club for a big payday at Barcelona FC, then transferred to struggling Italian team SSC Napoli. He led the latter to two Serie A championships and a Coppa Italia win, quelling the big-money glamour teams of northern Italy.
"The urban myth, which would be lovely to believe, is that he hired these videographers to shadow him so there was a record of his whereabouts 24-7 in case anybody tried to kidnap him," says Gay-Rees. "Whatever the reason, he did have these two guys filming him all the time, and it's the spine of our film. This is proper home-movie filming in a way that no modern superstar sportsman would ever countenance today. And it does really show another side of Maradona."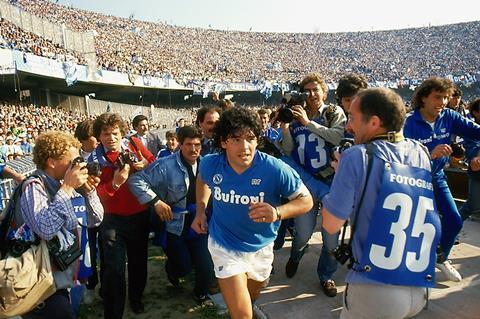 While Gay-Rees pursued the footage ("There were some fairly colourful meetings in fairly ritzy London hotels with people who claimed to have access to the IP," he recalls), Kapadia pondered the task of making his first documentary feature about a live subject.
"Primarily it was the reason to do it, for that extra challenge," the director explains. "I'd made two films about brilliant people who died young, and with those, you know what the ending is. It was a conscious thing to say, 'What happens if you get old, what happens if you lose your gift; what if your story keeps going and going and going?' And you have to deal with a person who's still around who is very tricky, a famously very difficult character. Whenever you think you've got something, or an ending, or an angle, the next day or the next week or the next year he does something that makes everything you've done seem irrelevant and out of date. That was a conscious decision by me to test myself."
On top of that, the footballer had already been the subject of Emir Kusturica's 2008 Cannes Film Festival entry Maradona By Kusturica, as well as earlier documentaries such as Loving Maradona (2005) and Maradona, The Golden Kid (2006).
"Football is really hard to do [on film]," Kapadia continues. "Racing, we were able to pare it down to one guy in a car versus another guy in a car. With a singer, you've got a solo artist essentially on stage — you're seeing her. With football, you've got 22 people on a big pitch. It's harder to make it work cinematically. But all these challenges were the reason to do the film as opposed to why not to."
Meeting the man
Even by the standards of international sports stars, Maradona has led an extraordinary life, beginning with his ascent from a Buenos Aires shanty town to triumphs at Napoli and the 1986 FIFA World Cup, followed by drug abuse, tabloid scandals, financial troubles and declining health. Crucial to any film would be co-operation from the subject — but Kapadia's first planned meeting in Dubai, where Maradona was managing Fujairah FC, did not run smoothly. An expensive five-day trip with producers, translator and crew, as well as equipment and studio hire, ended up yielding just a five-minute meeting, where Kapadia presented the mercurial star with a gift.
"That just made me realise, ah, it's not going to be where I start with an interview and have all of the answers, and we just go round and cut it," he says. "It's actually going to be much more like Senna and Amy, making a film about a guy more than 30 years ago — that person is not around anymore."
Over the course of several interviews, Kapadia was able to establish a rapport and ask Maradona "all the difficult things that I felt we needed to talk about for the film". This included drug abuse, dealings with the Naples Camorra, and relationships with his children, ex-wife and illegitimate son (Diego Sinagra), whose paternity he denied for 18 years.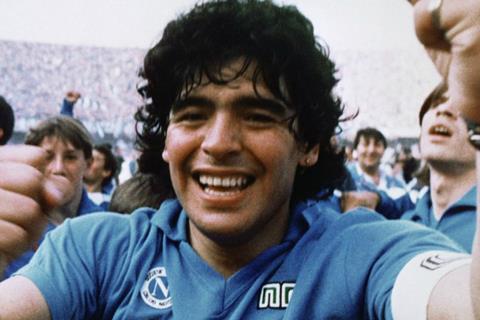 "At one point, he said, 'I've got to hand it to you, man, you've got a nerve to ask me these things to my face.' It all got a bit tense," Kapadia recalls. "But in his own way, he did answer everything, and his memory was pretty clear. And actually, I have to say, over the year-and-a-half, two years that I spoke to him, I felt physically and mentally he was getting in a better and better way."
In the spring of 2018, Kapadia's Maradona film was widely tipped to appear in Cannes that year — just as Amy had done three years previously. Such an outcome might have been welcome to stakeholders such as Lorton (which underwrote the financing), Altitude (UK distributor and international sales agent) and Film4, as well as the many distributors that had bought rights to the film at the EFM in 2016.
A three-hour cut was screened to stakeholders, crew and friends. "We were supposed to be trying to finish the film, and we were just nowhere near being finished," recalls the director. "It was a pretty tricky period."
Kapadia had learnt on Senna and Amy the value of showing rough edits of the film to diverse audiences, mixing those familiar and unfamiliar with the subject matter: "Even though the film is a mess [at that time], I trust the process, and I'm quite happy to show it to trusted people and get the reactions — and people generally are ripping it apart."
While the heart of Kapadia's Maradona story was always going to be the Napoli years, the original cut included 45 minutes covering the earlier period in Buenos Aires and Barcelona, and 30 minutes after he left Italy. Working with his regular editor Chris King and composer Antonio Pinto, Kapadia condensed the 45 minutes into a pre-credits montage, lasting just five minutes. Similarly, the later section is now "almost like a coda", says the filmmaker. "But it was important to get that in there, to refer to the guy that people saw during the World Cup last summer and give a hint to who he is."
Diego Maradona arrives in Cannes buoyed by its US sale earlier this month to HBO, which releases in cinemas in September. The big question remains: will the man himself come to Cannes to attend the premiere this Sunday (May 19)? When Kapadia spoke to Screen, discussions were ongoing, and it is likely the team will not know for sure until Maradona steps on to the plane. "Absolutely the plan is to have him there, and walk up those red stairs," says Kapadia.