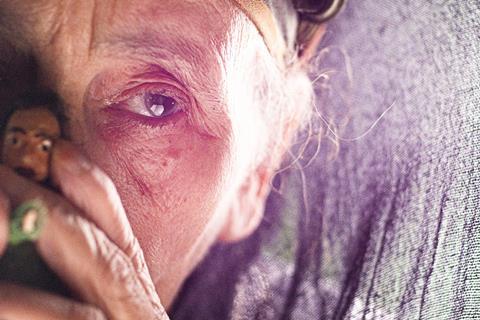 The Marrakech International Film Festival's fourth Atlas Workshops unfolds amid an auspicious period for Moroccan cinema following the selection of Nabil Ayouch's Casablanca Beats in competition at Cannes earlier this year.
"It's the first fiction film directed by a Moroccan filmmaker to be selected for competition in Cannes. It's had a big impact here and in the local media," says Marrakech general coordinator Ali Hajji.
Casablanca-based Hajji has strong ties with the local film industry through his coordination role at the festival and brings this knowledge to bear in Atlas Workshops line-up. Casablanca Beats, which is also Morocco's 2022 Oscar submission, has been travelling the Middle East and North African festival circuit, stopping off in El Gouna, Carthage and soon Saudi Arabia's Red Sea and has just been released theatrically in Morocco and France.
The excitement around the film is rubbing off on the mood at the Atlas Workshops, which is open to filmmakers from across the Arab world and Africa but takes care to make space for local talent.
"There's also a sense that Moroccan cinema is gaining more visibility internationally. Aside from Casablanca Beats, Zanka Contact (aka Burning Casablanca) has also recently come out in theatres in France," says Hajji.
Ismaël el Iraki's edgy drama Zanka Contact, about the relationship between a washed-up rock star and a prostitute, won the workshops' second €10,000 post-production prize in 2019. Hajji suggests that this bodes well for Moroccan filmmakers supported by the Atlas Workshops since its launch in 2018.
"The creation of the Atlas Workshops in 2018 coincided with the arrival of a new generation of Moroccan filmmakers," he comments, citing young rising directors Alaa Eddine Aljem and Sofia Alaoui.
"Over the last three or four years we've witnessed the emergence of a new generation of Moroccan filmmakers who are very different from previous generations and from one another. We've accompanied many of them and in some cases even accelerated the progress of some of their projects," he continues
"They're not necessarily any more modern in their approach or subjects than directors from previous generations like Nabil or Laila Marrakchi but they're perhaps more anchored in the international," he adds.
Both Aljem and Alaoui participated in the 2020 edition with projects in development. Aljem, who broke out internationally with Cannes Critics' Week in 2019 The Unknown Saint, presented second feature project Eldorado. Moroccan-French director Alaoui, who won the Sundance grand jury prize for best short film for So What If The Goats Die in 2020, attended with Among Us.
The tale about a socially stifled pregnant woman whose life is changed forever by a supernatural event, is now shooting in Morocco. Margaux Lorier at French company Wrong Films lead produces.
Moroccan-British filmmaker Fyzal Boulifa, who made his feature debut with English-language, UK drama Lynn + Lucy, has just completed shooting his Morocco-set mother and son drama Les Damnés Ne Pleurent Pas, which he presented at the development stage in 2019.
2021 Moroccan selection
This year's Atlas Workshops line-up features nine Moroccan projects and one Tunisian-Moroccan co-production in the 24-project selection.
First-time feature directors include Youssef Michraf with the coming of-age father and son tale Sweet Disposition which is in development. It is lead produced by Jean-Christophe Reymond at Paris-based Kazak Production, producer of Julia Ducournau's Cannes Palme d'Or winner Titane.
In post-production, Yasmine Benkiran will present the road movie Queens, about three women racing across the Atlas region to the Atlantic with the police in hot pursuit. It is lead produced by Jean des Forêts and Amélie Jacquis at Petit Film.
Moroccan-Tunisian ensemble drama Backstage, about a dance troupe that gets lost in the Atlas, is also a feature directorial debut, It is co-directed by Tunisian actress Afef Ben Mahmoud and Morocco's Khalil Benkirane, who is also head of grants at the Doha Film Institute.
Rising experimental documentary director Asmae El Moudir will unveil footage of hybrid documentary feature debut The Mother Of All Lies from Amsterdam, where she is also presenting the project at IDFA's Forum co-financing event.
The Atlas Workshops are also supporting more established filmmakers. In addition to Marrakchi's new feature project La Más Dulce, thet Atlas Close-Ups section is dedicated to projects by filmmakers with festival track records. This year it includes Daoud Aoulad-Syad's The Blue Lake, about a blind 10-year-old boy and his grandfather who go in search of a lake in the middle of the desert, and Hakim Belabbes's semi-autobiographical work The Story Of M.
"2022 looks set to be a particularly promising year for Moroccan cinema," says Hajji. "Aside from the projects in the post-production line-up and Sofia Alaoui and Fyzal Boulifa's new films, Faouzi Bensaïdi also has a new film while Maryam Touzani is also shooting her second film after her first film Adam, which played in Cannes."
The latter is produced by Ayouch, who will also be participating the Atlas Workshops to talk about Casablanca Beats. He is optimistic about the future of the Moroccan film sector. "There's a new generation of young directors coming up, more women behind the camera and a diaspora that is more active and visible," he says. "We now have to work on building new theatres to have a stronger domestic market capable to receive all those new movies in better conditions."
Marrakchi, who lives in Paris, but whose personal works are rooted closely in Moroccan culture, believes it is important these films get seen at home.
"Things are definitely moving and a lot of young filmmakers are coming up," she says. "My hope is that their cinema will also find their public in Morocco as well as internationally, to connect with Moroccans and younger audiences, so that Moroccan society gets to see itself on the big screen."