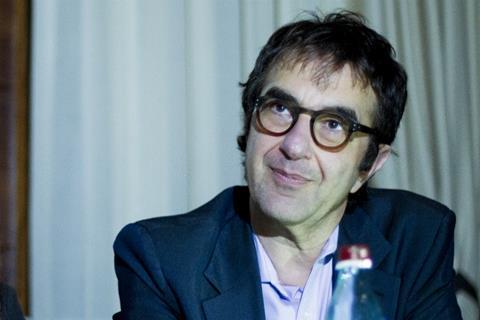 Canadian director Atom Egoyan has addressed the problems three actresses who had important early roles in his films later have faced in their life and careers with sexual harassment.
"I am in a curious place where three of my actresses have actually spoken out against what happened in their relationships with Miramax: Mia Kirshner, Sarah Polley and Erika Rosenbaum," said Egoyan, who was talking to Screen at Filmfest Hamburg where his latest film Guest Of Honour is screening
The three actresses worked with Egoyan before they went on to encounter Harvey Weinstein, the disgraced head of Miramax. Kirshner worked with the Canadian filmmaker on Exotica (1994), Polley on Exotica and The Sweet Hereafter (1997), and Rosenbaum on Where The Truth Lies (2005).
"I have always tried to respect everyone on my sets," said Egoyan. "I have supported a number of female directors in their careers. I executive produced Sarah's first film [Away From Her]…to think of taking advantage of that situation is just something that is out of my understanding. Yet we know it is as old as the film industry. You just try to work against it. You try to refute the and you try to support female talent and diverse talent in any you can."
The director now believes his own 2005 film, Where The Truth Lies, which deals with the mysterious death of a young woman in a hotel suite, anticipated the present scandals in the film industry.
"It's about very powerful men in bathrobes in hotel rooms, taking advantage of women who trust them," he said, in clear reference to what has been alleged was Weinstein's method of abusing women.
Egoyan had dealt with power relations, gender and exploitation in several of his earlier movies too, among them Speaking Parts in 1989 and also Exotica.
"At any points where you feel that your dreams are completely at the mercy of someone else's approval and encouragement, you are entrusting them with something very precious to you," said Egoyan. "When that is taken advantage of, it can demolish your spirit so completely. Those are the stories we have heard. People's spirits have been demolished by people who've promised to help them but were thinking of their own selfish needs. That is devastating.
"But it's good that we are able to acknowledge it and not diminish it. By saying it has always been in the industry, that by no means is a state of affairs that is tenable. Working in film and the arts, we are here to elevate the spirit, not to demolish it. There are people who've very cuttingly been able to navigate this world of aspiration and hope to their own ends. That's deplorable but we can stop it."
Childhood passion
Guest Of Honour, which is also screening at the LFF, has been warmly received by Hamburg audiences. The film, sold by Playtime, stars David Thewlis as a food inspector who has a complex and tortured relationship with his daughter, played by Laysla De Oliveira. The father gives the daughter a pet rabbit when she is a child and the rabbit lives a surprisingly long time, right into the young woman's troubled 20s.
Egoyan said the film was partly inspired by his own childhood love for rabbits. He revealed he used to enter pet shows with his own beloved rabbits. Some of the ribbons he won at these pet competitions were used as props in the new film.
"My first rabbit Bugsy, who's as white as the rabbit in this film, disappeared into the snow never to be found again," Egoyan recalled of a traumatic experience when he was four years old, not long after his family moved from Egypt to Canada. Other pet rabbits he owned won honourable mentions and various prizes in "best cared for" categories at local pet shows. "On one of the ribbons, they put my name down as the winner. I actually as a child quite methodically erased my name and put down the rabbit's name. I thought rightfully it should be the winner, not me."
Egoyan also kept guinea pigs but his preference was for rabbits. "I've always just been drawn to the animal. You can't infuse it with the same personality that you can a cat or a dog. There is something kind of detached about a rabbit. You can project a lot into it."
In one scene in Guest Of Honour, characters are served up deep fried rabbits' ears. "That's not something I made up," Egoyan said of this unlikely culinary delicacy.He said he first encountered it when he was showing Devil's Knot in the Deep South in 2013. "It has a muscularity which is either thrilling or off-putting depending on your sensibility."
Egoyan didn't reveal details of future feature projects but said he was no longer involved in portmanteau picture, Rotterdam I Love You. "I have sort of stepped away from that protect. I just don't think it is happening."
Next on the agenda for Egoyan are various opera productions including a version of Cosi fan Tutte in Quebec. One of his original stories, Adoration, is also being adapted for opera by Beth Morrison Productions in New York.
Filmfest Hamburg runs from September 26 until October 5.