Dir: Joe Wright, UK, 2007, 122 mins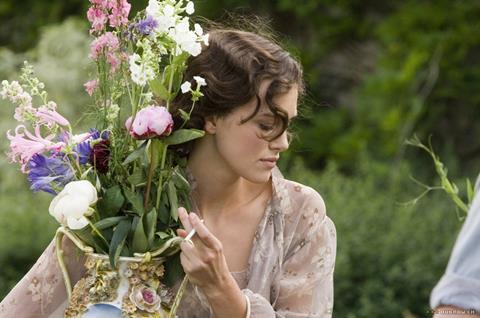 Over the years, novelist Ian McEwan must have experienced all the mixed emotions of surrendering his work to the tender mercies of disparate filmmakers. He is unlikely to have cause for concern over Joe Wright's immaculate adaptation of Atonement.
This is a textbook example of literary adaptation; breathtakingly beautiful in its craftsmanship, impeccably acted and quietly devastating in its emotional impact. Worthy of being mentioned in the same breath as The French Lieutenant's Woman (1981) or The English Patient (1996), it combines an epic sweep with an intense, slow-burning intimacy.
Glowing reviews and strong word of mouth should ensure robust commercial returns as Atonement becomes the must-see prestige release of the autumn. It should also be considered the first front runner for across the board consideration among both Oscar and BAFTA voters.
The story of a doomed love affair shattered by the lies and false accusations of an impressionable young girl, Atonement begins on the hottest day of the year in 1935. Seamus McGarvey's gorgeous cinematography captures the dazzling white heat and stifling languor of a long ago summer. The soundtrack is punctuated by the insistent clatter of typewriter keys emphasising that this is firmly a tale all about storytelling.
In a massive country mansion, the precocious Briony (Ronan) has just completed her first play when she witnesses her sister Cecilia (Knightley) strip off and plunge into a water fountain. Cecilia is accompanied by handsome, housekeeper's son Robbie (McAvoy). Briony makes the first of several catastrophic misunderstandings. Later in the day she will accuse Robbie of a crime he did not commit. It is a day that will haunt all their lives with tragic consequences that ripple down the decades until Briony (Redgrave) is a repentant old woman.
Atonement has been adapted for the screen with immense sensitivity by Christopher Hampton. The complex, fractured narrative is handled with elegance and fluidity as it doubles back on itself to reveal a different perspective on key events and enhance our understanding of what has truly happened. It carries the weight and intelligence of the story with ease and Hampton's screenplay never jars in its evocation of the popular expressions and dialogue of the period.
The production design and cinematography transport us to worlds of privilege and suffering, climaxing in an extraordinarily rich and detailed section set on the beaches of Dunkirk that has a vaguely, Fellini-esque hallucinatory quality appropriate to the events that befall the wounded Robbie.
James McAvoy's Robbie is the eye-catching performance from a stunningly well cast film. Mastering a flawless upper crust English accent, he has the look and screen presence of a 1930s matinee idol like Laurence Olivier or Robert Donat, and rises to the challenge of this demanding role with a maturity and range that is mesmerising. McAvoy has shown a good deal of boyish charm in his previous work but Atonement is the film that confirms his status as a leading man and puts him in the frame as a potential Best Actor Oscar nominee.
Saoirse Ronan is memorable as the malicious, wounded young Briony, a role successfully reinterpreted by Romola Garai and then Vanessa Redgrave in a contribution that provides the dying grace notes to the whole film. Reunited with her Pride And Prejudice director, Keira Knightley responds with a strong performance revealing the inner steel beneath her cut-glass accent and Celia Johnson-style gentility.
Audiences accustomed to the fast-cutting frenzy of some modern filmmaking may find Atonement a little slow and measured but the storytelling is immensely compact and the pacing merely assists in the construction of an increasingly tragic and moving story. The entire film in approach and execution is a triumph for Joe Wright, and leaves you eagerly awaiting his promised version of Patrick Hamilton's Gaslight.
Production Company
Working Title
Studio Canal
Relativity Media
US distribution
Universal Pictures
Producers
Tim Bevan
Eric Fellner
Paul Webster
Executive producers
Richard Eyre
Robert Fox
Ian McEwan
Debra Hayward
Liza Chasin
Screenplay
Christopher Hampton based on the novel by Ian McEwan
Cinematography
Seamus McGarvey
Production design
Sarah Greenwood
Editor
Paul Tothill
Music
Dario Marianelli
Main cast
James McAvoy
Keira Knightley
Romola Garai
Saoirse Ronan
Brenda Blethyn
Vanessa Redgrave