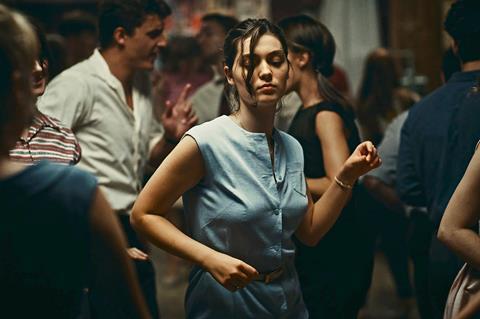 French novelist, screenwriter and director Audrey Diwan broke into cinema as the co-writer of a series of thrillers including Paris Under Watch, The Connection and recent Cannes selection and box office hit Bac Nord with her former partner Cédric Jimenez.
She arrives in competition at the Venice Film Festival this year with her second solo feature Happening. Adapted from the 2019 work of respected French writer Annie Ernaux, it recounts the author's struggle to get an abortion as a student in 1964, 11 years before abortion was legalised in France in 1975.
"Words brought me to images. I was enriched by the universes I crossed as a screenwriter, but I came to understand that the only way for me to tackle subjects that were dear to me was by directing," says Diwan.
Her decision to adapt Ernaux's novel is a timely one given the ratcheting up of the abortion debate in the US over the past 12 months after several states introduced legislation aimed at restricting abortion.
"The question of abortion has not been resolved. As we've seen over the summer, it's an issue that continues to create turbulence all over the world," says Diwan.
Ernaux, who is one of France's most respected contemporary writers for her body of work capturing life in the country as a woman from the 1960s onwards, was a brilliant young student from a working-class background when she fell pregnant on the eve of key exams. Unable to go through legal channels, she resorted to a backstreet abortion that nearly killed her.
Beyond recounting the logistics of trying to terminate her pregnancy, Happening is also a powerful portrait of the social mores and expectations for young women in 1960s France, before the social revolution of 1968.
"I like to work on the body and intimacy, the body of the woman in particular, which led me to read the works of Annie Ernaux," explains Diwan. "My first response to the book was one of shock because I thought I had understood what a clandestine abortion was and on reading the book, I understood the difference between the term and the actual process of what a woman goes through.
"My desire to make this film came out of the shock of learning about the reality, the truth of what Annie Ernaux had gone through and then I immediately started thinking about the journey of the body," continues Diwan. "Cinema has by vocation, the ability to put us into different bodies and the lives of different people. I wanted to experiment with the idea of putting us into the body of this young woman, whatever our gender, to live this experience… I didn't want to shock or present a theoretical emotion. I wanted us to feel."
Collaboration
Diwan and co-writer Marcia Romano consulted closely with Ernaux, now in her 80s, on the script. "The book is very concise and short. There were details I needed her to clarify and flesh out for me. I let her see all the different versions of the screenplay, not because I was obliged to but because I saw it as a journey we were on together."
Happening is Ernaux's second novel to hit the big screen in the last 18 months after Danielle Arbid's 2020 adaptation of her 1992 bestseller Passion Simple.
"Annie said she had the impression that the book [Happening] hadn't been talked about much when it came out, that it was her book that had resonated the least. For me, the fact this film is now kicking off its career in Venice and that Alberto Barbera has decided to help make this story resonate in the festival is a sign that something has changed."
Diwan shot the film over the summer of 2020, between the first and second waves in France of the Covid-19 pandemic.
She has brought together a buzzy cast of rising French actresses including Anamaria Vartolomei, in her first lead role; Luàna Bajrami, whose directorial debut film The Hill Where Lionesses Roar premiered in Cannes Directors' Fortnight this year, and Louise Orry Diquero.
"I had a group of young, intelligent actresses who were very engaged. They'd all read the book. We talked a lot about the subject, the thematic and cinema in general, what kind of cinema we want to make. It was a collective experience.
Diwan took particular care in preparing lead actress Vartolomei and then looking after her on set. "It was the early days of the pandemic, so everything was online," she recounts. "We were speaking every two or three days. I gave her films that could inspire us… one reference for her was the Dardenne brothers' Rosetta. We also worked a lot on the question of the body, how it anchored itself to the ground, how it presented itself, whether it was heavy, light."
"[On set] I wanted to create an environment in which Anamaria could give her maximum without putting her in danger. She is a young woman in her early 20s and there were a number of complicated intimate scenes. We took our cue from her and how she was feeling but she was incredibly brave and threw herself into it."
Beyond the cast, the production featured a majority female crew with women holding many key posts such as production manager (Monica Taverna), assistant director (Anaïs Couette), set design (Diéné Berete) and costumes (Isabelle Pannetier). Mélanie Karlin oversaw post-production with Géraldine Mangenot as editor.
"There are two things. I don't want to be told that certain posts are not suitable for women. If someone seduces me and they are right for the role, I will hire them. I don't want any constraints. Cinema is about freedom, and I didn't want any limits. The other thing is that I get on really well with women. There are lots of women in my team, who are also close friends, who are sort of my family.
Along with production designer Berete, costume designer Isabelle Pannetier, make-up artist Amélie Bouilly and hairdresser Sarah Mescoff, Diwan strove to capture the look and feel of the 1960s authentically but subtly.
"We didn't want anything that violently marked the era. The idea was to give the audience the sense of being in the 60s without being overly conscious of it," explains Diwan.
The film is lead produced by Alice Girard and Edouard Weil at Paris-based Rectangle Productions, the other recent credits of which include Valerie Lemercier's Aline and Philippe Garrel's The Salt Of My Tears, with Srab Films, the company behind Ladj Ly's Les Miserables. Wild Bunch International is handling sales and Wild Bunch Distribution is due to release the film in France early next year.
In the meantime, Diwan is gearing up for a round of preview screenings and debates across France in the coming weeks and months
"I eager to show it to a mixed public and to get their different opinions," she says.