This year's Oscar and Bafta nominations have been applauded for their international scope — but the British Academy's jury system continues to raise eyebrows. Screen talks to awards campaigners in both the UK and the US about the current awards race.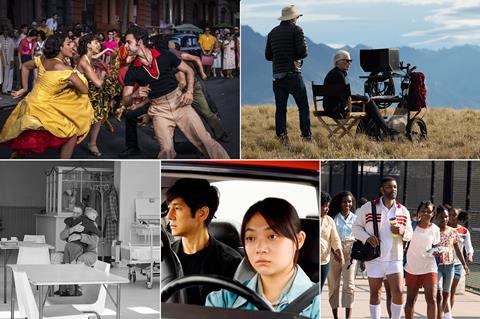 This year's nominations for the US Academy Awards did not produce talking points equivalent to the groundbreaking events of a year ago, when for the first time ever two of the director nominees were women (Chloé Zhao and Emerald Fennell) and a record nine out of 20 acting nominees were people of colour. But Screen International's conversations with awards campaigners in the US and UK have still elicited lively topics of debate. And never more so than in the differences between the Oscar and Bafta nominations, and the impact of the reformed voting processes at the Bafta Film Awards, which are now in their second year of operation.
It is perhaps understandable that awards campaigners are not going to see those differences in the positive and celebratory light Bafta itself might view them. If campaigners are based in the US, everything is viewed through the prism of the Oscars, so anything that pulls in a different direction is seen as an unhelpful distraction. If based in the UK, campaigners would prefer the Bafta Film Awards to be seen by their studio and streamer paymasters as maximally relevant — and that means relevant to winning Oscars.
This year, all five best film nominees at Bafta went on to land a place among Oscar's 10 best picture line-up. However, only nine of the 24 actors nominated across Bafta performance categories went on to achieve an Oscar nomination — similar to a year ago, when it was 10 of the 24 acting nominees overlapping. But the fact that none of the actress nominees were the same at Bafta and Oscar this year caught everyone's attention, and has made this an even bigger issue. "There's not one crossover in that category," says one UK-based campaigner. "I think that's a problem."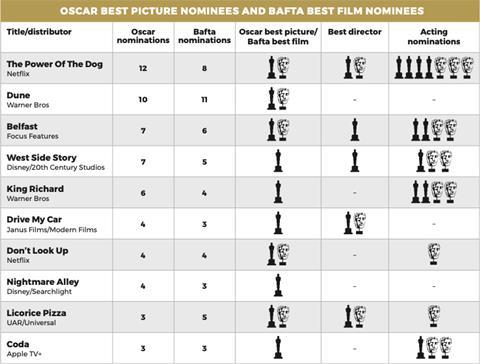 More positively, all the campaigners Screen reached out to — who spoke anonymously — greeted the growing international scope of the Bafta and Oscar nominations with enthusiasm. There was success for Drive My Car and The Worst Person In The World outside the international feat­ure film Oscar category, coming in the same year as a best actress nomination for Penelope Cruz in Parallel Mothers. "I celebrate the international flavour of some of the categories," comments one campaigner. "I love that Drive My Car is in there for best picture at the Oscars."
Says another campaigner: "The Oscar nominations show the international vote definitely has an influence, and it's growing." She adds that some US campaigners expressed surprise when Jessie Buckley and Judi Dench received supporting actress Oscar nominations, respectively for The Lost Daughter and Belfast, since the perception in the US is that neither actress had campaigned there — after all, Buckley is on the West End stage in Cabaret.
In fact, both did promote their films by attending Q&As in the UK. "Those nominations reflect that it doesn't have to all happen in the US anymore. You can have really strong contenders that don't need to sit in LA, in New York, and do that work — and that's exciting."
Arthouse skew
Despite a best picture Oscar nomination for Dune, which has grossed more than $400m in cinemas worldwide, this year's awards season is seen as having an arthouse skew. Oscar pundits talked up the best picture chances of Spider-Man: No Way Home, but the Sony/Marvel film came away with just a single nomination, for visual effects.
"I would have liked to see Spider-­Man or No Time To Die nominated for best picture," says one US-based campaigner. "I always try to put my favourite commercial film of the year on my ballot. Separate from the fact that I really liked the Spider-Man movie, I just think it's better for the audience TV viewership if there are a couple of really successful commercial movies in there. It's a little disheartening to not see that getting its just desserts."
For one of his campaigner compatriots, the lack of nominations for the Spider-Man and Bond films, coup­led with the nominations success of Drive My Car, prompted him to consider: "This is the year that the critics actually made a difference. Drive My Car won best film at both the New York and LA critics, and that turbo-­charged its campaign."
And commercial success — or lack thereof — is no longer seen as affecting awards outcomes, with allowances being made by voters for the Covid-19 pandemic. "I think it was a question that a lot of people had at the beginning of the season, especially after King Richard and West Side Story didn't do well at the box office — would that hurt those films' chances," comments one US campaigner. "But the nominations for those films suggest that it didn't. This year, box office didn't really matter. And especially with streamers not releasing numbers, it just doesn't matter anymore."
This campaigner welcomes the success of legacy studios at the Oscar nominations, including Warner Bros, Disney, Universal/Focus and MGM. "People expected the streamers to do well, and they did so, but the studios did well too," he says. "The studios still matter, and they're still playing a big part of this."
Diverse options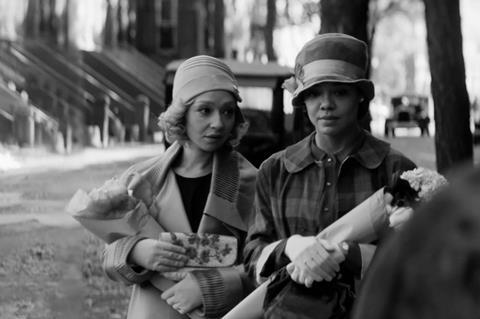 This year, the US Academy nominated just four non-white actors out of 20 in the performance categories — Will Smith, Denzel Washington, Ariana DeBose and Aunjanue Ellis — which compares with the historic high of nine last year, and the dismal total of just one (Cynthia Erivo for Harriet) the year before.
Campaigners understand the media focus on this, but remind us that the academies are at the mercy of the films that are being pushed for the attention of, and are resonating with, voters.
"I was aware it was going to happen," offers one of our campaigners. "Just like two years before, which was the #BaftaSoWhite year, I came out of Toronto, and I said, 'Oh my goodness, this is a very white, and male director year,' in terms of the films that were garnering attention. Bafta got the flak for it, but it was apparent three months prior, and before anybody even had their ballots."
Last year's awards season was particularly rich with films showcasing Black performers and of Asian origin: Judas And The Black Messiah, Ma Rainey's Black Bottom, One Night In Miami, The United States Vs. Billie Holiday, Minari and Sound Of Metal were all titles that benefited from a major awards-season push. This year, there were fewer examples. Where they existed — such as the Netflix-­backed The Harder They Fall from Jeymes Samuel — they did not resonate with voters in the same way, although Bafta nominated both Tessa Thompson and Ruth Negga for Passing.
Bafta is better able to promote diversity thanks to its juried system for the four acting categories, and overall achieved a more diverse mix than did Oscar. However, campaigners express surprise the best actor jury failed to award Denzel Washington his first, and surely long-overdue, Bafta nomination, for The Tragedy Of Macbeth. "Even with the jury, they've got a round peg in front of them, and a round hole, and they still reach for the square peg," is the verdict of one UK campaigner.
This year, Bafta tweaked its processes in the four acting categories, so that the top two in first-round voting are automatically nominated, with the juries then adding four more names picked from the longlists. The result, according to this US campaigner: "The Bafta acting nominees this year are more mainstream than the last year. I mean, last year, I was like, 'Whoa!' This year, the 'Whoa!' was slightly less."
The campaigners all feel this year's automatic nomination of the top picks for acting is a step in the right direction — especially since these are the choices of the acting branch members, who might be considered to have astute insights into the merits of performances. But all feel the balance needs to shift further, while nevertheless supporting Bafta's focus on diversity. "It shouldn't be a majority jury vote," says one, reflecting a consensus view. "At least make it half and half, or give two spots out of six to the jury."
This applies not just to the acting categories, but also to director — where currently the relevant branch is not permitted to have a say in the nominations round. You can see the campaigners' point, when you consider the likes of Bafta members Sam Mendes, Lynne Ramsay, Christopher Nolan, Ridley Scott, Joanna Hogg, Andrea Arnold, Asif Kapadia and Sarah Gavron are not entrusted with a vote in the nominations round for director, unless invited to serve on the relevant jury.
"I think it's strange, I think it's a shame, and it's a little disrespectful," says one UK campaigner. "It takes a lot to become a Bafta member, you have to prove your career, and then to get there and not be trusted with that vote, I think is weird. You've got to trust them — otherwise, why are they members?"
A fellow UK campaigner suggests that "the new jury system only seems to be applied to the nominations for individuals where there's a lot of social-media attention, which I think speaks to the agenda that it has." In fact, other categories such as casting and outstanding British film likewise have juries, but we take her point. And it is true that Bafta was taking most flak in the past for a lack of racial diversity among actor nominees, and a lack of women among director nominees, and it is in those areas that the new nominating juries were introduced.
Last year, despite the disparities between Oscar and Bafta in the juried categories at nominations stage, the two awards bodies aligned closely when it came to picking winners, which are the choices of all voters. And Bafta's longlists after first-round voting, both this year and last, did reflect the overall awards conversation that was happening on both sides of the Atlantic.
"With the nominations, Bafta is almost taking itself out of the relevance at a certain point in the race," offers one campaigner. "When the winners are announced, Bafta is back in it again."
Winning ways
Last year, the Bafta Film Awards was essentially a virtual event, and it was not such an issue that popular acting talent such as Carey Mulligan, Olivia Colman and Gary Oldman — all nominated at Oscar but not at Bafta — were missing from the red carpet. This year's ceremony will be a physical one, and executives from Bafta and broadcast partner BBC may regret the absence of stars such as Colman (again), Kristen Stewart and Nicole Kidman — Oscar nominees who were missing from the Bafta nominations. On the plus side, Bafta has nominated Oscar shutouts Lady Gaga and Leonardo DiCaprio, and Gaga on the red carpet would be a big win.
Doubtless, further assessment will occur as the dust settles on this year's awards season — and Bafta will not be short of awards insiders offering their advice and support. "I understand Bafta has to keep working on it, and I respect them for that," sums up one of our awards campaigners. "I'm totally on their side. We've just got to keep trying to figure it out."