The first part of SS Rajamouli's Telugu-language epic, Baahubali: The Beginning, stormed the Indian box office and sold to 30 territories. Now the follow-up has set its sights on further international success.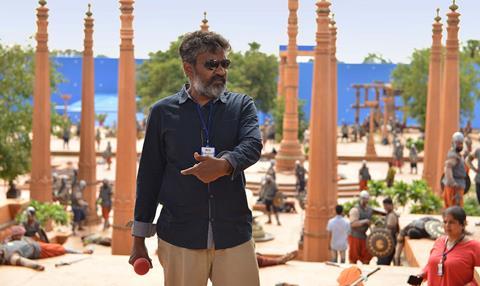 A Mahishmati king, covered in the bloody gore and deep gashes of battle, is standing in front of a monitor reviewing a playback of his last scene. Seemingly satisfied, he strides back out to the set of Baahubali: The Conclusion, an ancient Indian citadel on a backlot of Hyderabad's Ramoji Film City, which is suitably immense but somewhat truncated. After all, mighty statues, pillars and other pieces of medieval masonry only need to soar so high before they are finished off with visual effects.
"We've built everything that the actors need to physically interact with," explains Shobu Yarlagadda, producer of two-part Telugu-language epic Baahubali. "Everything else you see on screen is CGI."
It was a combination of VFX spectacle and director SS Rajamouli's epic storytelling - which recalls Hollywood blockbusters of the era of the original Ben-Hur - that made the first part of the combined $50m production, Baahubali: The Beginning, such a success. Produced by Yarlagadda's Arka Mediaworks, the film opened in July 2015 and grossed around $85m in India across versions in three languages (Telugu, Tamil and Hindi). A slightly shorter international version, edited by France's Vincent Tabaillon and handled by former EuropaCorp executive Francois Da Silva, received wide festival play and was sold to 30 territories. It has grossed around $12m in 10 territories, with releases in South Korea and Japan scheduled for the second quarter of 2017.
What's remarkable about these numbers is that they were achieved without international stars. Prabhas, who plays the hero Baahubali, and Rana Daggubati, who plays the villain Bhallaladeva, are huge in the Telugu and Tamil-speaking states of southern India, but don't guarantee box office in the Hindi-speaking north. However, a Hindi-dubbed version of the film, presented to local audiences by Bollywood producer Karan Johar, shattered records for a dubbed version of a southern film by grossing $18m.
"We expected gradual pick-up in the Hindi-speaking states, so it was a big surprise when it became an immediate hit," says Rajamouli. "I think it worked because audiences are not used to seeing this kind of scale and visual extravagance in an Indian movie; and they could relate to the characters and their emotions at a basic level."
The film also worked well with the Indian diaspora, despite the fact overseas Indians mostly follow Bollywood (ie Hindi-speaking) stars, and found success in some territories such as Taiwan that don't have a large Indian community. "We had confidence in our product and knew they'd like it if they came to the theatres," says Rajamouli. "We just didn't know if we could market it well." The critical response, both in India and overseas, suggests that, apart from the spectacle, audiences were drawn to what is basically a rollicking good story, along with Prabhas's portrayal of the muscle-bound hero as charming and relatable, rather than distant and stoic.
Overseas ambitions
Although pleased with the international reception - in the US, the film grossed around $7m across the three language versions - Yarlagadda says he is expecting bigger overseas box office for the second part, Baahubali: The Conclusion, which is shooting now and scheduled for release in India on April 28, 2017. While the first part performed strongly in some territories, Yarlagadda feels it could have gone further in others.
"Germany, for example, had a lukewarm theatrical response, although DVD sales were strong," he explains. China box office was also lower than expected as the film had its release date postponed, and eventually went up against Jackie Chan's Skiptrace and popular Japanese animation Doraemon. "But I feel like we made inroads in some of these territories and we're hoping the second part will have a greater impact. At least we've raised awareness and people are talking about the film."
Rajamouli explains that the second part was always going to focus more on drama and emotions - as it will resolve several story threads from the first part - but after seeing how much audiences loved the first film's epic battle scenes, he realised he would also have to crank up the action quotient.
"It was written as a story in two parts; this is not a sequel, but after the success of the first part we revisited the script," says Rajamouli, who wrote the film with his father Vijayendra Prasad (who also wrote Bhaijaan Bajrangi, the biggest Hindi hit of 2015). "We've made the action scenes bigger but the basic storyline remains the same."
Around 40% of Baahubali: The Conclusion was filmed at the same time as the first part, at Ramoji Film City and other locations in India and Bulgaria. Located on the outskirts of Hyderabad, the heart of the Telugu film industry, Ramoji is one of the world's largest studio complexes, housing soundstages, palaces, temples and many other outdoor sets spread over a 2,000-acre site. Founded by producer and media mogul Ramoji Rao, the studios also part-financed Baahubali through a loan and in-kind services.
Yarlagadda and his producing partner Prasad Devineni have managed to pull together mostly the same cast and crew for the second part - no mean feat given the busy schedules of actors and technicians in the Telugu and Chennai-based Tamil film industries. Tabaillon is also on board again to cut an international version. However, VFX supervisor Srinivas Mohan had a prior commitment to work with Tamil star Rajinikanth and director Shankar on Robot 2.0. He has been replaced by another long-time Rajamouli collaborator, Kamal Kannan, who is working with VFX houses including Hyderabad-based Makuta, Chennai-based Prasad EFX, WOPR in Denmark and Post Modern in Ukraine.
Franchise treatment
Also keeping Yarlagadda busy is a wide range of ancillary and transmedia products, including comics, novels, mobile games and an animated TV series, some of which Arka is developing jointly with Graphic India, owned by Liquid Comics and Peter Chernin's CA Media. "We've spent a long time developing the back stories," says Yarlagadda. Arka has also teamed with US-based AMD and John Griffith's CNCPT on a VR film, the first scenes of which will be released in October, and is in talks with Awesome Rocketship to roll out VR pods across India to help local audiences experience the film.
All this activity marks the first time a film property has been given the full-blown franchise treatment in India. But Yarlagadda says we shouldn't expect to see a flood of blockbusters out of Hyderabad just yet. Rajamouli has already spent four years working on the two films, including more than a year developing an original story, which is inspired by Indian mythology but not based on existing texts. "There aren't many film-makers in India who will devote that much time to one project - or who can convince cast and crew to put their lives on hold," Yarlagadda explains.
Rajamouli, who previously directed a string of hits across different budget ranges, says he is likely to make something smaller for his next project. But whatever he turns his hand to, he can rest assured that he has already changed perceptions of Indian cinema globally. "Before Baahubali, most people around the world were only aware of Bollywood, but now they know there's a film industry in south India that makes its own kind of films," he says. "We're quite proud of that."