Venice Film Festival artistic director Alberto Barbera discusses the strong French and Italian presence in this year's line-up, how festivals should be places of research and discovery and the ones that got away.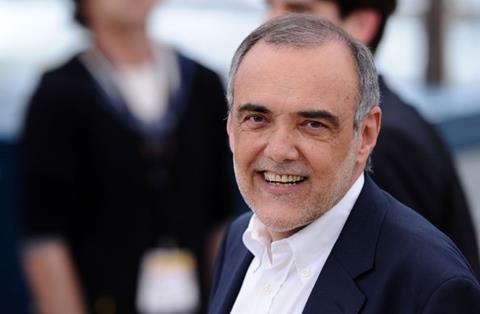 The Official Selection comprises 55 features selected from 1,700 submissions, was it a tough call?
It can be hard and even painful. It was an exceptional year for French cinema, for example, and there were eight or ten films that could easily have shown in competition but we restricted it to four French titles, which is already a lot for one country.
We took two films by established directors - Xavier Beauvois's The Price of Fame (La Rancon de la Gloire) and Benoit Jacquot's 3 Hearts - and two by upcoming talents Alix Delaporte's Le Dernier Coup de Marteau and David Oelhoffen's Loin des Hommes.
But 55 features seems the right number to me, to be fair to the filmmakers, directors and guests and coherent with the number of theatres we have. If we had more films, it would be difficult to organise two press screenings and some films would be penalised in the schedule.
Also, out of 1,700 films, surprisingly few are of a high enough quality to compete… so sticking to the 55 level is right even it's hard sometimes.
In your official speech at the press conference you said that festivals should not be simply shop windows for upcoming releases but also a place of research and discovery, can you elaborate?
Very often festivals are treated like big marketing platforms for films. I'm not against that at all, and I get it, but I also think the festivals need to remember their roots as places to discover new voices, new talents and new ways of showing things.
I don't like the idea of a festival made up only of big established auteurs or the sorts of films you expect to see at festivals. We should do real exploration work. It's not much point only showing work that is going to get a release anyway.
Of course, this year there are plenty of established filmmakers in competition but I've also included a young Turkish first time director Kaan Mujdeci and his low-budget, self-produced work Sivas. He's got great talent. He is a real cineaste and we want him to be better known as a director.
It's an old chestnut but the end of August is a busy time of year on the festival front, how hard is it to get the films you want?
Two films that I wanted and didn't get were David Fincher's Gone Girl and Paul Anderson's Inherent Vice - both of which have gone to New York.
The reasons films don't come is not always clear - sometimes it's because Venice is too early for their release strategies, or perhaps the studios are focusing more on a US release rather than an international one.
I get the sense that the US is increasingly focused on domestic productions and the local market rather than international - I've asked myself whether it is because the European market is decreasing in economic terms, unlike China.
Perhaps, European festivals represent big costs without big returns. I don't know. Nobody has ever said this to me, it's just something I've been pondering.
But you got Alejandro Gonzalez Inarritu's Birdman or The Unexpected Virtue of Ignorance for competition and as the opening film?
I knew Fox Searchlight didn't want to take the film to Cannes because it was too early for the US release in October. I kept asking and asking if could see it and Fox Searchlight eventually obliged.
I loved it immediately - it's complex, amusing, entertaining, with a great cast and it also shows off Alejandro's virtuosity as a director. Perhaps, my enthusiasm helped as well but we're very pleased to have it at the festival.
I thought the Italian film industry was supposed to be in crisis but there is a strong Italian presence at the festival this year?
I am really pleased with the Italian selection. They're all interesting films and different from the stereotypical comedies and dramas people expect from Italy. In competition we've got Mario Martone's Il Giovane Favoloso about Giacomo Leopardi, continuing the work he began with Noi Credevamo - which was also set in 1800s.
Francesco Munzi's Anime Nere is about two warring Mafia 'Ndrangheta clans in Calabria. It's shot in the local dialect and we've had to subtitle it in Italian for audiences to understand.
Saverio Costanzo is also in competition with his English-language Hungry Hearts, for which he has transposed an Italian story to New York.
In the Orizzonti selection we have Francesco Maresco's Belluscone, ulna storia siciliana, about Berlusconi and the bonds between politics and the Mafia in Italy, while Sabina Guzzanti's extraordinary La Trattativa, about alleged negotiations between the Mafia and the state in the early 1990s, is screening out of competition.
That's a lot of films about the Mafia, why do you think interest in the topic has increased this year?
I don't know but the Mafia is a cancer that is widespread and has been influencing our country for years. Thank goodness there are filmmakers who are prepared to examine the issue and look at the connections between the Mafia and politicians in this country.
Beyond the programme, you will be reopening the newly restored Sala Darsena this year? Will it make a big difference?
"The Sala Darsena has become one of our most beautiful theatres now as well as of the biggest. It's got 1,400 seats and has been equipped with state of the art Dolby Atmos technology. It's all part of our ongoing programme of renewal."
This is your third year? Any idea of what will happen when your four-year contract runs out next year?
I don't know. We'll have to wait and see what the situation is next year."