Battle Of The Sexes gave husband-and-wife filmmaking team Valerie Faris and Jonathan Dayton scope to explore both the personal and political elements of tennis legend Billie Jean King's life.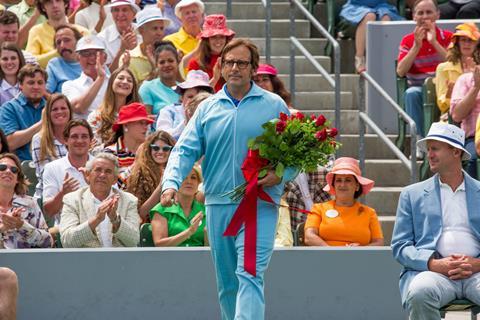 The early 1970s were a cauldron of social change and upheaval as the fight for rights - women's, gay, civil and abortion among them - played out against the acrimonious backdrop of the Vietnam War and Watergate.
In these heady times, a single tennis match - the so-called 'Battle of the Sexes' - between 29-year-old women's world champion Billie Jean King and 55-year-old former men's champ and self-described male-chauvinist pig Bobby Riggs acquired a momentous cultural significance, becoming one of the most watched sporting events of all time with 90 million viewers around the globe.
And against it all, tennis legend King was embroiled in two monumental battles of her own: an external one to put women's tennis on an equal footing with the men's tour, and an internal one to come to terms with her own sexuality.
Perfect match
With this kind of political and personal canvas to paint upon, not to mention the spectacle of the match itself, filmmaker interest was bound to be piqued, and so it came to be that wife-and-husband filmmakers Valerie Faris and Jonathan Dayton were brought in to direct Fox Searchlight's Battle Of The Sexes starring Emma Stone and Steve Carell. The Little Miss Sunshine duo were recruited by producers Christian Colson and Danny Boyle, who had initially embarked on the project after seeing the BBC4 Storyville documentary The Legend Of Billie Jean King — Battle Of The Sexes.
With screenwriter Simon Beaufoy in tow, King's blessing and a draft screenplay, the trio set up the project at Fox Searchlight, which had, with parent company 20th Century Fox, financed and distributed a number of Boyle's previous films, from The Beach to 127 Hours.
The original plan was for Boyle to direct Battle Of The Sexes but when T2 Trainspotting loomed into view, he stepped back and Faris and Dayton were drafted in (Robert Graf, an exec producer on the pair's 2012 feature Ruby Sparks, also came on board as a third producer). "We knew about the match but what impressed us was there was so much more to the story than what we knew," says Faris. "We were heading into an election where Hillary Clinton was most likely going to be running against a man, so it felt like, 'OK, this is the right time to bring this story back.'"
Once on board, the duo collaborated with Beaufoy, King "and all the other parties" on the script for 18 months, "turning it," as Faris puts it, "from a Danny Boyle film into a film for us." "We didn't want to try and make a Danny Boyle film — he's much better at doing that," adds Dayton with a smile.
Beaufoy, who the pair credit with being "very open" to changes they wanted to make, would check in with King after the completion of each draft. One session between the tennis star and the writer lasted nine hours, with only a 10-minute break to scoff a turkey sandwich.
"They would read a couple of lines, then Billie Jean would stop and tell stories," recounts Faris. "For one thing, she hadn't really revisited this period of her life in 25 years. She's not a person who dwells on the past so I think it was hard for her to go back and relive it, and even remember certain things. She has an amazing memory about her career, though. She'll remember exactly the point where a particular game turned. But what we were interested in was her personal life, and that was the harder thing for her to comment on."
While Dayton and Faris met King early on in her New York apartment, they decided it would be better to keep their distance and allow Beaufoy to act in effect as go-between. "You kind of have to say, 'Trust us,'" notes Faris. "You can't be looking for permission."
While the struggles of women's tennis to establish itself against the rampant sexism of the day give the film its narrative backbone, and Riggs as played by Carell is the entertaining sideshow, it is the tumult and confusion caused by the growing friendship between King (Stone) and hairdresser Marilyn Barnett (Andrea Riseborough) — as well as the questioning of her marriage to husband Larry King (Austin Stowell) — that gives Battle its most intimate, heartfelt moments. These were the moments Dayton and Faris were particularly interested in exploring, although they were not all that easy to bring to fruition.
"The script showed Billie Jean cheating on her husband," says Faris. "The reaction was, 'That's a violation.' Just the fact she was having an affair really upset her and she doesn't like watching it or seeing evidence of that. It was hard for her. Now that it's public and she can see the audience response, she can feel, 'OK, it's good that my story's out there.'"
At one point, it appeared Stone might not be able to fit Battle into her schedule, so Faris and Dayton initiated talks with Brie Larson. "We love Brie but this was a role that Emma was destined to play," says Dayton. "What's been great is now that the film is done, and as she gets to know Billie Jean better, I think Emma is realising she has a voice and needs to start using it." Adds Faris: "I think it helped her to be literally in Billie Jean's shoes, 'Oh, that's what it feels like to confront someone and not be afraid.' I'm sure that happens to actors a lot but it was cool to see."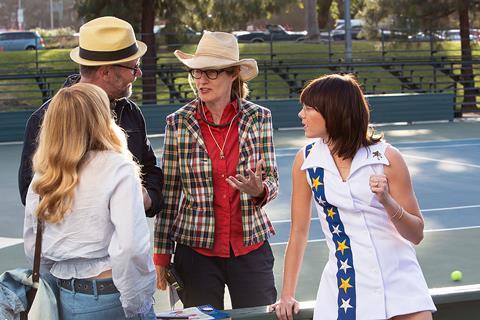 Swinging out
Battle Of The Sexes shot for 35 days in and around Los Angeles, on 35mm (using vintage lenses to obtain a 1970s lustre), and was the most complex film of the directing duo's career, with meticulously choreographed tennis matches and 250 extras for the climactic 'Battle' sequence.
Ironically, however, the toughest scene to shoot ended up on the cutting-room floor — a sequence in which Billie Jean tells Larry she no longer wants to be married to him. "We all argued over this one scene," recalls Faris. "It was just the hardest scene in the whole movie. Emma at the time was like, 'I don't know, this feels so strange.' We had it in a lot of the cuts and the first preview. But when we took it out, we just realised that we didn't need it." Adds Dayton, a tad ruefully: "It was a beautifully shot sequence."
The husband-and-wife filmmakers note how Battle's test screenings played differently before and after the US presidential election, with audiences much more galvanised about the film's themes and issues after Donald Trump was on his way to the White House. "It's like they felt, 'Oh wow, this is real — this is still happening,'" observes Dayton. "One of the things Billie Jean always says is, 'Never underestimate your opponent.' When Bobby hopped over the net at the end of the match, the first words he said to Billie Jean were, 'I underestimated you.' And I think we all underestimated Trump and we all underestimated Brexit."
Even though they went into Battle believing strongly that, by the end of production, the US would have its first woman president, they also insist that the unexpected election outcome did not change anything in their final cut. "We were always clear that we didn't want it to be what might be called 'a blue-state [Democrat] film'," says Dayton. "We didn't want this just to be a film for people who already believed in equality. We wanted it to be a film for everyone."
Crossing the net
While the lightness of touch and the determination not to "preach to the choir" are admirable, when the film went on wide release in the US on September 29, it did play, admit Faris and Dayton, "a little bit" along red and blue state lines. It seems in the current climate that a film about a lesbian tennis player fighting sexist ogres in her sport was bound to struggle in crossing over to Trump's America (the US box office stalled at $12.6m). But it is a film Faris and Dayton hope and believe will have a long tail.
As for the filmmakers, they admit themselves that no one could ever accuse them of being prolific. Battle Of The Sexes is only their third feature, after 2006 debut Little Miss Sunshine and Ruby Sparks. While the offers are plentiful, there are always projects on the go — and music videos and commercials have long paid the bills — the fact that they do not write their own scripts means they can get bogged down in development. Projects that never came to fruition include a long-gestating adaptation of Tom Perrotta's 2007 novel The Abstinence Teacher, while a half-hour comedy pilot they directed for Amazon in 2015 called Highston, written by Bob Nelson (Nebraska) and executive produced by Sacha Baron Cohen, was not picked up for a series.
"I think it's because we do it together and it takes over our lives," muses Faris, who says the couple are currently working on a TV series and feature project, neither of which they are ready to reveal details on. "We're picky about what we do and things take time to develop to where we feel like, 'This is ready to make now.' That just doesn't happen quickly for us."
"I compare it to getting a tattoo," adds Dayton. "That tattoo is going to be on your body forever so you better love it."