Ben Wheatley had his biggest budget to date to create the dystopian setting portrayed in JG Ballard's novel High-Rise. Michael Rosser speaks to the UK film-maker about his vision for the story's funky world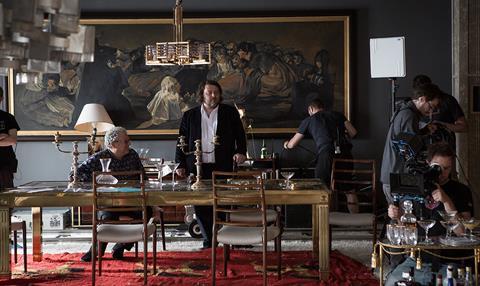 'I saw it on my bookshelf and wondered why it hadn't been made into a film'
Ben Wheatley
It has taken four decades for the dystopian satire of JG Ballard's High-Rise to make it to the big screen. Unsurprising, perhaps, for what many had deemed an 'unfilmable' book in which a typical line reads: 'He methodically basted the dark skin of the Alsatian, which he had stuffed with garlic and herbs.'
Ballard's 1975 novel, about life in a modern tower block spiralling out of control, was first developed by producer Jeremy Thomas (The Last Emperor, Crash) in the late 1970s, with Nicolas Roeg lined up to direct.
That vision was never realised but the project remained close to Thomas's heart and has now been channelled through the dark prism of Ben Wheatley, the director behind twisted cult favourites Kill List, Down Terrace and A Field In England.
"I saw it on my bookshelf and wondered why it hadn't been made into a film," says Wheatley, who has become known for his handling of dark material.
As fate should have it, Thomas had just seen Sightseers, Wheatley's jet-black comedy about a couple whose caravanning holiday leaves a trail of bodies in their wake.
"The stars aligned," says the director. "A day or two's difference and this could have been a different story altogether."
Wheatley presented Thomas with a spec script, written by his regular collaborator (and wife) Amy Jump. "We became aware there had been scripts written and developed, but we didn't look at any of those," says the director.
"We told Jeremy that we wanted to set it in the '70s and make it a period piece, unlike earlier versions that had tried to make it futuristic. We went back to the book."
The answer was a resounding 'yes' from Thomas, who moved the film into production through his Recorded Picture Company and secured backing from the BFI and Film4.
Appetite for destruction
The wild and fearless script, packed with parties, sex and death, attracted a strong cast led by Tom Hiddleston as protagonist Dr Robert Laing. Hiddleston, whose work ranges from Joanna Hogg's meditative dramas to Marvel's colourful superhero movies, had previously worked with Thomas on Jim Jarmusch's 2013 film Only Lovers Left Alive.
"Amy and I had a list of people we wanted and Hiddleston was at the top," recalls Wheatley. "It sounds like 'making of' puffery, but it's true. He is the most 'Ballardian' of modern actors: reserved, good looking and intelligent with a lot of repressed emotion."
The cast also includes Jeremy Irons as all-powerful architect Anthony Royal, Sienna Miller as promiscuous single mother Charlotte, and Luke Evans as documentary film-maker and sexual predator Wilder, married to the pregnant Helen (Elisabeth Moss).
"A lot of the actors knew the work I'd done and were interested for that," says Wheatley of the muscular cast. "That was the thing that was different with this film. There was a real appetite to do it and we didn't have to twist anyone's arm. They were all up for it."
'Graduating to low-budget'
With the pieces in place, principal photography on High-Rise began in July 2014 in Belfast, Northern Ireland, primarily in the seaside resort town of Bangor. Wheatley knew he was taking a step up. "Dealing with that many characters and that much art design and sets was a new challenge," he says. "We had £6m [$9m]. That was the biggest budget I had been in charge of but is still tiny in the world of film-making. We laughed that, after five films, we'd finally graduated to low-budget film-making."
The production was based at an empty sports centre, built in 1972. "I had read about how Trainspotting was made at an old brewery, which had a bar and rooms they could turn into flats," recalls Wheatley. "We had searched the UK for brutalist buildings but most had been knocked down or spruced up; those that were suitable were busy all day. But we found this sports centre in Bangor, next to a police station, that was empty and had swimming pools, squash courts and build space for our sets."
The distinctive look of High-Rise was created by production designer Mark Tildesley, a regular collaborator of Danny Boyle's with credits including 28 Days Later and Sunshine, with set decoration by Paki Smith, who worked on Christopher Nolan's Batman Begins and The Dark Knight Rises.
"We wanted to make a period piece but not a greatest hits of the '70s," says Wheatley. "We didn't want to get into that world of nostalgic packaging because it's distracting — and a fucking nightmare to clear. We created an alternate reality of the '70s and the attention to detail was incredible. I was involved in designing the covers of the books in people's houses."
Shooting in the past
Laurie Rose, director of photography on all of Wheatley's previous films, returned for High-Rise and rose to the challenge set by the director. "You try and make an environment where you're shooting on location in the past," says Wheatley. "When I work with Laurie Rose, you're trying to light in the round. I want that flexibility. If I want to suddenly block it so you follow a character round a room, out a door and down a corridor, we should be able to do that without everyone pulling their hair out.
"The apartments in High-Rise look like real places," insists the director, known for his love of practical effects and avoidance of CGI. "That's part and parcel of getting performances right. The environment creates an illusion that you've gone somewhere and been transported." The high-rise itself, however, was created in a computer.
"That is a CG building, there's no hiding from that," admits Wheatley. "That broke my rule of CG, which is 70% real, 30% augmentation. But it looks brilliant."
For the look of the film, Wheatley went to Ridley Scott's back catalogue of adverts, shot in the 1970s, for inspiration. But he did not want to shoot on film, like some celluloid purists. "We're making contemporary cinema so why pretend it's anything but that," says the director. "Trying to make digital look like film is a losing game. It's a different feel. But I'm quite split on the love and preservation of celluloid because I've never used it. For me, if there hadn't been digital, I wouldn't have been able to make a film."
Wheatley famously edits his own films, which used to be his favourite part of the process. Now he is not so sure. "I used to think editing was my favourite part but then I started to enjoy the shooting," he says. "Now, maybe it's the split second after we finish when I start thinking about something new."
True to form, the prolific film-maker has already shot and nearly finished cutting Free Fire, another 1970s-set film in which a meeting between two gangs in a deserted warehouse turns into a game of survival. "It's going to be a busy year ahead even without making another film," adds Wheatley.
High-Rise received its world premiere in September at the Toronto International Film Festival before playing at San Sebastian, Zurich and Fantastic Fest. True to Ballard's material, it wasn't to everyone's taste. But Screen's review describes the film as a "beautiful, crazed beast… The film sings and frequently dances".
It echoes Wheatley's own review: "It's a rollercoaster ride of emotions. Drama, laughter, dancing, everything."
HanWay Films handles sales of High-Rise, which plays at the BFI London Film Festival (October 7-18) and is set for UK release through StudioCanal on March 11.
Rising budgets
Down Terrace (2009) $20,000
Kill List (2011) $1.25m
Sightseers (2012) $2m
A Field In England (2013) $500,000
High-Rise (2015) $9m