Overcoming its early sceptics, the focus on high-end TV in Berlin's market has quickly asserted itself, with EFM Drama Series Days a popular fixture in its third year.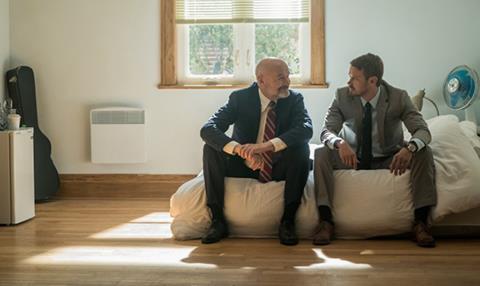 It is three years since the Berlinale opened its doors to TV drama in earnest with Drama Series Days, a joint venture between the European Film Market (EFM), the Berlinale Co-Production Market and Berlinale Talents running this year from February 13-15. In that short space of time, the event has quickly grown in significance.
The event is now held in the luxurious Zoo Palast Cinemas in west Berlin, the festival's old home, and a day has been added to this year's schedule. Last year Susanne Bier's John Le Carré thriller The Night Manager had its world premiere in Berlin and went on to become a major international hit.
It is anticipated that another espionage-themed drama, Amazon Prime's new series Patriot [pictured top], which has its world premiere in Berlin tomorrow [Feb 14], will be looking to emulate that success (the shows premiere in Berlinale Special).
TV dramas were occasionally run on a one-off basis at the Berlinale long before Drama Series Days. However, the programming of Jane Campion's Top Of The Lake in Berlinale Special in 2013 was a symbolic turning point. The response was so enthusiastic that festival director Dieter Kosslick and his team saw the sense in including TV as an official part of the Berlinale offering.
It was obvious that producers, distributors and sales agents at the EFM were becoming more and more interested in TV drama. The lines between cinema projects and those made for the small screen were already blurring.
"Most of all it was the realisation that the quality of these series was as good as the films being screened at the festival," says Matthijs Wouter Knol, EFM director, of the decision to include TV as part of the market. "I knew that people who do their business in the market are also working on series."
An event like Drama Series Days, Knol recognised, could be an "attractive additional niche market within EFM that would not only make business infrastructure better for some of our visitors but also attract new visitors".
One principle was clear, namely that all the series screened and pitched in Berlin would be "high end" and cinematic in scope and that they would be made by producers who straddled the worlds of film and TV. There was never the intention to compete head-on with the major TV markets such as Mipcom and Mip-TV.
"It came across as a revolutionary change at EFM, which I must say made me laugh a little," says Knol, who points out there are 750 films presented in the market compared to roughly 20 series. Nonetheless, Drama Series Days is expanding. Registrations for the event have increased sharply.
Seven projects are being pitched at the EFM's TV co-production event. Belgian outfit Caviar attended last year with Tabula Rasa, starring and co-scripted by Veerle Baetens, and is back again this year with Gilles Coulier's Omerta, about an elderly career criminal manufacturing Belgium's most dubious export, XTC.
"It [the co-production event] has become a bit of a secret hotspot within Drama Series Days because it is a very attractive for European and German TV channels and funds," says Knol.
German producer Britta Knöller of 23/5 Filmproduktion was at the CoPro Series Pitching event last year with The Disappearance (now The Vanishing) by Hans-Christian Schmid, with the mini-series now due to be broadcast later this summer. Knöller is back this year to participate in one of the event's panel discussions, on producing drama series.
"We're a very small production company that has done cinematic, theatrical films. It was the first time we were approaching TV and series," Knöller says, who notes Schmid had attended the Berlinale before with his feature films but had no TV experience. "It [Drama Series Days] introduced us to a platform that we would not have known how to approach. We were flattered by being selected. Buyers noticed us."
She and Schmid were already in early discussions with Beta Cinema to represent their project internationally. Due to its selection in Drama Series Days, Beta quickly agreed to take on sales duties. They also found a Czech co-producer — Mia Film — forged new contacts and, having developed the project on their own for three years, welcomed the feedback following the pitching session.
Fever pitch
Alongside the screenings and co-production pitches, the event has conferences, talks and networking opportunities. In future, the festival organisers may look to see if Drama Series Days can be combined in some way with existing initiatives at the Berlinale Co-Production Market or Berlinale Talents.
Apart from anything else, Drama Series Days gives a boost to EFM in its second week. "We see there's a new influx of visitors coming exclusively for the Drama Series Days," says Knol, noting also that streaming giants Netflix and Amazon are supportive of the event. "They welcome it. They come to the Co-Production Market to see which projects are in the pipeline. Their buyers are here. They don't share their screenings in the Drama Series Days because they don't need to sell them."
Even the sceptics who felt early on that it was incongruous for a film event to devote so much time to TV projects have now accepted Drama Series Days as a facet of Berlin's market. The event may grow bigger, but not by too much. As Knol says, "It's not an ambition to become a bigger drama series market. This size fits very well."