A Fantastic Woman premiered in competition at the Berlinale. Scooped up by Sony Pictures Classics at the start of the festival, the film has won Berlin's Teddy Award for LGBT-themed films.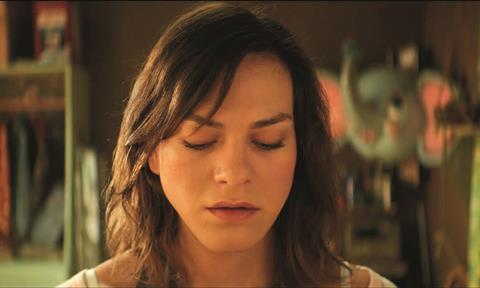 After the success of Gloria, which won actress Paulina García the Silver Bear for best actress in 2013, Chilean director Sebastián Lelio was back in Berlin with a love story that plays with genres and genders.
Starring Daniela Vega and Francisco Reyes, A Fantastic Woman begins with a couple, Marina and Orlando, planning a trip to the Iguazu Falls, but he falls seriously ill and is taken to hospital where he dies shortly thereafter.
That's where the troubles start for heartbroken Marina, who has to deal not only with the death of her loved one but with the aggressive attitude of both Orlando's family and Chilean society because she is a trangender woman.
Like he did with Gloria, the Chilean director puts his female protagonist central stage and has her embark on a journey to claim her right to love, live and grieve.
Lelio's friend Pablo Larraín and his brother Juan de Dios Larraín are behind the film as producers with their company Fabula, alongside Maren Ade's Komplizen Film, Participant Media in the US and Setembro Films in Spain.
Sony Pictures Classics acquired all rights for North America, Australia and New Zealand at the start of Berlin, and the film won the Teddy prize for best LGBT-themed feature at this year's festival.
Lelio spoke to Screen in Berlin where he flew after wrapping production on Disobedience, his first English-language production starring Rachel McAdams, Rachel Weisz and Alessandro Nivola.
Read: 'A Fantastic Woman': Berlin Review
A Fantastic Woman has a dreamlike quality that is very different from the approach you took with Gloria. Were you looking to go in a new direction as a filmmaker?
I was looking for a device that could push my cinema forward beyond the bittersweet impressionism of Gloria. In that film, I already flirted with different genres. This time I wanted to go further and make a more stylised film. That was another reason to choose Daniela Vega and the idea of transgender, because it's such a challenging concept, a frontier subject. It was a way to guarantee that the mise-en-scène would be challenging as well. The film interacts with the character. Her identity refuses to be labelled in one word and the film is also like that.
It's a romantic film, a funeral movie, a film about humiliation and revenge, a character study, it has a documentary element at its heart, it's a film about a ghost – but none of these ingredients take over the film completely. Its identity shifts, it refuses to be reduced to one single idea. In Spanish, "género" means both genre and gender so the same way we talk about a transgender woman, we can describe A Fantastic Woman as a transgenre film.
I wanted to visit new cinematographic territories, to make a dreamlike film, as you said. Although it has realistic elements, it goes way beyond realism. It's something we do in Latin America, we dare to do it, even if there is also a tendency to fall in the trap of social realism again and again.
A Fantastic Woman has the love story and the inner world of the main character at its core. How much did you want it to be a statement about transgender rights too?
The film, merely by existing, is a political statement. Politics needs to give answers and cinema needs to ask questions. Films should be more like Bach's music than a political agenda. Both in its theme and in its form, it questions the labels and little boxes that we use to talk about us, about our world. It celebrates how to find a way to get rid of those restrictions and operate from a place that is more complex and open that doesn't need the intellectual, quite fake classification. The film embraces that idea by not being this or that.
Was the screenplay written with Daniela Vega in mind?
At the very beginning it wasn't because we were looking to build a character. Very organically we came to the idea of talking about a transgender woman but it could have been somebody else. What we were certain about was that we needed somebody who could echo today's world. So I started talking to people and when I met Daniela something clicked. I secretly wanted her for the film but didn't tell her at first. For me to have an actor play her part would have felt like an aesthetical anachronism – I saw it like the idea of black face at the beginning of cinema, when black actors couldn't be in films.
Daniela didn't have a lot of experience as an actress before taking on the role of Marina. How did you work with her?
She is a very advanced student of lyrical music and she had done theatre too when I first met her. Performing is part of her life. She's an artist. I believe the idea that films are a love story between the camera and the characters. That's my only strategy. I talk a lot with my actors, it's a long process. We get to know each other, we go out, we talk about books, music, and we build enough trust to feel safe during the shoot, knowing we will all take care of each other.
Apart from doing research about transgenderism with Daniela's help, did you also look at other films with transgender characters?
Not really. I saw Boys Don't Cry when I was young, and that made an impression but it was not at all in mind when I was making A Fantastic Woman. I was thinking more about directors and genres, like Louis Malle's Lift To The Scaffold, than transgender films. These are more about transitioning, but A Fantastic Woman is not about that. The character has won that battle well before we meet her in this story. She's ready for the world, but the world isn't ready for her.
How does it feel having filmmakers like Pablo Larraín and Maren Ade backing you up as producers?
It's great. I met Maren Ade in Berlin when I came with Gloria and wanted to work together. I already admired her a lot and then Toni Erdmann happened! With Pablo, we know each other from way back. We released our first films in 2006 and then we started to work together. First came friendship, then cinema.
What has made Chilean cinema become such a powerful source of talent?
There is a very collaborative and healthy community and quite a beautiful and candid energy so far. When we started, in the early 2000s, after the dictatorship, Chilean cinema was completely destroyed. Not from a creative point of view because we rediscovered the Chilean films from the '70s and they were our guides. Those filmmakers were doing very modern, advanced stuff.
We were not orphans creatively, it's just that the system that allows an industry to be alive wasn't there when we started. I'm part of a generation that wanted to make films but didn't have a clue of how to do it. When I made my first feature [Smog, in 2000], I didn't even know the words "film festival". That describes where we were coming from. We had films in us and we wanted to make them happen, that's all. It's been quite a journey. And it's nice to have grown together. We can now help the new directors that are starting.