Berlin's market-focused TV section Drama Series Days (Feb 19-21) and accompanying pitching platform CoPro Series are ramping up this year.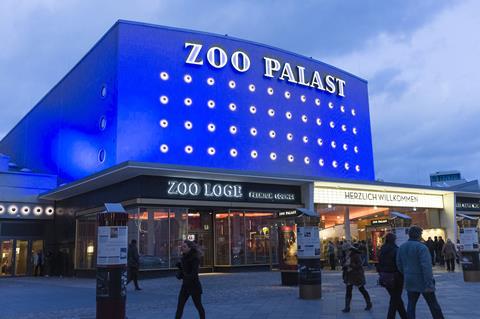 When producer Stefan Arndt attended the Berlinale Co-Production Market's first CoPro Series, the one-day pitching platform for high-end TV drama, with the project Babylon Berlin in 2015, he reveals it was not because he was looking for either money or producing partners.
The 12-hour drama, created by Tom Tykwer, Achim von Borries and Henk Handloegten, was close to being financed by that point and was to be wholly produced by Arndt and Tykwer's X-Filme. What Arndt, a leading international independent film producer, was looking for was affirmation that they were on the right track. Babylon Berlin was X-Filme's first venture into TV drama and it was going to be expensive, budgeted at $3m per episode.
"It was incredibly important for us to get a real feeling for the international need for what we were developing," Arndt explains. "We went to CoPro Series to double-check, together with our sales company [Beta], what our possible buyers or collaborators were thinking about what we were doing. The feedback we got was a big, big help. It was much more open-minded than I expected."
Holding a TV pitching event within a major film festival meant participants were in the right frame of mind to exchange frank opinions and ask difficult questions, Arndt believes.
Invited audience
This year, eight drama series looking for international backers and producing partners (see below) will be pitched to an audience of 270 invited industry professionals at the Zoo Palast cinema. The day also includes a networking event and one-to-one meetings at the Berlinale Series' new 'business lounge', held at the nearby Spreegold restaurant. "Producers tell us they like its exclusivity," says Martina Bleis, one of the team at the Co-Production Market who co-ordinates CoPro Series. "It's a small event and very focused."
For the first two years, projects were invited rather than submitted but, since 2017, the event has been opened up to submissions to ensure the net is thrown as wide as possible. According to Bleis, there were around 120 entries for the seven slots this year. An eighth is selected by the Series Mania TV co-production event in Lille (one of the CoPro Series projects will be selected for Series Mania in return).
Bleis says one of the aims of CoPro Series is for the Co-Production Market team to use its feature film expertise to open producers' eyes to the benefits of international co-productions. It is a model familiar to all independent film producers but much less so to TV producers, who are used to their series being financed by just one or two broadcasters. "Some producers might submit projects and say they are looking for presales, and we encourage them to consider co-producing," says Bleis. "There are so many TV series that are set across Europe that could, for example, use different casts or combine technical know-how if they make a bond with another international producer."
CoPro Series is part of Berlin's three-day Drama Series Days (February 19-21), a joint initiative of the European Film Market, the Berlinale Co-Production Market and Berlinale Talents. In addition to the invite-only CoPro Series day, there are networking sessions and panel discussions as well as a tightly curated programme of around 30 market screenings of completed high-end drama series, including web and documentary series, for international buyers. This year's screenings include Lionsgate's period adaptation Little Women, Dynamic Television's Belgium series The Day and ZDF Enterprises' Ku'damm 59.
High demand
Any delegate with EFM or festival accreditation can access Drama Series Days, although high demand for the panel programme means priority is given to those attendees working in drama series. "The majority of our visitors are coming for EFM and some focus on the Drama Series Days," says EFM director Matthijs Wouter Knol. "There's an interesting overlap in film professionals who have grown accustomed to working in drama series as well — that initially was also the reason to start this platform within the EFM. Since 2015, we've seen an increase in visitors attending from companies producing high-end drama series specifically. They were always at EFM, but with the establishment of the Drama Series Days, we see more people coming from those companies because the infrastructure for their business has improved."
As of February 5, with two weeks to go, some 550 people had registered to attend Drama Series Days, which represents a 10% rise on the total number of attendees in 2017. "From the beginning, we have had a strong focus on the Scandinavian industry and the presence of our 'neighbours' — the Danes, Swedes, Norwegians and Finns — is very important for us," Knol continues. "Apart from Netflix, Amazon, Hulu and other major players, we are also seeing major European channels sending drama series commissioning editors — many of them have only had that focus for a couple of years."
In a sign of the growing significance of Drama Series Days on the high-end TV circuit, producers are also returning year after year. Arndt will be back without a new project to talk up officially but keen to take the temperature of the market, to see what other producers are working on and to carry on learning as much as possible about the TV world. "I will be there as an interested co-producer," he says.
Norwegian producer Nina B Andersson of Oslo-based Tordenfilm is another now-familiar face at Drama Series Days. Tordenfilm's Valkyrie was also presented at the first edition of CoPro Series, and Andersson was so impressed with what the event did for the project that she has returned ever since. "We were there with a goal to find a distributor for the series," she says. "We were close to greenlighting the project and we had 75% of the budget in place. The CoPro Series took very good care of us. They briefed us in advance. We didn't know what the room would be like, what the atmosphere would be, who would be the people there. Fortunately, it was a lot of co-producers, a lot of distributors and sales agents.
"We got a lot of attention from that pitch," she continues. "CoPro Series arranged meetings and it resulted in us joining with About Premium Content (APC) from France, which specialises in high-end TV. It was a brilliant choice for us. We're now back and curious about other projects and what other producers are doing. And we hope to introduce our new project there at some point." Ns
Small screen, big ambitions
The Berlinale Series, part of the Berlinale Special, will present the world or international premieres of the first couple of episodes of seven drama series within the festival programme. For the first time, all the screenings will take place at the Zoo Palast, in the same location as CoPro Series.
The selection is chosen by Dieter Kosslick, in co-operation with his team including programme manager Solmaz Azizi. "We focus on high-end drama series — series that follow a cinematic staging, are visually opulent or have a high production value. Then we try to find series that have a new approach, which pursue in this rather new form of storytelling," Kosslick explains.
Demand for the seven slots is tight but Kosslick says he has no intention of increasing the number of TV series the festival shows. This year's section will open with FremantleMedia's adaptation of Picnic At Hanging Rock, and also features Israeli series Sleeping Bears, Germany-Luxembourg co-production Bad Banks from ZDF and Arte, Norwegian series Home Ground, Danish drama Liberty, Amazon and Hulu's The Looming Tower and AMC's The Terror.
Co-pro series projects
Baby Alone (Ger)
Writers Judith Angerbauer, Matthias Luthardt
Dir: Matthias Luthardt
Production company: Akzente Film und Fernsehproduktion
Black Port (Ice)
Writer Mikael Torfason
Dirs Gisli Örn Gardarsson, Björn Hlynur Haraldsson
Production company: Vesturport
Costigan (Ire)
Writer Gary Duggan
Dir Neasa Hardiman, tbc
Production companies: Shinawil, Against the Grain
The Faction* (Neth)
Writer Oscar van Woensel
Dir tba
Production company: Submarine
Fury (Nor)
Showrunner Gjermund S Eriksen
Dir Roar Uthaug
Production company: Monster Scripted
Henkersbach (Ger)
Writers Friedrich Ani, Ina Jung
Dir Dominik Graf
Production company Cinecentrum Berlin Film und Fernsehproduktion
In A Heartbeat (Isr)
Writers Shani Melamed Nitzan, Gaya Wildman
Dir tba
Production company Black Sheep Film Productions
South (Port)
Writers Edgar Medina, Guilherme Mendonca
Dir Ivo Ferreira
Producer Arquipelago Filmes
*In association with Series Mania