Ahead of this Sunday's (Dec 4) main event, British Independent Film Award co-directors Amy Gustin and Deena Wallace talk to Ian Sandwell about the importance of establishing BIFA as a year-round champion of emerging talent.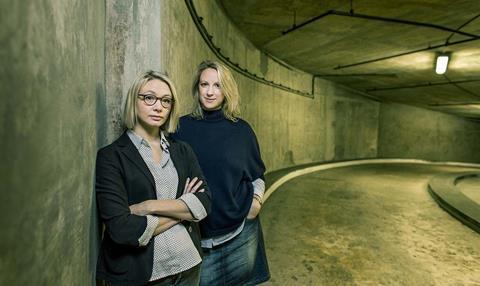 Ken Loach's Palme d'Or winner I, Daniel Blake leads the nominations of this year's British Independent Film Awards (BIFA), competing in seven categories, with Andrea Arnold's American Honey, Rachel Tunnard's Adult Life Skills, Babak Anvari's Under The Shadow, and Peter Middleton and James Spinney's documentary Notes On Blindness also receiving multiple nominations.
Taking place at Old Billingsgate in east London on December 4, this year's awards will be hosted by Jennifer Saunders, marking only the second time a woman has hosted the event, following Andi Oliver in 2003. This year has also seen the introduction of two new categories: best debut screenwriter and breakthrough producer (replacing producer of the year).
Despite the lack of a headline sponsor for this year's awards (last year it was Moët), 2016 has been a year of expansion for BIFA aimed at establishing the organisation as a year-round brand.
Among the new initiatives is the BIFA Independents screening programme, supported by the BFI, which will see a BIFA-nominated or award-winning film screened every month at Vue, Odeon and Everyman cinemas throughout the UK.
BIFA also launched BIFA Meets, a series of on-stage interviews with past nominees and winners. Two have already taken place, with Michael Sheen and Brendan Gleeson.
What are you most satisfied to have achieved in the past year?
Deena Wallace: We're starting to make strides in establishing a public profile through the BIFA Meets series and the screenings programme. We're doing more this year with less than we've had before. It's been a tough year, but we've done a lot of what we wanted to do. We've had to work to a tighter budget without a headline sponsor, but we have had a lot of support from the industry and some new sponsors, which has helped to bridge the gap.
Now that you've worked for BIFA for two years, what's been the biggest misconception you would like to correct?
Amy Gustin: The [small] scale of the organisation. I thought people knew more about the nuts and bolts of how BIFA is run, but I don't think they do. What we're able to achieve on very limited resources and funds…
DW: But it also shows what potential there is. If it's managing to make the impact that it is now, then if we can find ways of funding it more consistently and in a more sustainable way, there is huge potential to where it can go.
What could improve BIFA further?
AG: If we had more resources, then we would be able to achieve more things, but [having fewer resources] forces you to really hone in and focus on the things that are genuinely impactful. There are definitely holes in the marketplace that no one is looking after and it's right BIFA is doing those things, being that champion for emerging talent.
DW: We'd like to spread BIFA out across the country a little bit more, which we should be able to do through the screenings programme, because that is mostly outside of London. We'll try to build local ambassadors who keep coming back to BIFA and help us to do the work on the ground.
What do you enjoy most about your job?
DW: Putting a human face on the admin, which happens at this time of the year when you start to talk to the nominees and hear about what it means to them. The direct impact on them is really lovely to see.
AG: If films are being partnered with BIFA, such as [Chanya Button's] Burn Burn Burn last year, they're getting theatrical screenings they wouldn't ordinarily get, so they're building audiences before home entertainment releases. Being able to make a difference, however small it is, is worth it.
Next year marks the 20th anniversary of BIFA. When do you start looking towards 2017?
DW: We've already started. We hope to do something in the early summer, a separate celebration, but it's early days. We want to do more BIFA Meets with past winners, to remind people of who we've championed, so next time we tell you that someone else is great, you can trust us. Using the heritage is not just a nostalgic celebration; we want to make the most of the anniversary to establish BIFA as an organisation you can trust to point you to the best talent.
AG: Everything is pushing towards establishing BIFA as a year-round brand that supports film throughout the year. It's not just an awards ceremony that pops up as a nice Christmas party at the end of the year.