Dir/scr: Pedro Almodovar. Spain. 2009. 127mins.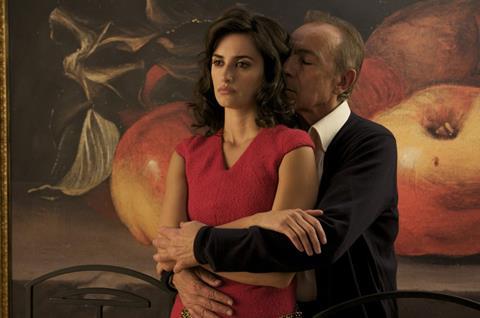 A lavish, noirish melodrama sparkling with Pedro Almodovar's trademark humour, Broken Embraces - the director's eagerly awaited 17th feature - will thrill his loyal fanbase but perhaps leave a more general public dazed rather than dazzled. Ravishing in its artifice and outfitted with all of Almodovar's stylistic tricks, this tale of desire, power, duplicity and fate is self-consciously steeped in noir conventions and provides Penelope Cruz with a sleek post-Oscar vehicle.
Almodovar's last foray into noir territory, 2004's Bad Education, was his weakest performer of the past decade, grossing $40.2m worldwide - a dip of over $10m from 2002's Talk To Her. The stakes are higher with Broken Embraces, coming hot on the heels of the sensational Volver ( 2006, $85.5m worldwide) and boasting Almodovar's biggest budget to date at $15m.
The film is awash with references to the noir genre, Italian neo-realism and even to Almodovar's own quirky oeuvre
Broken Embraces will follow El Deseo's tried and tested path of a Spring Spanish release followed by a potential Cannes berth before going out internationally through its usual partners (Sony for the US, Pathe for France, Focus, etc) in time for year-end awards notice. While its final tally may not quite equal that of Volver, Broken Embraces will see Almodovar retain his status as the go-to European director for wider arthouse audiences.
Devilishly clever and shrewdly cast with a stable of Almodovar regulars, the storyline casts a particularly gorgeous Cruz as an actress struggling to escape the suffocating constraints of the aging millionaire lover who has bankrolled her career. The film is awash with references to the noir genre, Italian neo-realism and even to Almodovar's own quirky oeuvre. Stylistic nods to films including Nicholas Ray's In a Lonely Place and Vincente Minnelli's The Bad and the Beautiful form part of Almodovar's valentine to cinema.
The action unfolds in flashback. Mateo Blanco (a likeable, low-key Lluis Homar) is a blind screen writer and former film director who is now confined to his Madrid apartment where he grapples with his tumultuous past. He recalls in particular the mid-1990s, where he fell in love with Lena (Cruz), a tremulous, sad-eyed beauty who traded on her charms to become the mistress of a domineering magnate, Ernesto Martel (Jose Luis Gomez).
Martel keeps Lena in a gilded Xanadu before indulging her dreams to become an actress, financing a kinky Almodovaresque comedy along the lines of Women on the Verge of a Nervous Breakdown. Setting himself up as the film's producer, he keeps a menacing, iron grip over developments, which doesn't prevent Lena embarking on a steamy affair with the director, Mateo.
Using the conceit that he wants a 'making-of' documentary, Martel has their every movement tailed by his tormented gay son, Ernesto Junior (Ruben Ochandiano), who develops a forlorn crush on Mateo. Ochandiano turns in a cracking performance as this creepy camera-wielding peeping tom - even when he fills the screen he somehow manages to lurk. Martel watches the day's footage in seething horror and mounting rage as a lip reader fills in the missing audio. Soon the lovers must decide whether to make a run for it.
Fans of Almodovar will get plenty of what they expect here - rich saturated colours, hyper plotting, stylistic pyrotechnics and off-centre comedy. But there are carefully nuanced male characters too and the bleak, distant tone coupled with the unassuaged pain of the leads is a new departure for the director.
Almodovar might seem at temperamental odds with the genre, though. His films tend to be shot through with sentimentality and romanticism, he often becomes too enamoured of his characters - particularly his female leads - and he is perhaps too impassioned for the somnambulist noir style. What's more, his jaunty Madrid is hardly a noir cesspool of sleazy dives and dark shadows.
Yet in the more successful first half of the film he elegantly pulls it off. Flashbacks and splintered chronology, high- and low-angle shots, dramatic close-ups, vertiginous stairways - these are all the currency of haute noir and Almodovar spends lavishly as he sets his hapless characters up. DoP Rodrigo Prieto, in his first outing with Almodovar, works his magic to capture Lena and Mateo memorably in frames within the frame, such as camera lenses and car windows, underscoring enclosure and entrapment, and glorious shots of the leads through mirrors suggest duplicity and masquerade.
True, the director can't quite bring himself to treat his characters with the Olympian detachment noir usually demands. Characters in the Almodovar universe can't do deadpan delivery, and perhaps throwing in the towel, Almodovar deliciously parodies the typical Veronica Lake-Alan Ladd repartee when he has the lip reader interpret what they're saying in a marvellous monotone monologue.
Yet ultimately, Almodovar doesn't seem comfortable in the cramped noir world of the Madrid film studio and mansion he has built for his pawns, and the second half of the film sees the characters flee to the wide open spaces of the island of Lanzarote. There, the film slips into lush, romantic melodrama against a bleak volcanic landscape. But the jealous Martel, placed firmly in the background, has no further screen presence, as Almodovar concentrates on exploring the couple's doomed love. With the action moving ponderously towards a baffling denouement, we enter the terrain of high melodrama - sensational revelations and narrative twists. In the midst of all this, there's an over-long clip from the quirky comedy film-within-a-film.
It's symptomatic of the strain in Broken Embraces, which sees the clashing genres of noir, melodrama and comedy vie for supremacy, but it's a rollicking struggle that, in the hands of consummate ringmaster Almodovar, is a joy to watch.
Production companies
El Deseo S.A.
International sales
Focus Features
+ 44 (0) 207 307 1325
Producer
Esther Garcia
Screenplay
Pedro Almodovar
Cienmatography
Rodrigo Prieto
Production design
Antxon Gomez
Editor
Jose Salcedo
Music
Alberto Iglesias
Main cast
Penelope Cruz
Lluis Homar
Blanca Portillo
Jose Luis Gomez
Ruben Ochandiano
Tamar Novas