The director of BIFF's opening title talks about making female-centric films and the changing relationship between North and South Korea.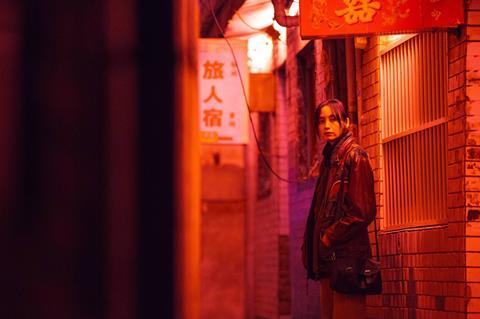 Korean director Jero Yun's first fiction feature Beautiful Days made its world premiere as the Busan International Film Festival (BIFF)'s opening film on October 4. The film stars Lee Na-young in a comeback role as a North Korean refugee whose difficult past is revealed when her son with a Korean-Chinese man comes to find her.
Yun puts the film's budget at around $283,500. Although officially recorded as a Korean production, the director sees it as an 80:20 Korea-France co-production between Peppermint&Company, Inc. and Zorba Productions, which handled "a lot of the post-production" and was his co-producer on Mrs. B, A North Korean Woman. The latter won best documentary awards at Moscow and Zurich film festivals. Contents Panda is handling world sales.
Yun first attended BIFF in 2013 with Pig, a short he co-directed with Taiwanese director Singing Chen for the omnibus Taipei Factory, and returned in 2016 when his feature project Letters won development support from the Asian Cinema Fund (ACF)'s Asian Network of Documentary (AND). He completed the film as a Norway-Korea co-production and screened it in BIFF's Wide Angle section last year.
Among the other shorts and documentaries he directed, Hitchhiker (2016), about a misunderstanding between two men involving suspicions about espionage that results in a friendship, screened in Cannes Directors' Fortnight.
You were born in Busan and studied in France. Where and when? Tell us about that and returning to Korea.
I was born in 1980 and went to France when I was 21. It was a time when I was a bit lost in my life. I didn't have any special plans but just wanted to escape. And it happened that I went to France, and started studying photography and visual arts, and also happened to start making films. I stayed until 2014, studying at Nancy Beaux Arts, Paris Arts Deco and Fresnoy, which selects 20 artists from around the world annually to be supported by the state – it's like La Femis, but instead of focusing just on film, they have a range of audiovisual arts. It wasn't easy, but I really liked the freedom for creativity and the culture of discussion in the education system, something hard to enjoy in Korean society.
I was living in France when I started making Mrs B, but in the process of that documentary, came to settle back in Korea and made 80% of Beautiful Days here. It's the first film I made in Korea.
Would you say you take a great interest in films about women?
My first short documentary Elle in 2003 was about an immigrant Korean woman in France and I think almost all the films I've done, aside from Hitchhiker, were mostly focused on women and moms: Beautiful Days, Mrs B, Letters and Promise, the short I made in 2011 which won the grand prize at [South Korea's] Asiana International Short Film Festival, which was about a Korean-Chinese woman running an illegal homestay in Paris.
She hadn't seen her son for nine years, and after I made the film, I went to find him in China. In that process, I got to know about a lot of North Korean refugees and brokers, and a lot of people living on the boundaries such as foreigners and immigrants. As someone from a divided country, I took a natural interest in this and also made a film called Looking For North Koreans.
But Promise was the one that inspired me to make Beautiful Days. There are clearly a lot of similarities between the women who escape North Korea, and they go through China, Thailand and other countries. I took those stories and ripened them into the script for Beautiful Days.
What are those similarities?
The society we live in is male-centered so there is a lot of evil enacted upon women. A lot of that happens to North Korean refugee women. Especially when you see brokers [who get paid to help people escape North Korea], there are a lot of deeds we would think of as evil, but on closer examination become ambiguous according to the definitions of "evil" our society has made.
You can see this in Mrs B and in Beautiful Days. These women are some of the most courageous people I've ever met. I personally have such great respect for the protagonist of Mrs B – no matter what kind of rough and dangerous situations she was in, she would overcome them realistically. I learned a lot from that. I also tried to put some of that metaphorically into Beautiful Days, but not directly. Perhaps it has become a sort of standard or pillar in my way of living.
Seems hard to see Mrs B in South Korea. I tried.
Yes, it's been a while. It was released in France in 2016 and in Japan, Taiwan and the US, but not here. After the release of Beautiful Days, it's finally going to be released in Korea on a small scale, by a youth co-op in Busan. We're going to keep the release small but significant.
What are your views on North-South Korean relations and refugee issues?
I've been making films about this for the past seven years, but I'm optimistic. I think whoever takes the first step – whether it's the other party or yourself – it's important to take it. Just going over who's right and who's wrong is the same as giving up. Like it or not, approaching the other side is tremendously difficult but the moment that first step is taken [as it has been recently], you can have the greatest and the smallest of expectations of things moving forward, step by step.
What do you think of BIFF?
I think compared to famous film festivals abroad, especially in Europe or the Americas, Busan can select more directors from Asian territories. They do it from a viewpoint of Asian sensibilities, so that creates diversity. There isn't always just a Western point of view. So I like that – the diversity. They try to toss out and do things other festivals don't.
How did you come by the name Jero Yun and are we spelling it correctly if we also put the family name first to make it Yun Jero?
Yes, as long as you don't arbitrarily transliterate my Korean name like some people do to 'Yun Jaeho' or something. The reason why I spell it 'Jero' is because that's how my Korean name sounds in French, although in English it sounds different. When I started out in France, they would mangle the pronunciation of 'Jaeho' and make fun of it, but 'Jero' when they pronounce it [with the 'r' almost sounding like an 'h'] sounds right.