As the first edition of Pingyao International Film Festival closes, founders Jia Zhangke and Marco Müller explain their aims to build a more diverse cinema market in mainland China.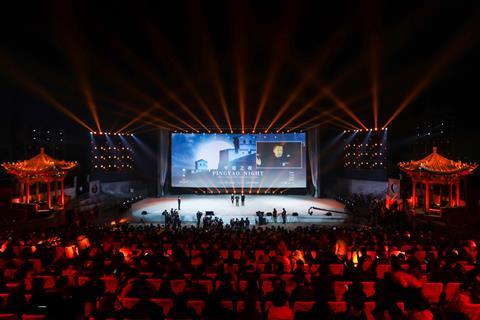 On the last day of the inaugural Pingyao International Film Festival (PYIFF), artistic director Marco Müller is relaying an anecdote told to him by a Chinese director. Taking a taxi to the festival centre, the filmmaker had asked the driver if he intended to drop in at the festival to see Fan Bingbing and other stars. The driver replied that he did indeed plan to visit the festival, but his main goal was to see the restored version of John Woo's 1986 classic A Better Tomorrow.
"This is a small provincial town but the local people are really cultured. We've had everything from cinephile taxi drivers to roadside grill owners lecturing guests about the festival," Müller chuckles. "Our initial idea was to reach out to film schools and art institutes, but the local population seem to know everything about the festival. We've also had different groups of viewers from Shanxi province and northern China show up to see the films."
While it may not seem earth-shattering to draw an audience in a country with 1.38 billion people, it was encouraging to see packed houses in Pingyao during the festival's eight-day run (October 28-November 4) for arthouse films such as Elizaveta Stishova's Suleiman Mountain, Italian comedy L'Ora Legale, Chloé Zhao's The Rider and Vivian Qu's Angels Wear White. After all, China is still a film market in the grip of the mainstream, where big-budget Hollywood or Chinese blockbusters monopolise cinema screens and box-office receipts.
"Before the festival opened, I was worried about audience numbers, but the attendance has been a huge surprise to me," says PYIFF founder and filmmaker Jia Zhangke. "There are high-speed rail links from Pingyao to Beijing and Xi'an, and as expected lots of college students came by train. But we've also had people travelling from Hong Kong, Taiwan, Shanghai and Guangdong. It's totally exceeded our expectations."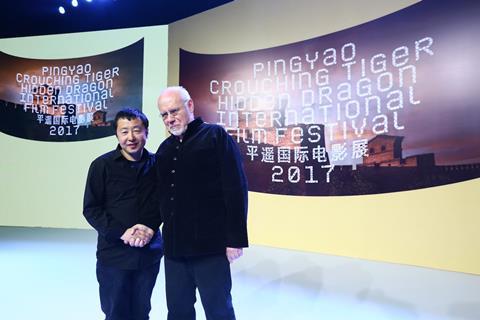 Much of this interest was generated through China's ubiquitous social-media networks — including WeChat with its 900 million users and Momo, which is a sponsor of the festival. The festival organisers, however, are hoping it also suggests there is an unfulfilled demand for specialist cinema in China. Based on his own work as a producer and director, Jia estimates there could be a potential audience of 40-45 million predominantly younger people across the country. The challenge is in reaching that audience and creating the infrastructure through which they can readily access arthouse films.
In that sense, PYIFF forms part of a broader strategy conceived by Jia to help bring diversity to the Chinese film market. Through his various companies, he is also building arthouse cinemas, starting in Shanghai and his hometown of Fenyang, which is close to Pingyao in Shanxi province, and is a founding member of the National Alliance of Arthouse Cinemas (NAAC), which recently released Manchester By The Sea. But for arthouse cinema to flourish, it needs a high-profile showcase, where films can win awards and reach audiences, media and industry — and that is the mission for this new festival in Pingyao.
"I've been travelling to festivals for many years and discovered many wonderful films from Eastern Europe, Asia and South America, but the Chinese audience is not familiar with these films," says Jia. "And while Chinese cinema might be growing in terms of the number of films being made, it's becoming harder than ever for new filmmakers to be discovered. We need this kind of platform to identify new talent and introduce them to the audience and industry." The filmmaker didn't want to hold the festival in a big city, where visitors would be rushing between multiplexes in shopping malls, which is why he decided to situate it in his home province.
Throughout the inaugural edition, Jia has been describing the festival as the Sundance of China, but Müller likens it to a blend of Sundance and Telluride, due to the way it enables filmmakers and the industry to mingle with ease. "When I first visited Pingyao, I felt the call of the ancient city but also realised that it's hospitable and contained," explains the former Venice head, now running his third Chinese film festival after Beijing and Macao. "In a way, it's a kind of a golden cage because it's not that big so people are bound to come back to the festival complex and all these little bars and restaurants on the main street. It's a place where filmmakers can congregate with producers and sales agents, both foreign and Chinese."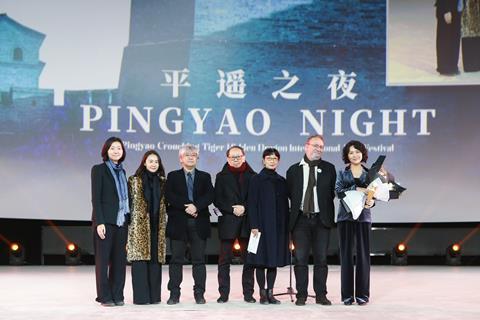 Breaking new ground
Designed by local artist and architect Wang Huaiyu, the festival centre is located just off Pingyao's main street on a former factory site and is all post-industrial chic in contrast to the city's ancient temples and lanterns. Screening facilities include a 1,450-seat outdoor arena, which is the same size as Locarno's Piazza Grande, the main indoor 'Springtime in a Small Town' theatre with 460 seats and four smaller halls with a combined 356 seats. Funding came from Shanxi provincial government and sponsors, including the owner of a cluster of hotels just outside the city walls that will be open for next year's edition. "We supplied them with the architectural plans for all the theatres in Cannes and the Locarno Piazza Grande and they really rose to the challenge," Müller says.
He is hoping that world-class facilities will enable the festival to lure industry, both local and foreign, which in turn could increase the chances of arthouse films gaining a Chinese theatrical release. Müller believes the Chinese companies that acquire foreign films may be more motivated to give them a push through the country's strict quota and censorship system if they have a chance to actually view them with a local audience. "Often, distributors have still not seen the films they bought at Cannes or Berlin even months after the market," he says. "So that was the challenge — to find the films that we could reveal to have a different kind of market value."
Key to that strategy are the festival's awards, including prizes from two separate juries and a set of audience awards, which honour one film from each programming strand (see sidebar, right). The Fei Mu jury focused on Chinese films from first and second-time directors, while the Roberto Rossellini jury selected titles from the Crouching Tigers section, which screened debut or second films from around the world. Ideally, the awards should bring a marketing hook and much-needed media attention to the winners. "When we invited the Chinese buyer of L'Ora Legale back to the festival because it had won an audience award, they found it very interesting," Müller says.
PYIFF is groundbreaking in the sense that it's the first Chinese film festival run by a private company, established by Jia in Pingyao, with support from Shanxi provincial government. But while it has an independent spirit, this is still China and the festival must play by the rules. All 53 films that screened at PYIFF had to pass through censorship, and the festival was abruptly pushed back by 10 days to avoid China's National Congress (October 18-24), the dates of which were announced very late. Chinese authorities appear to be supporting diversity and artistic excellence in the domestic film market, but only within certain limits, and any form of dissidence will be shut down. The challenge for the festival in the future will be in navigating this thin line.
Star system
Like any other festival in the world, it must still have mainstream elements — red carpets, stars and world premieres — to attract local media and sponsors. This year, star power was provided by festival ambassador Fan Bingbing and John Woo, who delivered a masterclass, while two big galas for the opening and Pingyao Night awards ceremony were broadcast by local media.
Now that the cameras are gone and the red carpet has been folded away, Jia says the festival complex is not going to stand idle. "We're going to run it as an arts centre," he says. "We'll have daily screenings and exhibitions and the outdoor theatre will be open from April to November." Jia adds that one or two of the indoor screens will join the NAAC arthouse circuit and be available for other screening programmes. "We'd like to explore different kinds of collaborations," he concludes. "The enthusiasm of the audience that we've experienced during the festival — we want to keep that going throughout the year."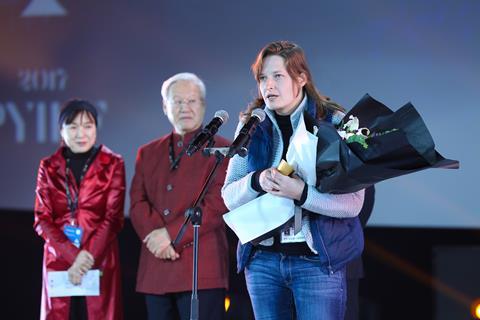 PINGYAO AWARDS
ROBERTO ROSSELLINI JURY International films from first and second-time directors
Best film Suleiman Mountain (Rus-Kyr-Pol) Dir Elizaveta Stishova
Best director Chloé Zhao, The Rider (US)
FEI MU JURY Chinese films from first and second-time directors
Best film Angels Wear White (China) Dir Vivian Qu
Best director Liu Jian, Have A Nice Day (China)
POPULAR (PEOPLE'S CHOICE) AWARDS selected by a group of 55 audience members
Best film Crouching Tigers Suleiman Mountain (Rus-Kyr-Pol) Dir Elizaveta Stishova
Best film Hidden Dragons L'Ora Legale (It) Dirs Ficarra & Picone
Best film Galas(ex aequo) Never Leave Me (Bos-Turk) Dir Aida Begic / Please Remember Me (China) Dir Peng Xiaolian
Best film Best of Fest Scary Mother (Geo-Est) Dir Ana Urushadze
Best film New GenerationChina The Taste Of Rice Flower (China) Dir Pengfei
Best actor Claes Bang, The Square (Swe)
Best actress Feng Wenjuan, Please Remember Me (China)
Special mention — actress Wen Qi, Angels Wear White (China)
WINGS PROJECT AWARD — WORK IN PROGRESS LAB
The Pig Butcher, Dir Huang Yitong