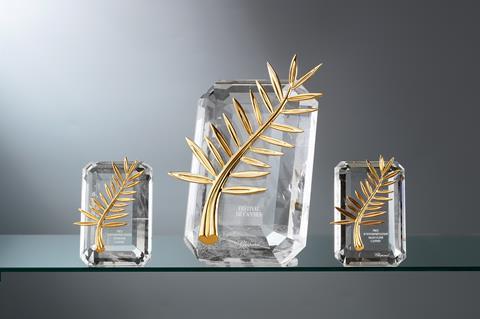 The French and international media corps put Cannes Film Festival delegate general Thierry Frémaux and president Pierre Lescure through their paces on Thursday at the press conference in Paris announcing the line-up for the 71st edition.
The seven key talking points to emerge were:
Female representation. Again.
The gender split of Cannes Official Selection has long been a point of discussion but in the year of MeToo and TimesUp, there is even greater scrutiny. Roughly 30% of the films in selection announced so far are directed by women. Three female directors have made it into Competition this year – France's Eva Husson (Girls Of The Sun), Lebanon's Nadine Labaki (Capernaum) and Italy's Alice Rohrwacher (Lazzaro Felice) - while six of the 14 films in Un Certain Regard are by female filmmakers, notably Syrian director Gaya Jiji's Belle De Jour-inspired and Damascus-set My Favourite Fabric, and Moroccan director Meyem Benm'Barek's Sofia.
The tally prompted one female journalist to make an impassioned speech declaring if women weren't better represented at the festival in the future, it was time for a female-focused, breakaway Cannes Film Festival. Frémaux stood resolutely by his long-held affirmation that the festival will never introduce "positive discrimination" for female directors. "The films are selected on the basis of their artistic merit alone. There are more and more women filmmakers. And apart from Kathryn Bigelow, all the female filmmakers who have come to the fore in the last few years have passed through Cannes."
He noted the festival had tweaked its internal organisation, selection processes and juries to make them more gender equal. "The Competition jury will be headed by Cate Blanchett… and that jury will be composed of five women and four men."
Unexpected absences, fresh blood, returnees
A number of so-called Cannes habitués have not made the Official Selection cut thus far. Notable absences include Mike Leigh's Peterloo, Paolo Sorrentino's Them, Nuri Bilge Ceylan's The Wild Pear Tree, Naomi Kawase's Vision and László Nemes's Sunset.
"There were a lot of people who were announced in the press who are not there," said Fremaux. "It can't have escaped you that there are a lot of newcomers this year and that comes from a desire, provoked by the films, to open doors and windows to people who have never come to Cannes before in the hope they will be the major forces in the future."
The return of Spike Lee to Cannes after a 20-year absence with BlacKkKlansman prompted an audible gasp of appreciation across the auditorium. As a rule Frémaux does not discuss films that have not been selected but he did give a few insights on some absences. He confirmed Terry Gilliam's The Man Who Killed Don Quixote was blocked in the courts by a case called by Portuguese producer Paulo Branco. On Sorrentino's Them he said, "The film comes out in Italy in two parts. One part is coming out before Cannes. The very nature of this project made us hesitate about showing it here."
He hinted Lars Von Trier may return with The House That Jack Built, seven years after the Danish director was declared 'persona non grata" for Nazi comments he made. When quizzed on whether the film's absence from Thursday's announcement was because the film was "disappointing" or because Von Trier was still banned, Fremaux replied: "We hope to be able to reply to this question in a few days time."
Is Cannes losing its appeal to the autumn festivals?
A handful of directors including Xavier Dolan with The Death And Life Of John F. Donovan, Jacques Audiard with The Sisters Brothers, and Yorgos Lanthimos with The Favourite are believed to have side-stepped Cannes, preferring to premiere in one of the autumn festivals, some with an awards -season splash in sight.
Frémaux predictably downplayed the trend. "Is Cannes losing its force? I don't think so. With regards to Xavier Dolan, if he has set his sights on the awards season, I hope it happens… The editing of the film has been complex. We saw the film. We wanted to invite it but it went back to the editing room. It was an informal invitation but we talk all the time, he's like a little brother. There was no side-stepping of Cannes."
Speaking more generally Fremaux added: "It is true for the big-budget American films with an end-of-year release, Cannes isn't the ideal place to show a film. It can be dangerous due to the way information circulates these days. Many years ago, when I was a festival-goer, a regular debate was whether Cannes should return to its original dates in September. In the early years, it was an autumn festival. But now we're in the month of the May and it's true for some films due out later in the year, it's a date that doesn't work."
Jafar Panahi and Kirill Serebrennikov: Will they make it to Cannes?
Multi-award-winning Iranian director Jafar Panahi is set to fulfil his long-held dream of screening in Competition with 3 Faces, about the lives of three actresses at different stages of their career. "It's a feel-good road movie set in contemporary Iran from a man who is not in a very comfortable personal situation but who manages to carry on doing his work as an artist and a filmmaker," said Fremaux.
It is not clear whether the director – who has been at odds with the Iranian authorities throughout his career and is subject to a 20-year filmmaking ban – will make it to the Croisette. He was last due in Cannes in 2010 as a jury member but permission to travel was denied by the Iranian government at the last minute.
Frémaux said the festival had engaged the support of the French government in a bid to get Panahi permission to attend. "We have formally invited him and the Iranian authorities should have received a letter this morning from us, supported by the French authorities, asking them to grant Jafar permission to leave his country to come and support his work in Cannes… we hope it will work as we would really like to welcome him here."
The presence of Russian director Kirill Serebrennikov, whose film The Summer (Leto) – set against the backdrop of the Leningrad rock scene at the beginning of perestroika – will also premiere in Competition is also in doubt as he remains under house arrest on disputed corruption charges.
Netflix. Again.
Netflix, or rather its absence, looks set to be one of the topics dominating Cannes again after the digital giant announced it was boycotting the festival this year over the rule all Competition film must be available for theatrical release in France. At least two Netflix films had been destined for the festival: Alfonso Cuaron's Roma, a portrait of a middle-class family in 1970s Mexico City, which was earmarked for Competition, and The Other Side Of The Wind, which was due to premiere in an Out of Competition slot.
"Firstly, contrary to appearances, we have a fruitful ongoing debate with Netflix," said Frémaux. "They are among newcomers we welcomed in last year by selecting two of their films for Competition but as you know, it created a huge debate and prompted Cannes to dust off a rule that has existed since the 1950s that films in Competition must be available for theatrical release."
He noted there had been two theatrical buyers interested in acquiring French rights for Roma. Commenting on the withdrawal of The Other Side Of The Wind, Frémaux said: "It's a shame because Orson Welles was president of the jury, a member of the jury… and of course he won the Palme d'Or with Othello. The place for this film was Cannes. I've seen the film. Who doesn't want to see it? I'd like to highlight the fact that Netflix doesn't have the rights to this film by chance. Netflix got engaged in the film because the people at Netflix are people who know and love cinema. They just don't have the same philosophy as us."
He concluded Cannes could not win in the debate over Netflix's presence. "Last year, they were on the red carpet and we were criticised. This year, they're not on the red carpet and we're going to be very criticised."
Press screenings: Will changes still be made?
A large chunk of the question time was taken up with the controversial screening schedule shake-up that has axed the all-important morning press screening for the 7pm gala film. One journalist, working for German broadcaster ZDF, said the new schedule would make it impossible for her to get Cannes coverage on the nightly news. Her comments were greeted with loud applause. Frémaux is sticking to his guns on the plan for this year at least. "We're perfectly conscious it is going to change a lot of things, including for us. You've told us your reservations and we've taken that on board. We're going to try out this new experience and then see how it pans out… but there could be changes."
Frémaux shot down the suggestion of introducing an embargo in the vein of the Berlinale. "We live in a world of instantaneity. There are people among you, and you know who they are, who Tweet during the end credits. An embargo won't be possible and in any case, we don't want it to be possible. In any case, we are studying various possibilities. We're talking to your colleagues and we're very open. We had thought of making a special case for journalists working on daily publications but in Cannes, everyone is working on a daily basis. If we start saying we're going to take 200 journalists, who are the most important, it's not going to go down well."
Selfies and the sanctity of the red carpet
Netflix chief Ted Sarandos may have taken a pot-shot at Frémaux over his decision to step up the ban on selfies on the red carpet this year but the delegate general is his own man on this one. Quizzed on the thinking behind the move, he replied: "There are two reasons we decided to ban them. Firstly, for the simple reason that ever since the practice of selfies took off, it has caused problems with the flow of people on the stairs. There are 2,200 people to get into the main theatre and that slows down the arrival of the public. We've had people fall over because they're not looking where they're going.
"The second reason is linked more to a philosophy… Cannes is based on desire and a certain idea of elegance… we think selfies damage the atmosphere on the red carpet. I would also like to highlight the fact that at Berlin, Venice or the Oscars, the public doesn't enter the theatre via the red carpet. In Cannes, they do."