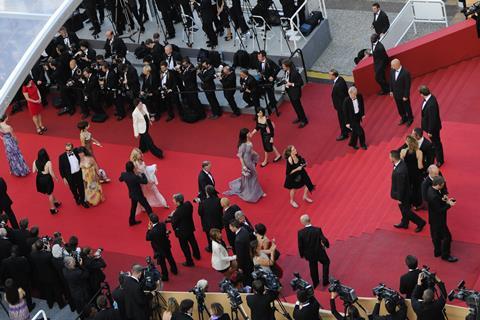 Cannes Film Festival general delegate Thierry Frémaux and president Pierre Lescure announced 90% of the Official Selection for the 72nd edition in Paris on Thursday (April 18).
As ever, there was plenty to chew on. Here are some of the key talking points.
Spotlight back on the big screen
Frémaux and Lescure seemed determined to re-position the spotlight back on the festival's raison d'être of cinema and the big screen experience and away from endless debate over the impact and place of the platforms.
They kicked off the press conference with news that the opening night ceremony and Jim Jarmusch's opening film The Dead Don't Die will play simultaneously in more than 400 cinemas across France on May 14, in a joint operation with pay-TV giant Canal Plus and Universal.
On Netflix, Frémaux said a compromise with the streamer was a long way off while Lescure reflected on the fact that with the arrival of Apple+ and the new, Disney and WarnerMedia platforms later this year the landscape was set to change again.
Meanwhile, Bong Joon-ho and Alfonso Cuarón – whose films Okja and ROMA got caught up in the Netflix fray – are back in Cannes this year; Joon-ho in Competition with Parasite and Cuarón to present a restored copy of The Shining.
Returnees, first timers
The Competition line-up is split down the middle between old timers and newcomers. On one end of the spectrum, Ken Loach returns for a 14th time with Sorry We Missed You, having won the Palme d'Or twice with I, Daniel Blake in 2016 and The Wind That Shakes The Barley in 2006.
On the other, French filmmaker Ladj Ly's makes his Competition debut with his first feature work Les Misérables, capturing life and tensions in Paris's tough eastern suburbs.
Other highly anticipated new arrivals in Competition include Justine Triet (Sibyl), Ira Sachs (Frankie) and Celine Sciamma (Portrait Of A Lady On Fire).
Female Representation
Frémaux was one of the first signatories of the festival gender equality charter last year, but the day when parity is reached in Official Selection seems a long way off.
So far, four out of the 19 films announced for competition are by women: Mati Diop's Atlantique, Jessica Hausner's Little Joe, Céline Sciamma's Portrait Of A Lady On Fire, and Justine Triet's Sibyl. Six of the 16 films announced for Un Certain Regard are directed by women.
It seems unlikely at this point that Cannes will hit the same levels as Berlin this year, where seven of the 17 films in Competition, or 41%, were directed by women. Frémaux said statistics on this year's Selection would be released once the full line-up had been finalised.
Speaking to Screen International after the announcement, Frémaux emphasised that gender ratios in the Selection were a reflection of the current situation in the industry.
The Rocketman to touch down on the Croisette
There has been much speculation around whether Elton John would be able to take time out of his gruelling farewell tour to attend the premiere of Dexter Fletcher's biopic Rocketman. Frémaux confirmed that the star would be present at its 7pm premiere on the first Thursday (May 16).
Where's Once Upon A Time In Hollywood?
Questions continue to swirl around whether Quentin Tarantino will complete Once Upon A Time In Hollywood in time for a Cannes splash. Frémaux said it would be touch and go. "He's sprinting to get there. It's among the films we're waiting to see whether they'll make it. I've seen a large part of the film. It would be a real achievement if he finishes it in time for May. He also wants to present it in 35mm which is making the post-production even more complicated."
Studio support
Frémaux took care to highlight the US studios supporting the festival this year. He paid special thanks to Paramount president Jim Gianopulos, who will be in Cannes with Rocketman, He recalled that the studio executive had been the head of Fox, when the studio launched Moulin Rouge! as the opening film in Cannes in 2001. "At the time, it marked a return of the studios to Cannes and Jim has once again shown his loyalty to the festival." He also highlighted the support of Universal with The Dead Don't Die and Warner Bros. with the restored copy of The Shining.
TV back in Official Selection
Danish director Nicolas Winding Refn will enjoy the rare honour of showing episodes of his new TV series Too Old To Die Young - North Of Hollywood, West Of Hell Out of Competition. It follows in the wake of David Lynch's Twin Peaks and Jane Campion's Top Of The Lake in 2017. The director will also give a masterclass about being a cineaste in the current digital age and what it means to oscillate between feature films and TV series.
Press Screening Schedules
After last year's radical overhaul of the press screening schedule to privilege the gala screenings, Frémaux revealed it will be tweaked once again this year.
Press screenings for the 7pm gala screening will now begin at 5pm, to end just after the red carpet, while press screenings for the 10pm gala screening will continue to take place at the same time. Embargoes will be in place until after the end of the title credits, including posting on social networks.
Frémaux told the press conference that the festival was also planning special embargoed screenings aimed at TV and radio media professionals - "who had been most impacted by the overhaul of the schedule".
He said the introduction of an embargo system had been made feasible by restricting press screenings to journalists only. Up until now, another 100 non-journalists with festival links were routinely allowed into the screenings.
In Memoriam
There are a number of recently deceased Cannes regulars whose absence will be keenly felt this year. Frémaux paid tribute to their memory, citing Francis Boespflug, co-founder of French film company Pyramide and former Warner France MD; press attaché Richard Lormand; journalist Yves Bongarçon, Metropolitan FilmExport co-founder Sammy Hadida and Diego Galán, the former San Sebastian Film Festival director, who died last week. "They all in some way helped make Cannes what it is today, often behind the scenes," he said.