Screen highlights the buzz titles ready to entice international buyers at the Cannes film festival 2022.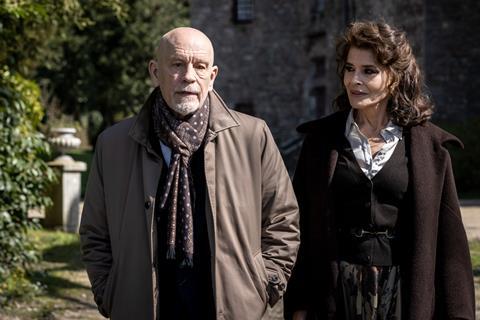 Wild Bunch International kicks off sales on Audrey Diwan's Emmanuelle reboot, Ken Loach's The Old Oak, which began shooting on May 19, and Maïwenn's period drama Jeanne Du Barry, in which she will also co-star opposite Johnny Depp. Diwan and Maïwenn will both give buyer presentations in Cannes. The company is also handling 14 Cannes titles including Palme d'Or contenders Holy Spider, Brother And Sister, RMN, Tori And Lokita and Stars At Noon.
Memento International launches Bruno Dumont's sci-fi The Empire co-starring Lily‑Rose Depp, Ana­maria Vartolomei, Camille Cottin and Fabrice Luchini, which shoots this summer. Cannes titles include Palme d'Or contender Boy From Heaven, Un Certain Regard comedy Sick Of Myself, Cannes Premiere police drama The Night Of The 12th and coming-of-age story Falcon Lake in Directors' Fortnight.
Celluloid Dreams unveils Jafar Panahi's new film No Bears, about two parallel love stories threatened by outside forces, in post-production. Further titles include Canadian filmmaker Graham Foy's teen tragedy The Maiden, Moroccan director Leïla Kilani's environmental-themed family drama Birdland and Ukrainian director Antonio Lukich's family drama From Ukraine To Luxembourg. Celluloid Dreams also handles Critics' Week title Imagine, an edgy, star-crossed love story set in Tehran.
Pathé International debuts a first promo-reel for Kirill Serebrennikov's Limonov, The Ballad Of Eddie, starring Ben Whishaw as late Russian poet and political agitator Eduard Limonov. Its Cannes titles comprise Nicolas Bedos' French Riviera-set whodunnit Masquerade, which screens out of Competition, and Directors' Fortnight title Paris Memories by Alice Winocour.
Playtime launches sales on Francois Ozon's next feature, the details of which remain under wraps for now, and White People by Robin Campillo, his first feature since 2017 Cannes jury prize-winning Aids drama 120 Beats Per Minute. White People revolves around a French boy growing up on a military base in Madagascar in the 1970s. Playtime's slate also features Most Alive, the debut feature of Belgian director Delphine Girard, who was Oscar-nominated for short A Sister in 2020. It is also handling Annecy special screening Black Pharaoh, The Savage And The Princess by Michel Ocelot.
France TV Distribution reveals first images for French comedy-drama Mr Blake At Your Service, reuniting John Malkovich and Fanny Ardant on the big screen for the first time since 2015 drama Casanova Variations. It is also selling French directors Carine May and Hakim Zouhani's Save Our School, which debuts in Cinema de la Plage.
SND — M6 Groupe launches sales on feature animation sequel The Jungle Bunch — World Tour and The Braid, an adaptation by Laetitia Colombani of her bestselling book about three women based in different parts of the world whose lives are intertwined by the hair of an Indian 'untouchable' woman.
Totem Films is selling three Cannes titles: Competition jury member and actress Jasmine Trinca's directorial debut Marcel!, which plays as a Special Screening; Directors' Fortnight family footage documentary The Super 8 Years by French novelist Annie Ernaux and her son David Ernaux-Briot; and Critics' Week title The Woodcutter Story, a Finnish comedy by Mikko Myllylahti.
Loco Films kicks off sales on Polish director Anna Jadowska's Woman On The Roof — about a seemingly ordinary woman who tries to rob a bank with a bread knife — ahead of its premiere at Tribeca; Czech director Tomasz Winski's erotic drama Borders Of Love; and French director Sébastien Bailly's debut feature Like An Actress, starring Julie Gayet and Benjamin Biolay.
Le Pacte is giving a market premiere to couples drama The Peace And Love Process by Ilan Klipper, and continuing pre-sales on Thomas Lilti's A Real Job starring Vincent Lacoste as a PhD student who takes a job as a supply teacher. It also handles Thomas Salvador's Directors' Fortnight title The Mountain.
The Party Films Sales continues pre-sales on Algerian costume drama The Last Queen by Damien Ounouri and Adila Bendimerad; Belgian actress Veerle Baetens' directorial debut When It Melts; and Morrison by Thai director Phuttiphong Aroonpheng. Cannes titles comprise Youssef Chebbi's Tunis-set thriller Ashkal in Directors' Fortnight and documentary Polaris in Acid.
Reel Suspects' market premieres Belgian director Véronique Jadin's dark comedy Employee Of The Month, ahead of its Tribeca world premiere in June.
Pyramide International continues pre-sales on Christophe Honoré's Les Lycéen and Teona Strugar Mitevska's Sarajevo-set The Happiest Man In The World. It is also handling six Cannes features: Metronom and The Worst Ones in Un Certain Regard; Cannes Premiere selection Dodo; Special Screening doc My Imaginary Country; Harkis in Directors' Fortnight; and La Juaria in Critics' Week.
Charades launches sales on Katell Quillévéré's Le Temps d'Aimer, reuniting Anaïs Demoustier and Vincent Lacoste, who appear together in Quentin Dupieux's Smoking Causes Coughing. The company will show first footage of Hafsteinn Gunnar Sigurdsson's English-language debut Fearless Flyers (previously announced as Northern Comfort). Cannes films span Palme d'Or contenders Tchaikovsky's Wife and Forever Young, as well as Special Screening selection Little Nicholas — Happy As Can Be and Critics' Week title Aftersun.
Elle Driver shows first images for French director Yann Samuell's Second World War children's adventure The Lulus. It also market premieres romantic road movie Freestyle and sci-fi drama The Visitor From The Future. Other upcoming films on its slate include Cédric Kahn's Making Of and Cannes titles include Palme d'Or contender Leila's Brothers, Directors' Fortnight title The Water (El Agua) and Critics' Week selection Everybody Loves Jeanne.
Kicking off sales for mk2 Films is Justine Triet's film Anatomie d'Une Chute, about a woman investigated on suspicion of murder after her husband is found dead. Cannes titles comprise Palme d'Or contender Mother And Son, Don Juan in the Cannes Premiere line-up and Un Certain Regard titles Corsage and Return To Seoul (formerly All The People I'll Never Be).
Les Films du Losange handles sales on Rodeo in Un Certain Regard; Directors' Fortnight titles One Fine Morning, documentary Du Humani Corporis Fabrica and Continental Drift; and Cannes Classics opener The Mother And The Whore. It will also show fresh images of Norwegian animated feature Titina.
Gaumont launches sales on Tran Anh Hung's culinary period drama The Pot Au Feu, starring Juliette Binoche as a talented cook and Benoit Magimel as her employee; romance blooms over gourmet dishes. It will also market premiere Neneh Superstar, a teen drama tackling the lack of diversity in the ballet world, and handle sales on Quentin Dupieux's Midnight Screening title Smoking Causes Coughing.
Luxbox handles Maha Haj's Un Certain Regard feature Mediterranean Fever and Directors' Fortnight selections Under The Fig Trees, by French-Tunisian director Erige Sehiri, and Chilean Pinochet-era drama 1976, the directorial debut of actress Manuela Martelli.
Indie Sales is selling Directors' Fortnight titles Sudan-set The Dam and Ukrainian drama Pamfir. It will also market premiere Marc Fitoussi's female buddy movie Two Tickets To Greece, starring Laure Calamy, Kristin Scott Thomas and Olivia Côte, and Alain Ughetto's animation No Dogs Or Italians Allowed, ahead of an Annecy premiere. It explores the story of his grand­parents who left Italy to settle in France in the early 20th century.
Film Seekers France, a new Paris-
based European sister company to the UK original, launches Dutch-language family action feature The Mercator Trail from Douglas Boswell.
Kinology launches sales on Luc Besson's under-the-radar project June And John. It is also selling the Besson-produced French-language teen horror Arthur Malédiction, a spin-off from his Arthur And The Invisibles trilogy, and illicit affair tale Diary Of A Fleeting Affair in Cannes Premiere.
Studiocanal launches bio-threat action picture Cold Storage, starring Liam Neeson and Joe Keery, and Australian director Kate Wood's family comedy Kangaroo, about a stranded pro-surfer and an 11-year-old Indigenous girl who work together to rescue and rehabilitate orphaned baby kangaroos in the outback. It also handles Cédric Jimenez's out of Competition thriller November, based on the real-life events after a series of synchronised terror attacks in Paris in November 2015.
Urban Sales continues sales on Moroccan director Hicham Ayouch's satirical comedy Abdelinho, which is in post, and will also market premiere children's animation Hug Me by Polish filmmaker Anna Blaszczyk. Hayakawa Chie's Japanese dystopian euthanasia drama Plan 75, in Un Certain Regard, also comes under Urban's remit.
Pulsar Content kicks off sales on Anissa Bonnefont's erotic drama La Maison, starring Ana Giradot as a writer who takes a job in a Berlin brothel as research for a novel, alongside Rossy de Palma. Pulsar also has first images for Edouard Salier's near-future sci-fi drama Things Behind The Stars, which is in post-production.
MPM Films launches sales on Sylvie Gautier's Brillante, starring Céline Sallette as a mother making a living as a night cleaner, who has to decide whether to take a stand against an exploitative employer or look after her own interests. It also market premieres writer/director Slony Sow's culinary comedy drama Umami, which stars Gérard Depardieu, Sandrine Bonnaire and Pierre Richard.
TF1 Studio kicks off sales on Kevin Macdonald's untitled documentary about UK fashion designer John Galliano, currently in production.
Orange Studio handles sales on Directors' Fortnight opening and closing films — Italian director Pietro Marcello's first French-language feature Scarlet and theatre-world whodunnit The Green Perfume, from French director Nicolas Pariser.
Wide is giving market premieres to Salvatore Zannino's documentary The Genius Of Gianni Versace Alive and Sophie Guillemin's drama Astray starring Thierry Godard as a wine merchant who gives up everything to go to Russia in search of a former lover who disappeared four years ago.
Shellac kicks off pre-sales on Helena Wittmann's experimental drama Human Flowers Of Flesh, about a sailor and her five-person crew who embark on a journey from Marseille to the Algerian port of Sidi-Bel-Abbes, and documentary comedy The Adventures Of Gigi The Law, the second feature from Locarno Golden Leopard winner Alessandro Comodin.