Screen mentee and Unifrance Critics Lab participant Khushi Jain explores the highlights of this year's short films at Cannes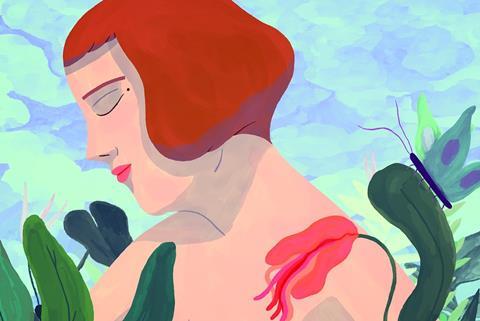 Short films at Cannes can be an exciting playground for all that is bizarre, shocking, ambitious and tender in cinema, and those that played across this year's Official Selection, La Cinef, Critics' Week and Directors' Fortnight were buzzing with questions of identity, sex and belonging.
Under the leadership of Hungarian director Ildikó Enyedi, the jury made its picks from 11 competition shorts and 16 La Cinef student shorts; the latter chosen from 2000 entries coming from 476 film schools around the world. Enyedi was accompanied by French actor Karidja Touré, Israeli filmmaker Shlomi Elkabetz, French Canadian filmmaker and actor Charlotte Le Bon, and writer-director Ana Lily Amirpour. In their awards, the group showed a preference for material that is not only socially relevant, but also push the boundaries of the form.
Critics' Week shorts included documentary, animation, archival work and surrealist artistry, with the section's top two prizes being awarded to the same short, Nans Laborde-Jourdàa's Boléro. The jury was headed by French filmmaker Audrey Diwan, and included Portuguese cinematographer Rui Poças, German actor Franz Rogowski, Indian journalist and festival programmer Meenakshi Shedde, and Sundance Film Festival director of programming Kim Yutani.
While no partner prizes were awarded at this year's Directors' Fortnight, the sidebar programmed a selection of ten impressive shorts.
IN COMPETITION
27 (France and Hungary, 11 mins) – SHORT FILM PALME D'OR
Dir Flóra Anna Buda
A personal and sexual bildungsroman as well as a social commentary on the state of youth, animation 27 is set on the 27th birthday of protagonist Alice (Natasa Stork), who inhabits a space in-between childhood and adulthood, living at home with her family. Reality is smothering, as news headlines in the background confirm, and Alice thus turns to a world of dreams and psychedelics. Buda uses soft and solid colours to convey a sense of distanced warmth and fills her film with close-ups of unexpected objects; insects and melted birthday candles, for example. This is the first animation to win the Short Palme d'Or since Waves '98 in 2015.
Contact contact@miyu.fr / festival@miyu.fr / sales@miyu.fr
Fár (Intrusion) (Iceland, 5 mins) – SPECIAL DISTINCTION
Dir Gunnur Martinsdóttir Schlüter
The shortest film in this edition of the competition, Fár is a thematic heavyweight exploring the reasons and results of choices. A partially zoned out Anna (played by Schlüter) is attending a business meeting in a café when a seagull suddenly crashes into a window in front of her. Finding it half dead on the pavement, she decides to bash its head with a rock and end its suffering, the cafe window framing Anna, her actions and their consequences. A simply yet intricate short which raises questions around social spectatorship, herd mentality and individual agency.
Contact runaringi@nrdr.is
Tits (Norway, 12 mins) – SCREEN'S PICK
Dir Eivind Landsvik
Teenagers Iben (Marie Bya) and Oscar (Snorre Kind Monsson) are both extremely conscious of their tits; Iben for a lack of them, and Oscar because he has more than he wants. When a day out with classmates turns into a swimming session, the two are compelled to strip to jump into the blue; Oscar dives into the water with his t-shirt on and Iben uses her hands cover herself. Left behind by the group (who also steal Iben's clothes), the two begin talking and end up revealing much more than physical nakedness ever could. Beautifully written and intimately shot, Tits is a story of fragile friendships and (literal) out-of-the-blue bonds.
Contact ulrik@einarfilm.no
LA CINEF
Norwegian Offspring (Denmark, 44 mins) – FIRST PRIZE
Dir Marlene Emilie Lyngstad
When Stein (Jan Gunnar Røise) finds out that his mother has passed away, he starts longing for a child of his own and contacts interested women, making reproductive sex as transactional and mechanical as it can be. His quest for an offspring takes him on an unusual sexual odyssey which is sometimes funny, sometimes repulsive but mostly moving (the character is based on a real man whose video testimony is attached to the closing credits). Lyngstad douses her sketch of loneliness in different shades of sea green, a calming and soothing colour in direct opposition to Stein's depressive state.
Contact elr@filmskolen.dk / coa@filmskolen.org
Hole (South Korea, 24 mins) – SECOND PRIZE
Dir Hwang Hyein
When a young agent with the Women and Family Affairs Department of the local government is assigned to check up on children with long absences from school, she encounters two strange siblings who believe that their parents have fallen down a manhole opening in their house. Jeong-mi (Lim Chaeyoung) is persuaded by the elder brother and his mute baby sister to open the hole's cover and look into the darkness. This slow horror employs the cramped setting of the decaying house, sedated editing, focalisation and an innocent infantile plastic toy gun to create an alarming and persevering terror, with a truly disquieting finale.
Contact sh.park@kafafund.kr / gpdls8931@gmail.com
Ayyur (Moon) (Morocco, 13 mins) – THIRD PRIZE
Dir Zineb Wakrim
Through Ayyur, Wakrim fosters a gaze that finds the beautiful in what may otherwise be deemed monstrous. Her subjects are 14 year olds Hasna and Samad, playful painters within their home but othered beings without (they wear astronaut-like helmets outdoors, as though they are aliens on their own planet). Contrasting an external black-and-white landscape with bright, art-lined walls inside, Wakrim uses natural metaphors — the moon in particular — in this exploration of finding light in the darkness.
Contact elr@filmskolen.dk / coa@filmskolen.org
Al Toraa' (The Call of the Brook) (Egypt, 12 mins) – SCREEN'S PICK
Dir Jad Chahine
According to Upper Egyptian folklore, El Nadaha is a supernatural female presence who seduces men with her voice, leading them to the Nile and making them disappear forever. A woman has just lost her husband to this phantom, and now justifiably worries for her young adult son — in Chahine's horror, the fear comes not from El Navaho but the extreme measures that a mother will go to for her child. This almost completely silent narrative relies heavily on images, and the production design has haunting symmetry and a dystopian feel. From its very Macbeth-like opening with the three weird sisters, Al Toraa' quickly swallows you into its unsettling world and leaves no way out.
Contact Ghadagobbara1@gmail.com / thecallofthebrookfilm@gmail.com
CRITICS' WEEK
Boléro (France, 17 mins) - LEITZ CINE DISCOVERY PRIZE and CANAL + AWARD FOR SHORT FILM
Dir Nans Laborde-Jourdàa
Professional dancer Fran (François Chaignaud) has come back to his hometown to see his mother. A chance meeting with an old teacher opens the floodgates of memory and desire, and Fran performs to the rhythms of Boléro in the bathroom stall of a grocery store. His clean and precise movements alter the whole environment and mesmerise everyone in it to the point of erotic climax. Boléro is a balanced combination of funny and sensitive, sexy and emotional; an invitation to the joyful celebration of the body through dance and sensuality.
Contact margaux@wrongfilms.com / anais@manifest.pictures
I Promise You Paradise (Eissa) (Egypt, France and Qatar, 25 mins) – SCREEN'S PICK
Dir Morad Mostafa
Eissa (Kenyi Marcellino), a 17 year-old African immigrant in Egypt, has promised his young beloved and their new-born baby paradise in a place that, in reality, curbs their freedoms. After a violent altercation leaves Eissa's friends dead, he begins making arrangements to leave the country. Mostafa is a visual storyteller, relying on minimal dialogue and poetic images of silences; each frame of this film is artistically composed. This beauty is set in ruinous settings of bare rooms and barren lands where Christian paraphernalia is littered throughout, screaming out the inertia of God in this cruel and oppressive world.
Contact sawsan.yusuf@gmail.com / justine@h264distribution.com
DIRECTORS' FORTNIGHT
Oyu 'Hot Water' (Japan and France, 21 mins) – SCREEN'S PICK
Dir Atsushi Hirai
Immersed in hot water, overheard conversations and the naked company of strangers, Tokyo-based Satoshi (Okihido Yoshizawa) quietly grieves his late mother. The contemplative ceremony of bathing in his mother's hometown of Toyama becomes his ritual of mourning, especially because he uses his mother's old things. And, in the transparency generated by being surrounded by other bathers, Satoshi becomes a participant in the local community. There is an idea in Japanese culture, where people platonically spend time together naked, called 'hadaka no tsukiai' or 'skinship', on which Oyu clearly draws. Shot mostly inside the bath, its camera never invades this private space but is always a polite and reverent observer. Satoshi barely says a word throughout, taking on the role of a listener, and the film uses selective hearing to focus on the different discussions and sounds (radio, TV, etc.) around him.
Contact: contact@mldfilms.com